Food for Thought… Pantries Can Hold More Than Food!
A well-organized pantry can hold a number of things, making it easier to get dinner on the table, create a grocery list, save money by buying in bulk, and entertain family and friends. Enjoy space for extra dishware, cleaning supplies, linens, pots and pans, wine and spirits or whatever fits your lifestyle. An organized pantry is just one more way to be empowered in your home and by your home.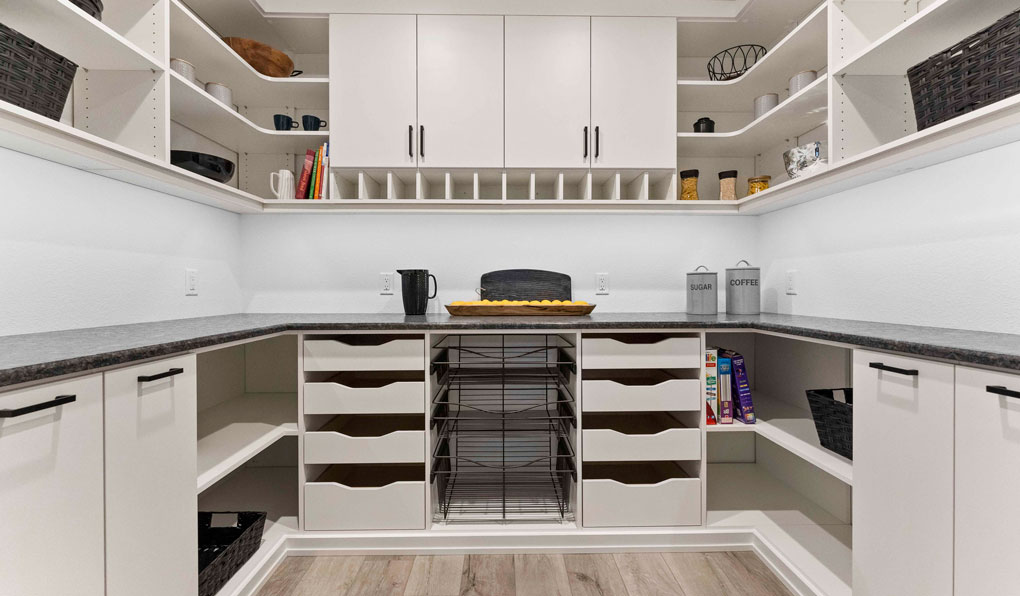 Let the expert designers at The Tailored Closet maximize and optimize every inch of space in your pantry!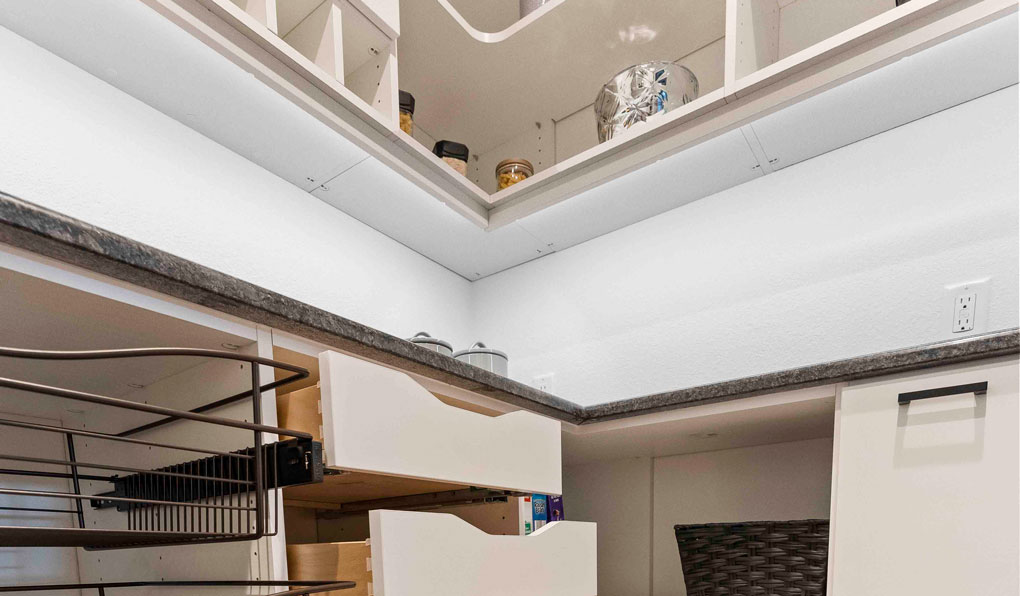 With custom designed shelves, drawers, baskets and accessories, you'll have the pantry of your dreams! Let The Tailored Closet customize this space for you!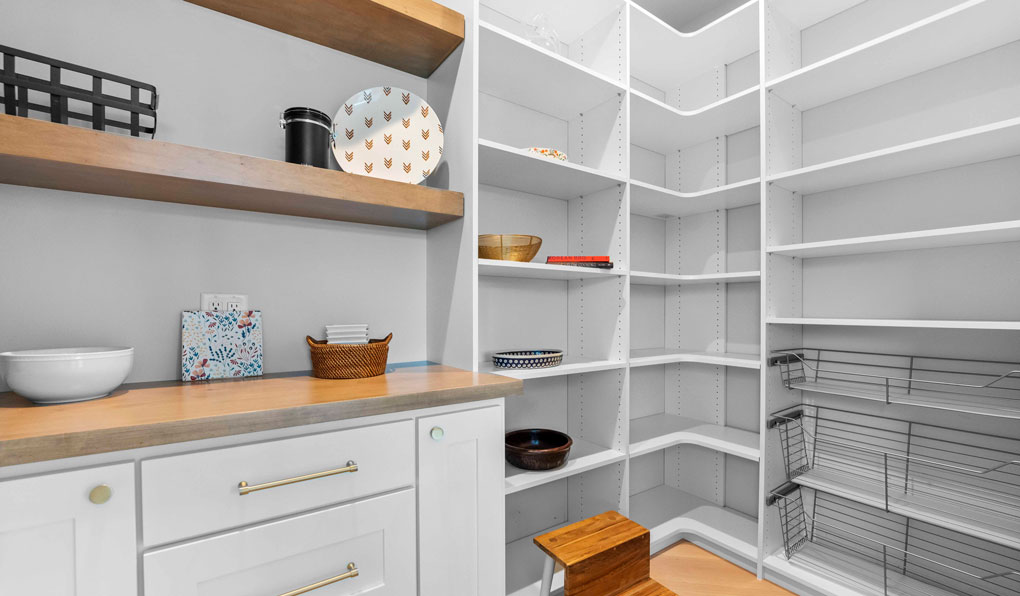 Each space is created to fit your unique needs and desires! Open shelves can help to store kitchen appliances, while baskets are perfect for all of the snacks. You'll love the added space option of drawers and cabinetry, creating an organized space to store even more.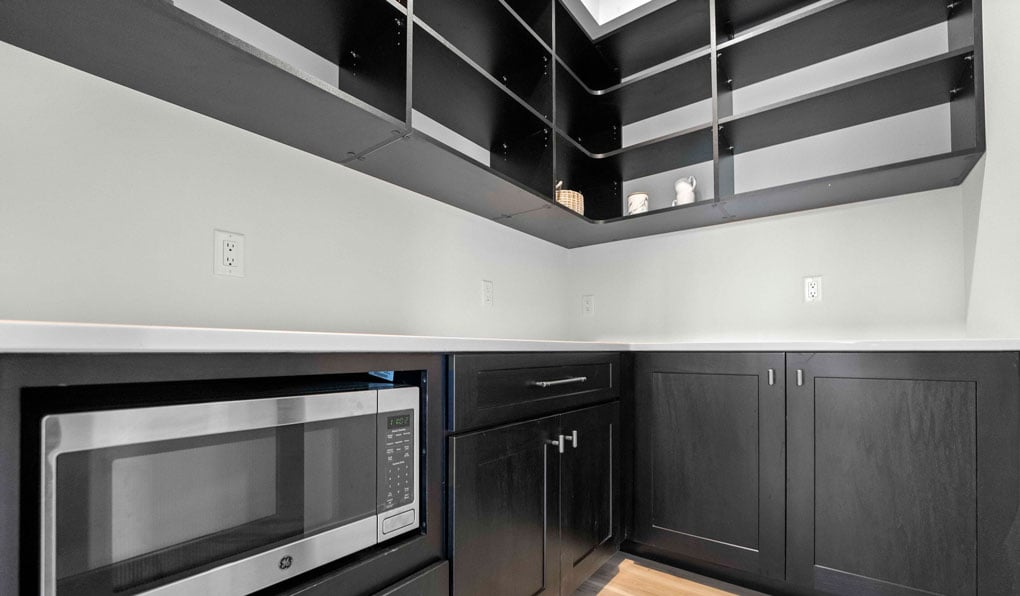 Let us work with you to create custom built-ins of your appliances. Select the finishes and hardware that reflect your personal style and let the design professionals at The Tailored Closet do the rest!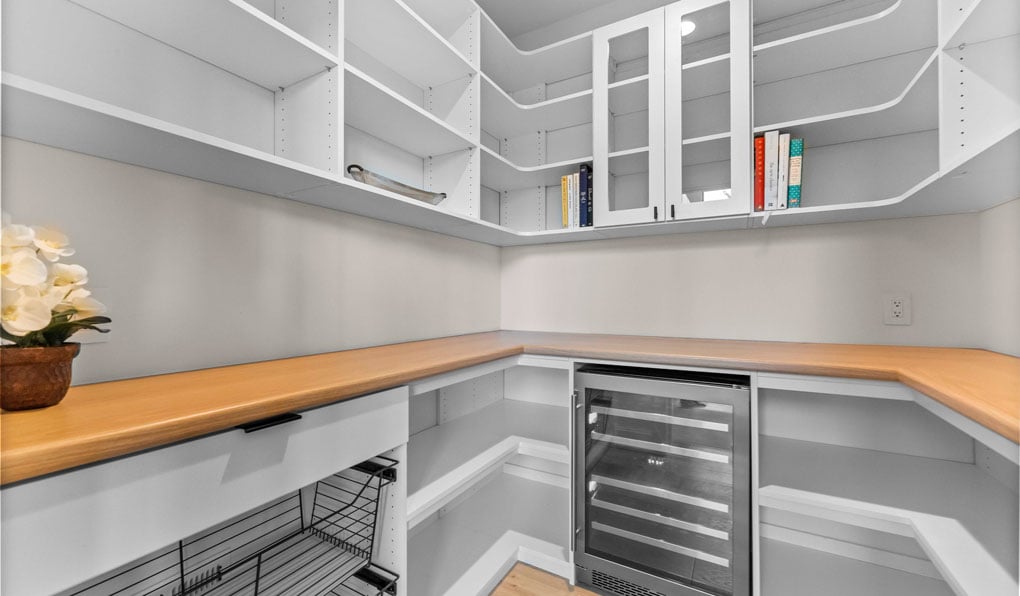 From microwaves to wine refrigerators, the design experts at The Tailored Closet can include your most important appliances into their designs, creating the pantry you have been dreaming of!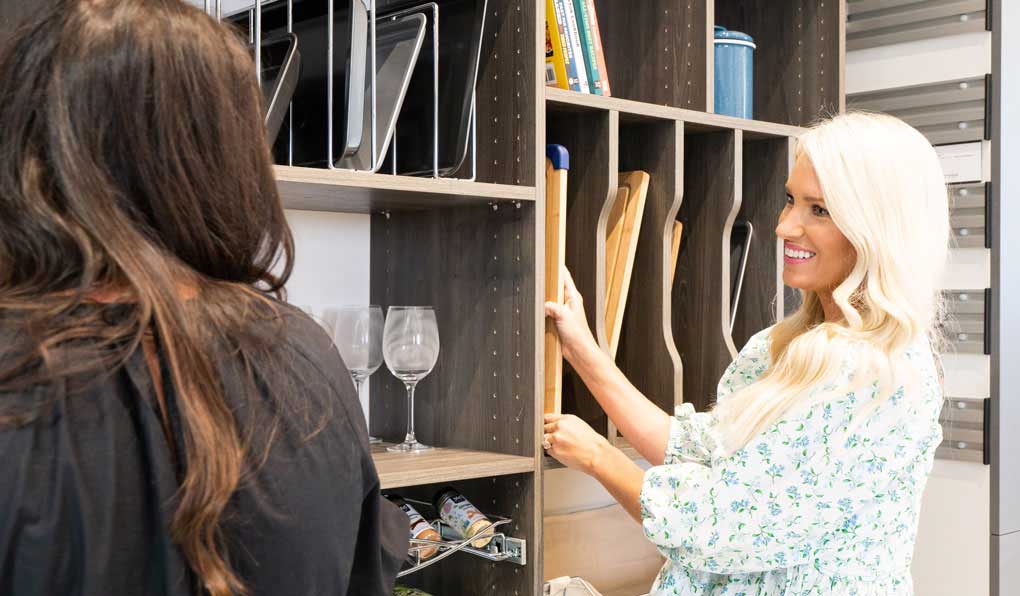 Thoughtfully designed spaces that are customized to the way you use your space make dinner party prep simple! Store serving platters or your charcuterie boards in style with beautiful custom designed cabinetry in your pantry.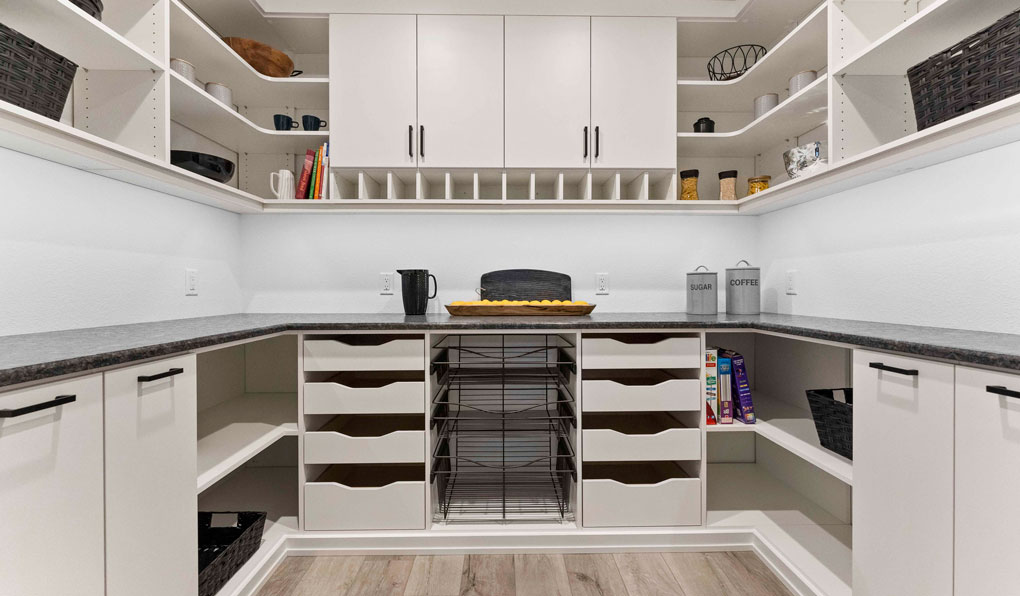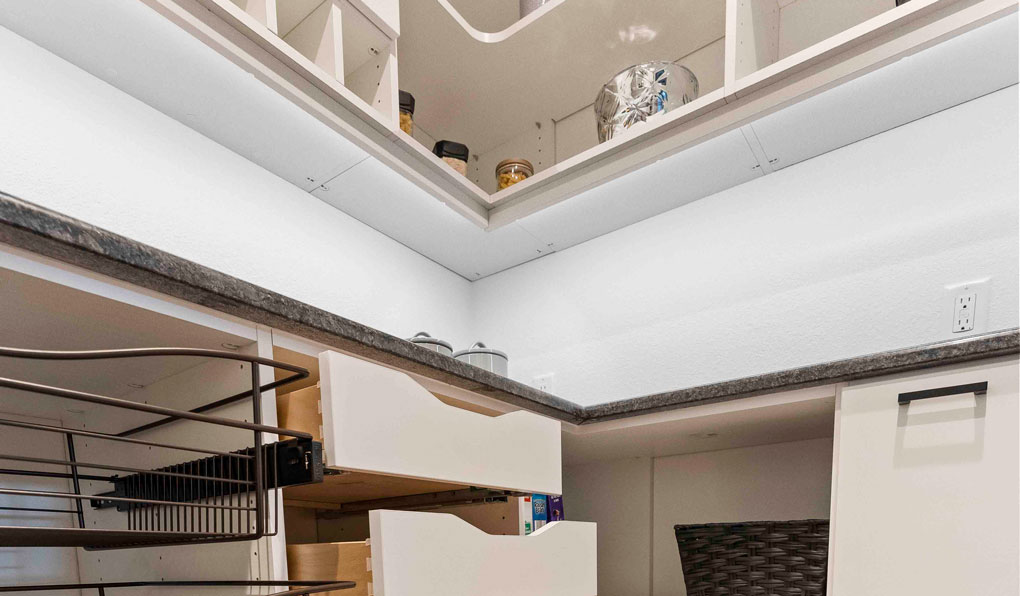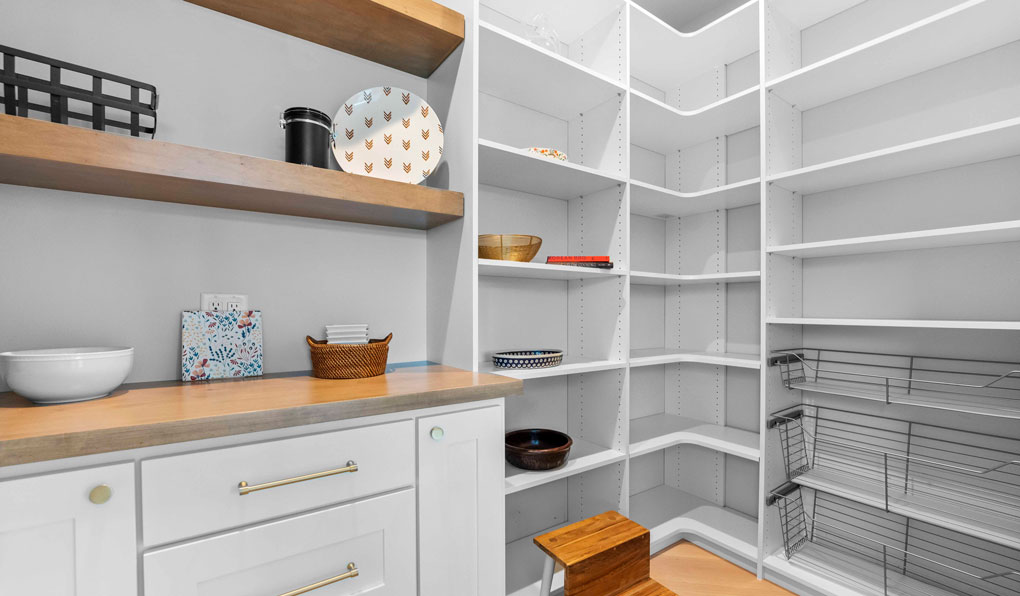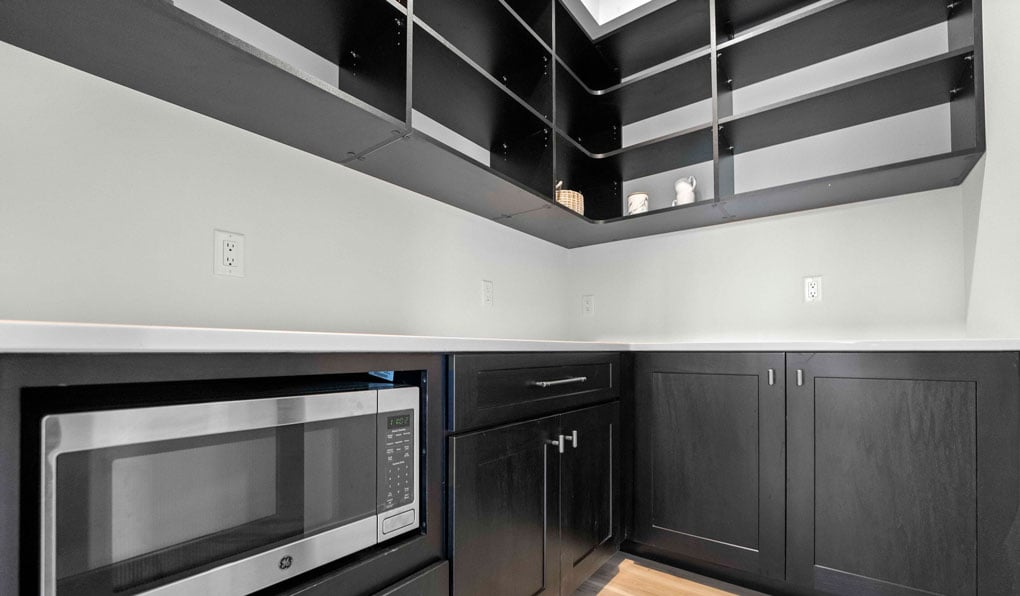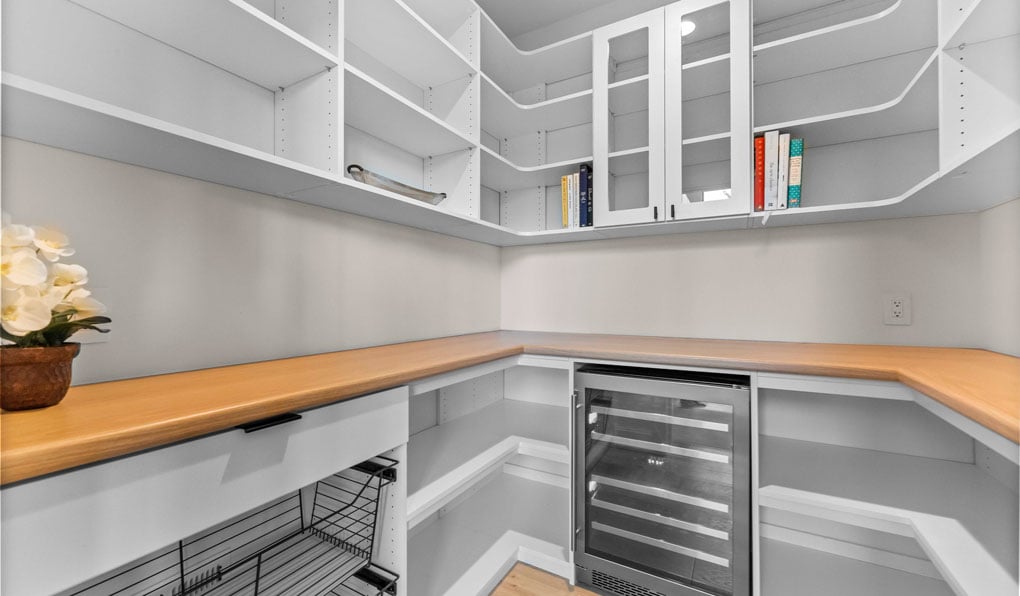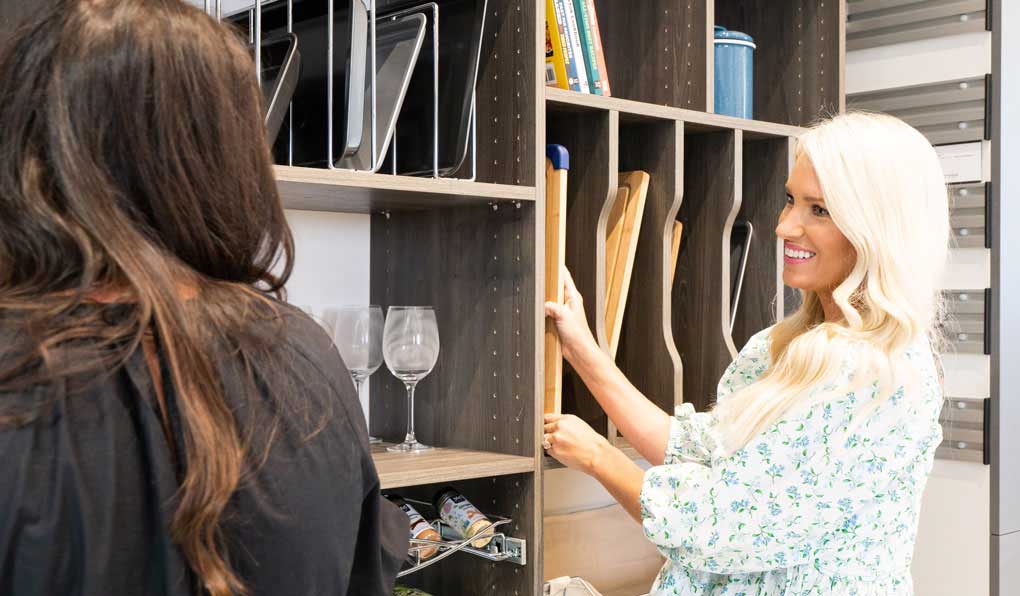 Efficiency is in Order – Get a Pantry that Performs!
The Tailored Closet creates custom pantry storage that works for the way you live. Your pantry will have space for what's important to you and your family. With a custom system of cabinets, shelves, specialty racks and pull-outs, your designer will structure your pantry storage to fit your unique lifestyle. Optimizing the space to keep daily-use items close at hand, with lesser-use items out of the way yet available when needed. We'll create the perfect pantry for you!
Vertical storage, with floor-to-ceiling shelves and cabinets, captures high, unused space to store seldom-used items like small appliances and seasonal dishes, extra stocks of paper products like paper towels, napkins, and Kleenex.

Shelf depth is variable, from the standard 11" up to 16", to accommodate large or small items like family-size cereal boxes vs. individual-size serving packages. You can even have wider shelves up high, with narrower shelves at floor level if space is an issue.

Pull-out bins and baskets make it easy to reach stored items and to see when your supply is running low.

Spice racks let you easily see what you have so you don't overstock on garlic and have absolutely no rosemary for that special chicken recipe.

Shelf dividers help with organizing canned goods and boxed foodstuffs so you can see at a glance what you need to add to your grocery list. Putting newest foodstuffs behind what's already in the pantry will ensure nothing stays on the shelf past its expiration date; things are used in the order of purchase.

Keep school lunch items together so you don't run out of what the family needs to pack lunches.
Custom wine racks can create a "mini wine cellar," keeping your favorite wines out of light and under room temperature. Store the bottles on their sides to preserve flavor and keep the bottles stationary. Did you know that consistent vibration (like on top of a refrigerator) can ruin the wine?

Pull-put bins can keep recyclables out of sight and out of the way.

Kitchen towels, table linens, and placemats can stack neatly on a shelf or in a cabinet instead of being stuffed into several drawers around the kitchen.

Buying pet food in larger sizes saves money. Storing it in air-tight containers in the pantry keeps it fresh and handy for feeding time and eliminates the mess when the bags tear open.

Specialty items like large skillets, pizza stones, punch bowls or woks that are big and unwieldy can safely store on easily accessible shelves in the pantry.

Tall cabinets can house mops, brooms and other cleaning supplies, with an added shelf for maintenance items like light bulbs and batteries.
Design Details
A Stylish Pantry Combines Beauty And Functionality