The Benefits of Working with Corpus Christi's Top Organizers
Have you ever walked into a room and instantly felt overwhelmed by the clutter? Or struggled to find a specific item in a sea of disarray?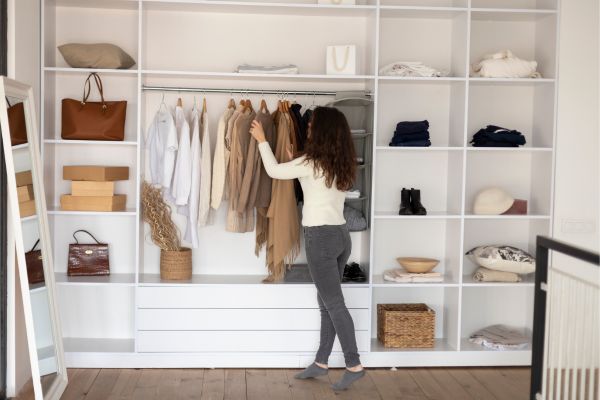 Five Great Reasons to Choose The Tailored Closet of Greater Corpus Christi for Your Home Organization Needs
1. Bespoke and Personalized Designs
The Tailored Closet doesn't believe in a one-size-fits-all approach. Our expert design team devotes the time to grasp the unique needs, lifestyle, and style preferences of your family, culminating in a truly bespoke organizational solution tailored specifically for you. Leveraging our proprietary 3D design software, we can bring your vision to life even before the installation begins, ensuring the end solution aligns with your distinct style and budget.
2. Efficient Space Utilization
No matter the room - be it the bedroom, family room, or entryway - The Tailored Closet's custom storage solutions promise to reveal more space than you thought possible. Our precise measurement and innovative designs ensure that every inch of your home is optimally utilized, significantly enhancing your home's functionality and aesthetic appeal.
3. Premium Quality Materials
Quality and longevity are at the heart of every Tailored Closet solution. Handpicked, high-quality cabinet finishes and hardware are used to give your home storage design a sophisticated and cohesive look. Our materials not only add to the visual appeal but also guarantee durability and longevity, making your custom storage a long-term investment in your home's value.
4. Trustworthy Local Experts
Locally owned by Trina and Richard Allen, The Tailored Closet of Greater Corpus Christi stands as your neighborhood home organization expert and is proud to serve Corpus Christi and its surrounding areas including Port Aransas, Portland, Rockport, Victoria, Kingsville, and many more locations. With a deep understanding of local trends and preferences, we take immense pride in transforming ordinary spaces into beautifully organized environments, delivering the peace of mind and satisfaction that come with a well-organized life.
5. Unwavering Client Satisfaction
The Tailored Closet's commitment to client satisfaction is unwavering. Our organization specialists take the time to ask insightful questions about the user, ensuring that the perfect design is incorporated into all your storage areas - be it walk-in, reach-in, or utility closets. Our professional installation and inspection process guarantees your absolute satisfaction, affirming our reputation for excellence in client service.
Organize Your Home with Us. Free In-Home Consultation Is Now Available
In conclusion, choosing The Tailored Closet of Greater Corpus Christi means investing in more than just organized spaces. It's about investing in peace of mind, an enhanced lifestyle, and the sheer joy of living in a home that reflects your unique style and needs. Beyond just sorting out your space, we're dedicated to transforming your way of life.
Experience the profound difference that tailored, efficient, and aesthetically pleasing storage solutions can bring to your life. Don't delay the transformation; start your journey today. Schedule a free in-home consultation to discover how The Tailored Closet can turn your dream of an organized, beautiful, and functional home into a reality.