Tailored Living And Extreme Makeover: Home Edition Get The Joseph Family Organized
For the second time, The Tailored Closet (formerly Tailored Living) and sister brands, Budget Blinds®, Concrete Craft®, and AdvantaClean® joined parent company, Home Franchise Concepts (HFC), in participation with HGTV's Extreme Makeover: Home Edition to change the world of another deserving family. The Joseph family of Carson, California, received a completely renovated home that will change their lives, enabling them to continue their outreach activities to the homeless in their community.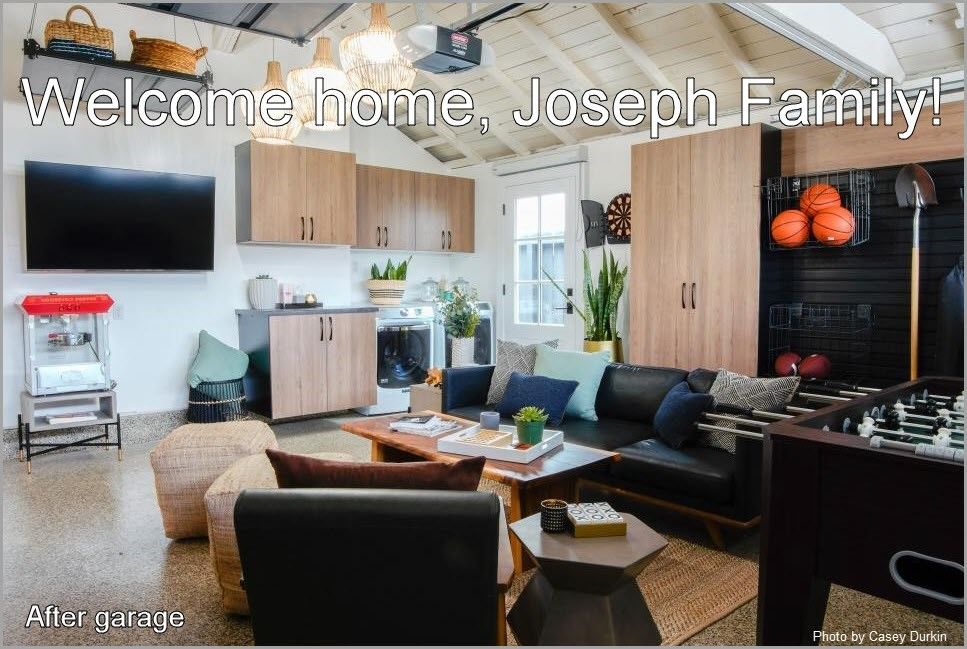 Tailored Living's innovative garage storage and custom flooring created functional living space for the family in the garage as well as storage and workspace for assembling hygiene packs
The transforming power of Extreme Makeover: Home Edition
For 2020, a new version of the iconic Extreme Makeover: Home Edition TV series introduced a new host, Jesse Tyler Ferguson (Modern Family), and an innovative design team, including designers Carrie Locklyn and Breegan Jane, and carpenter Darren Keefe who each bring their own individual styles to the home renovations. Continuing the goal of extreme home makeovers for deserving families that give back to their communities in extraordinary ways, Carrie explains their design philosophy to arrive at the perfect new home: "The first thing we look at is what they need. To aid the lives of these hometown heroes and to help their families, not to mention their contribution toward their communities is our primary objective."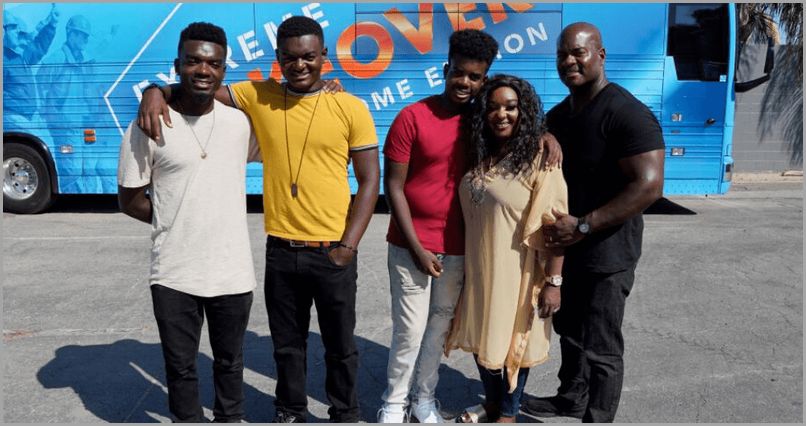 Deon and Tosha Joseph and their three sons, Jordan and twins Xavier and Deon Jr., are in for an unbelievable ride with the Extreme Makeover bus and their new home
For the Joseph family, this meant complete renovation, inside and out, maximizing the existing home:
Raise sunken living room 11 inches, remove walls, and integrate kitchen, dining room, and living room into one great room.
Convert the master bedroom to a Zen-spa love nest (Breegan's happy goal.)
Install closet organization systems in the bedroom closets.
Increase energy efficiency with custom window coverings from Budget Blinds.
Give the boys bedrooms that are suitable for their ages and personalities; put the twins into the bigger bedroom.
Garage went from jumbled to family-friendly space with new washer and dryer, media room, and custom storage cabinets, epoxy flooring, and automated overhead storage platform lifts.
Turn the huge, untapped backyard into functional living space with decorative concrete resurfacing by Concrete Craft.
Outside of the home received a brand-new color, a new front porch, gabled front door, stone walkway, new garage door, and a resurfaced driveway from Concrete Craft.
Banish moisture and allergens for home safety with one years' air duct cleaning and preventative maintenance from AdvantaClean.
Held together by love and duct tape
Deon and Tosha have been married for 22 years and with their three children, are involved in reaching out to the homeless people on Skid Row in Los Angeles. Deon is a police officer, known as "The Angel Cop" of Skid Row where he passes out hygiene packs that his family assembles in their garage. He hands out these packets as he encourages people with big hugs and help with everything from food and clothing to housing. Raised in a home where many children were fostered for 41 years of his parents' 47-year marriage, this giving lifestyle is deeply ingrained. At home, he's Mr. Patch-it versus Mr. Fix-it, but his duct tape and glue method of home repair for their ranch style home had finally reached crisis levels with moisture and mold causing allergies for his son, Xavier. As a thank you from the community, Extreme Makeover: Home Edition stepped in to give them the home they deserve, a modern resort-like beach house. Show host, Jesse, describes his vision for the home, "We want the house to be like the Malibu coast, but without the coastline, traffic, and celebrities."
Home Franchise Concepts' franchise brands make a difference
For Tailored Living and its sister brands, it was exciting to be part of such a life-changing event as this extreme home renovation. Home Office associates, in-house installers, and vendor manufacturing partners contributed time, product, and expertise to help make the home amazing and beautifully organized for this special family. Design focus was a bright and natural beach theme, chosen because the beach is Tosha's favorite place and it's where she and Deon first met, Venice Beach. Coastal colors, organic materials, and natural textures throughout the home brought the beach vibe home, beautifully.
The extraordinary great room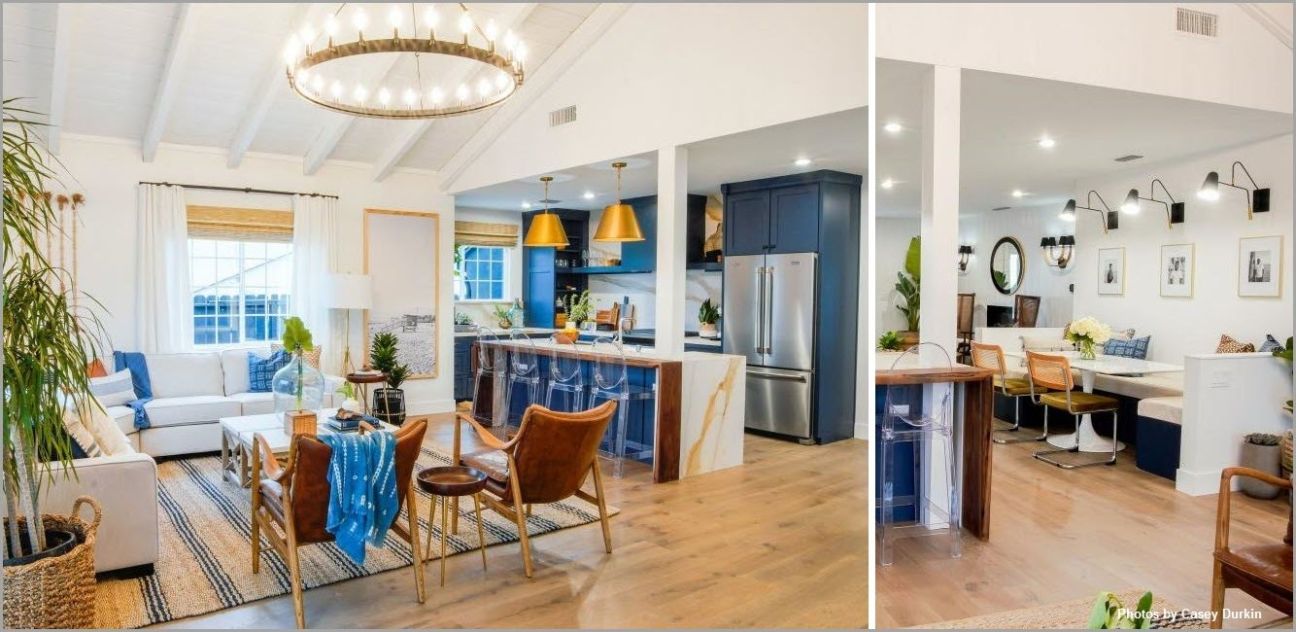 Converting multiple little rooms into one expansive open-plan living area will keep the whole family together for relaxing, eating, and entertaining
New windows were dressed up with light-filtering woven wood motorized shades and operable drapery panels to control light and privacy and enhance energy efficiency.
Neutral colors, lighter wood tones, and blue ocean colors create a restful, beach feel.
Additional lighting throughout the space with sconces, chandeliers, and recessed can lights gets light where it's needed and keeps the space bright even on the most overcast days.
Master bedroom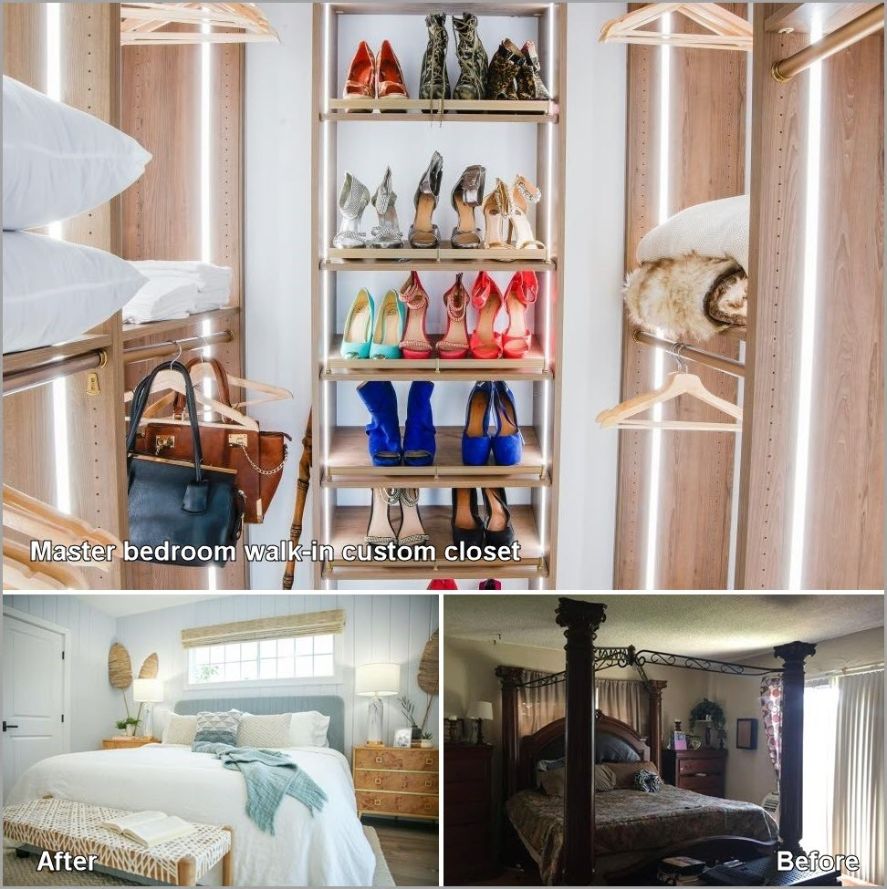 What a difference a week makes; complete transformation to a light and airy beach resort Zen-spa love nest
The custom closet storage system in the shared walk-in closet has a light wood laminate finish, tiered hanging racks and slanted shoe racks with rails, all illuminated with integrated LED lights making it easier to find what's needed.
Touch-of-a-button motorized woven wood shade above the bed controls light day and night, and white drapery panels (not pictured) cover the sliding doors that open to the new hot tub area in the back yard.
Coordinating pillows, bench, and décor items add interesting textures and colors, keeping to the beach theme.
Boys' bedrooms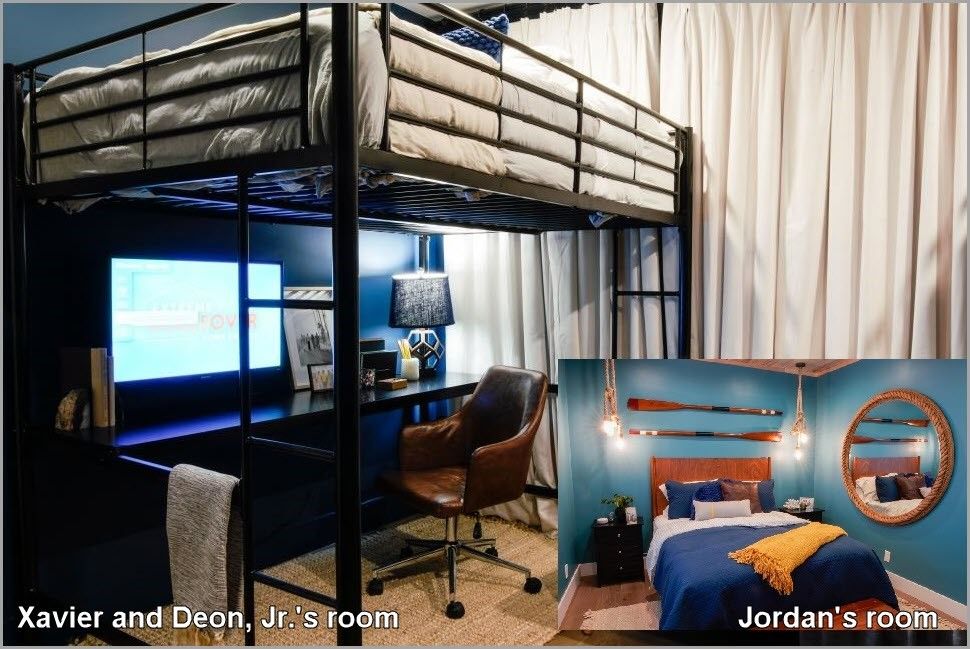 A bedroom swap put Jordan in the smaller room and the twins in the bigger room, and they all ended up with a perfect bedroom solution
Each room received a custom closet system to organize their clothes and shoes, giving each boy useful and convenient storage space making it easy to stay organized.
Matching loft beds free up floor space for individual desks providing Xavier and Deon, Jr. with efficient working space for schoolwork and their own TVs.
Jordan's response to seeing his personal space makeover: "This is actually real nice; way better than I expected! And the closet, a place to put my shoes instead of throwing them around. I've never had a TV in my room before. It's nice to have a more mature room."
Garage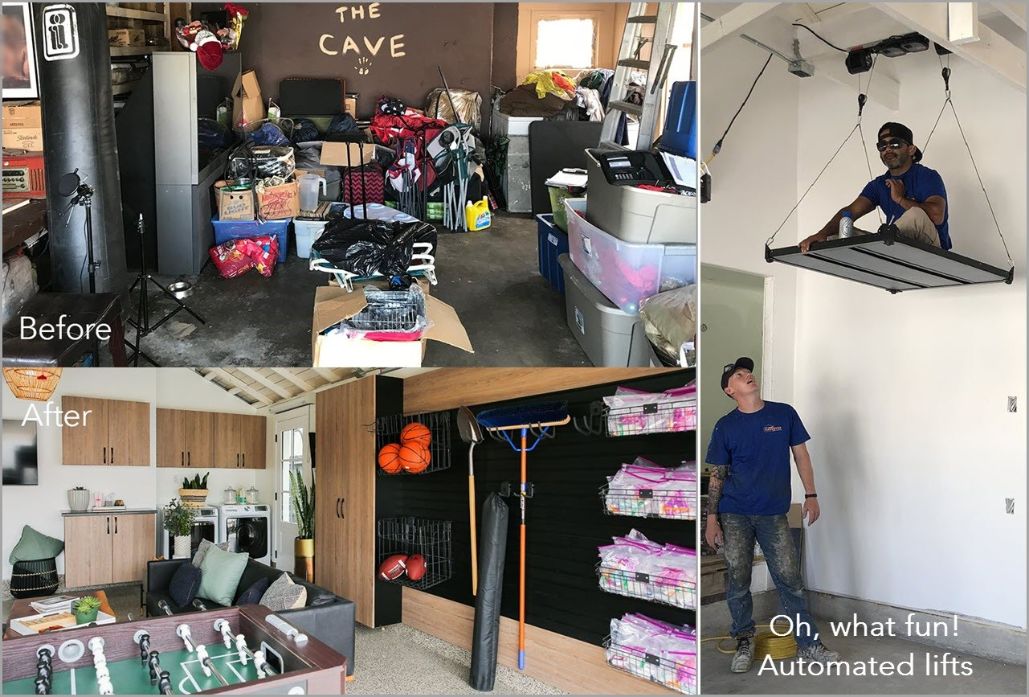 The garage was central to the family's many activities and Tailored Living transformed it from "The Cave" into an exceptional living space
Garage storage cabinets in a Formosa wood-look finish with black side panels and Oil Rubbed Bronze hardware coordinate with black Slatwall panels for very classy storage solutions.
Automated overhead platform lifts create valuable storage space at ceiling level. Installers tested for stability and weight tolerance—don't do this at home!
Other accessories include a pull-down drying rack in the laundry area, pullout baskets to organize hygiene pack supplies, a custom oiled soapstone countertop, task lighting over the workspace, and a hidden, pullout trash can.
A custom decorative texture PremierOne® epoxy floor coating in Madura ensures the garage will remain clean and safe for years to come, resistant to spills, moisture, stains, chips, cracks, and peeling.
Couches, games, and a big screen TV make the garage the perfect place for the guys to hang out with their friends, or for Tosha to have the girls over.
Move. That. Bus!
The family was moved out while all the work was underway and only returned when the house was complete and hidden behind the Extreme Makeover: Home Edition bus, awaiting the "Move. That. Bus!" moment when the family finally sees their new home. For the Josephs, this home hit all the right spots.
"This is so perfect! It's open, inviting, and says family." –Deon
"Are you kidding me? Look at my kitchen, look at my stove!" –Tosha
"A home my wife can be proud of and safety for my kids." –Deon
Jonathan Thiessen, HFC's Chief Development Officer, made a special presentation to the family when everyone was gathered in the incredible backyard: "We have a program at Home Franchise Concepts called Heart & Home and it's designed to give back to those that do great things and give back in their community. So, on behalf of HFC, we would like to give you $25,000 to continue with that."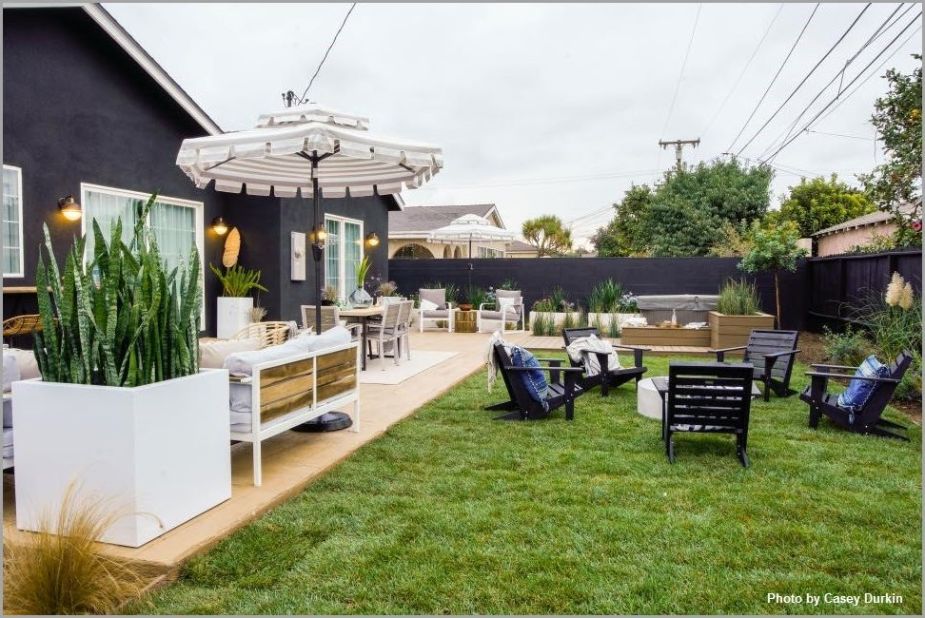 The big backyard had plenty of space to set up multiple activity areas to accommodate family get-togethers and entertaining friends with a fire pit, hot tub, and living-room-comfort patio
There are far too many memorable moments and quotes to share them all, but here are a few highlights:
Ty Pennington, host of the original Extreme Makeover series, designed and created a custom Tiki bar countertop longboard (surfboard) for real island flair on the patio.
Greg, a neighbor and friend, brought in a group from work to assemble 200+ hygiene packs for Deon to have for his ministry to the homeless.
View more before-and-after photos of the complete Joseph's home makeover: Transforming a Basic Ranch Into a Modern Beach Dream House.
Expand your living space with innovative solutions
If you'd like more living from your living spaces, Tailored Living is ready to help with innovative storage and organization solutions that can help you find space you didn't know you had. Call 866-712-3404 to find a designer near you and schedule a free consultation, including virtual design consultations.* From the safety and comfort of your own home, we can provide this service remotely on your mobile phone or through a web conference, and our 3D design software will let you see your design so you'll know it's right. We can do it all virtually for you—design, order, and set an appointment to install when the time is right.
*Virtual consultations are not available at all locations. *Tailored Living is now The Tailored Closet!
*Updated 11/11/2022