Eight Pantry Storage Tips For Carefree Summertime Eating
Summer can get a bit chaotic in a busy household with jobs, kids, dogs, friends, music lessons, sports, and swim meets. Schedules collide and fueling everyone's days and activities with food can make summertime a bit of a challenge. One way to keep on top of the summertime feeding frenzy is with an organized pantry that helps with maintaining everything that you need to feed your family the way they like to eat. Here are eight pantry storage tips from The Tailored Closet that will help you master the art of carefree summertime eating!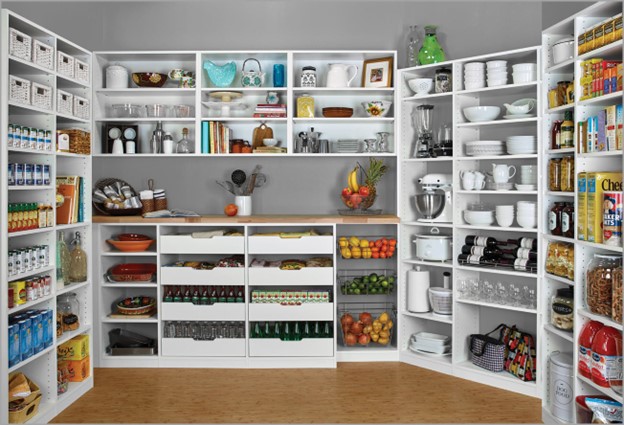 Be ready for summertime fun with a well-stocked pantry of all the foods your family loves
Tip One: Stay stocked up on the family's favorite foods, snacks, and drinks.
Ensure you have the space for the foods you need by removing everything from the pantry that doesn't belong there. (Yes, the inevitable purging step.)
Have a chalkboard or whiteboard in the pantry or on the fridge to keep a running grocery list of items that need restocking.
Throw out expired foods, have only safe, fresh food in the pantry to start the summer off right.
Tip Two: Keep quick, one-step options on hand for busy days.
Boxed macaroni and cheese or other pasta and grain dishes, soups, and Hamburger Helper can save the day.
Prepackaged mixes of cookies, cakes, and brownies whip up easily when it's snack time or company comes.
Have canned beans, tuna, and chicken for protein when you don't have time to cook.
Tip Three: Before the mess happens, put pretzels, cookies, cereal, and chips into sealed plastic containers before placing in the pantry.
It will save bags and boxes ripped open and spilled contents.
Food stays fresh longer in airtight containers, eliminating stale chips and sticky marshmallows.
Plastic containers won't break if dropped, an especially important feature with snacking kids.
Tip Four: Organize zones in the pantry to make everything accessible.
Consider who has to reach what, a short child or a tall adult, and design your pantry storage zones to accommodate.
Group breakfast items together on lower shelves so the kids can serve themselves.
Store snack foods in one place to eliminate searching through the whole pantry.
Place heavier items like drinks and big bags of pet food on the bottom shelves.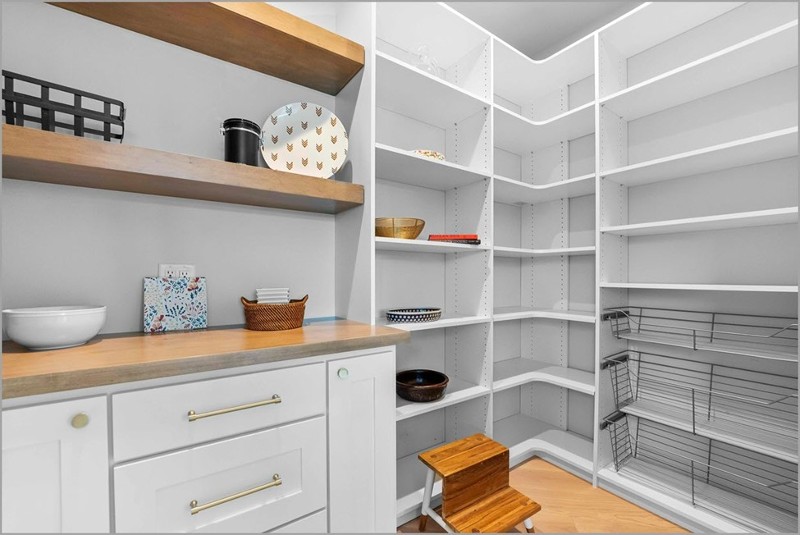 Organize your whole pantry with designated sections for canned goods, baking supplies, drinks, snacks, and fresh fruits
Tip Five: Create visibility and eliminate endless searching with see-through storage containers and labels.
Use labels to define individual containers; no wondering what the white stuff is—flour, baking powder, or pancake mix.
Labeling drawers and shelf zones let family members easily find what they need and then put back pantry items where they belong.
Maximize shelf space with multiple tiers of storage pieces designed to stack together.
Tip Six: Drawers, baskets and bins eliminate the clutter lots of small items can create.
Individual chip and snack bags stay contained and easy to access.
Keeping like items together lets you see when the supply is running low.
Kids can easily serve themselves jello, applesauce, and pudding cups. (See 50 Summer Snacks For Kids that they can make themselves.)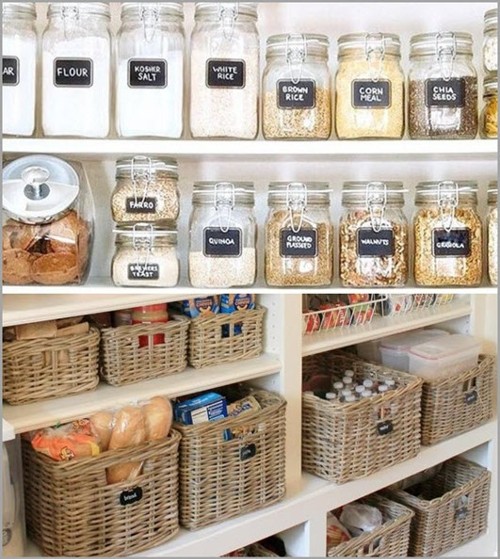 Visibility of everything in the pantry is key to keeping it filled with everything you need
Tip Seven: Preserve favorite summer wines in specialty wine racks.
Pantry wine racks are designed to preserve freshness and flavor by storing wine properly.
Check out The 25 Best Wines for Summer from foodandwine.com.
Tip Eight: Think outside a small pantry for creative ways to conveniently store non-food items.
Small appliances or baking and serving dishes can go in a kitchen cabinet or on a Baker's rack.
Non-perishable items like paper towels, napkins, disposable plates, and cups can be stored in the garage, laundry room or linen closet.
Pet food can safely store in airtight containers in the garage.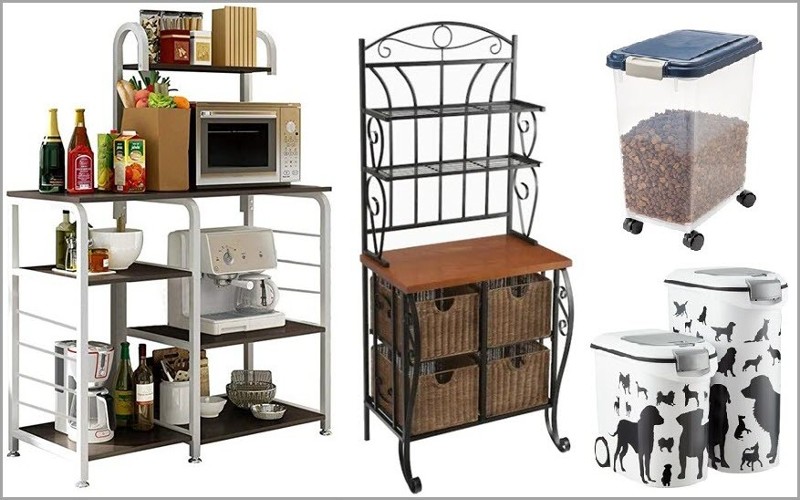 Expand food storage space by relocating non-food items to alternative storage
Say goodbye to pantry woes
If your existing pantry space is inefficient, needs more than just organizing, or you don't actually have an official pantry, The Tailored Closet can help. Whether it's finding new pantry space or maximizing your existing pantry for greater functionality and accessibility, The Tailored Closet designers can work with you to create a custom pantry, designed to your specific needs, style, and budget. A new, custom pantry in time for summer will enable you to create stress-free meals, have favorite snacks readily available, and keep a fresh supply of all the drinks necessary to keep everyone cooled off and hydrated all summer long! Call 866-712-3404 today or go online to www.tailoredcloset.com to find a designer near you and schedule a free, in-home or virtual* consultation.
*Virtual consultations may not be available at all locations.
Like us on Facebook and follow us on Instagram.
*Updated 10/12/2022