How To Efficiently Use Drawers In Your Closet
Utilizing drawers as part of a closet organization system is a great way to organize and store small items so they are easily accessible and don't get lost. Whether built-in or free-standing, drawers can store practically anything in your closet you don't want on full view, is small and looks like closet clutter, or that you prefer to keep under lock and key like valuable jewelry, tech items, or money. The Tailored Closet custom closet organization systems can incorporate drawers of wood, wire, or soft-sided options to give your closet the look you want while making it more efficient and clutter-free.
Drawers can be an integral part of a closet organization system to provide hidden storage and reduce closet clutter
Benefits of closet drawers
Drawers offer benefits that contribute to closet efficiency as well as making staying organized a lot easier. Benefits of using drawers for storage include:
Hiding contents from sight.
Keeping like items together.
Can be customized for what you need to store.
Provides additional storage within a small space.
Neatly store thinner and smaller items that jumble up on shelves.
Reduce the need for other furniture, like dressers, in the bedroom.
Option for locking capability.
Additionally, you have different styles of drawers to choose from to create the aesthetic you prefer, including traditional wood drawers, casual soft-sided drawers, or full-visibility wire drawers. Our custom closet storage systems will accommodate any style as part of the overall design or you can bring in portable, modular drawers made of wire, plastic, or fabric. While any style of drawer can help you organize your closet, each has unique characteristics, so you'll want what works best for your needs.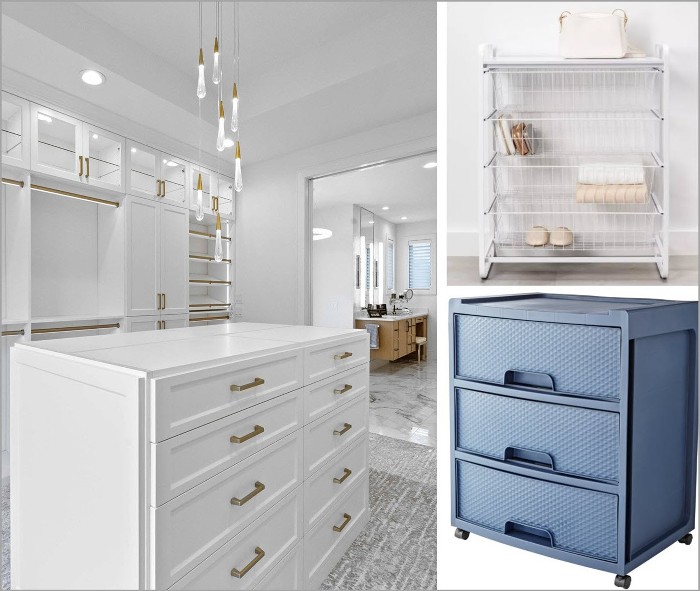 Options of portable drawer units for a small closet or an island of drawers for a walk-in closet will keep you beautifully organized
Built-in drawers: When included as part of a closet organization system, you can customize drawer size and have deeper drawers at the bottom and shallower drawers on top to accommodate small items like lingerie and jewelry. Custom drawers generally will have more weight capacity than standing units.
Portable drawers: Individual drawer units afford the versatility to place a coordinated stack of drawers wherever you need it. Usually three to five drawers, these are similar to a small dresser that you can place under hanging clothes or in a corner for additional storage.
Specialty drawers: Go upscale with custom drawers like velvet-lined jewelry drawers to protect and organize all your bling. Individual compartments perfectly fit rings, earrings, bracelets, watches, and necklaces, eliminating tangles, damage, or tarnish. Drawer dividers let you safely store sunglasses, wallets, money clips, and more, even protecting your tech like phones, keychains, portable charges, SD cards, and RFID wallets so they aren't left at risk all over the house.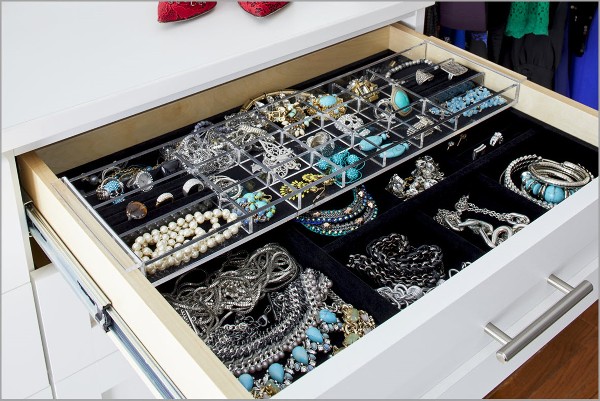 Eliminate multiple, cluttered jewelry boxes with custom drawers to organize and display all your jewelry so it's easily accessible in one place
What are the best things to store in drawers?
While a drawer can certainly hold anything you want to place in it, for efficiency and accessibility there are certain things in your wardrobe that do better in drawers than on shelves or hangers. Small items are ideal for drawers as well as clothing that doesn't set wrinkles when folded. You can maximize hanging space in your closet by using drawers to store the following:
T-shirts and tank tops
Bras, panties, and camisoles
Nightgowns and pajamas
Scarves
Socks
Gym clothes
Leggings
Ties and belts
On the flip side, some things are better when stored on shelves or on hangers as opposed to stacking in drawers where they quickly eat up the space and you have to dig to see all the contents:
Bulky sweaters are easier to find on shelves
Folded jeans and shorts stack well, or jeans can hang on pant racks
Sweatshirts and sweatpants stack neatly on shelves
Organizing drawers for efficiency
Once you've determined what will be in the closet drawers, you'll want to maximize the efficiency of each drawer. One way is to assign a drawer to each type of clothing such as all socks in one place and all T-shirts in another. It makes it easy to see exactly what you have at all times. Within the drawers, drawer dividers or organizers can further fine-tune storage by separating individual items. If you have more than one type of clothing in a drawer or lots of little items like ties or scarves, dividers or bins will keep everything in perfect order.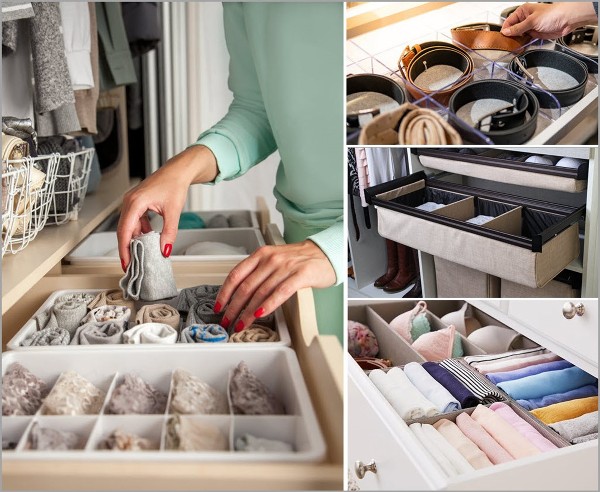 Customizable drawer dividers let you organize your drawers for the most efficient storage you can imagine
Folding: the real drawer dilemma
Now that your drawer storage plan is formulated, the big questions are:
What's the best way to fold items to maximize space?
Is rolling clothes better than folding?
Is the KonMarie method best for folding clothes?
Obviously, there is no one right way to fold clothes but the main take-away is that it is always best to fold clothes before putting them into a drawer. Lining them up rather than stacking makes it easier to see the contents at a glance, which is central to the KonMarie method of folding T-shirts (and other clothes) so they stand up vertically in the drawer. Rolling items also eliminates the stacks that eventually get messy as you pull items from the bottom of the stack. Finding a folding method that works for you, meaning you will consistently do it, will ensure your closet drawers and shelves stay neat and tidy and your wardrobe will be more organized from undies to outerwear.
Take some time an evaluate your closet. Is some of the clutter from items that would be better stored in drawers to keep them organized as well as out of sight? Would limiting drawers to one type of storage make it easier to find what you need? If you're lacking drawer storage, The Tailored Closet designer near you can help you evaluate your needs and create a custom closet organization system just for you. Call 866-712-3404 today or go online to www.tailoredcloset.com to find a designer near you and schedule a free in-home or virtual* consultation. Having the right storage options will simplify every part of managing your closet.
*Virtual consultations may not be available at all locations.
For more closet organization ideas, like us on Facebook and follow us on Instagram.
*Updated 10/12/2022