Five Tips For Setting Up A Workable Home Office
Working from home is now the norm for millions of people worldwide. What may have started as a temporary work situation has become permanent. If you're still trying to do full-time work in part-time home office circumstances, your efficiency and productivity could be suffering. Are you:
Jockeying for space and working around family, pets, and constant interruptions.
Balancing a laptop on your knees, commandeering the dining room table, or setting up in the laundry room.
Working around piles or digging through clutter in shared space that also serves as a TV room, guest bedroom, or workout area.
The good news is that The Tailored Closet® designers are experts with custom home office design, including finding the space you need to get your work done.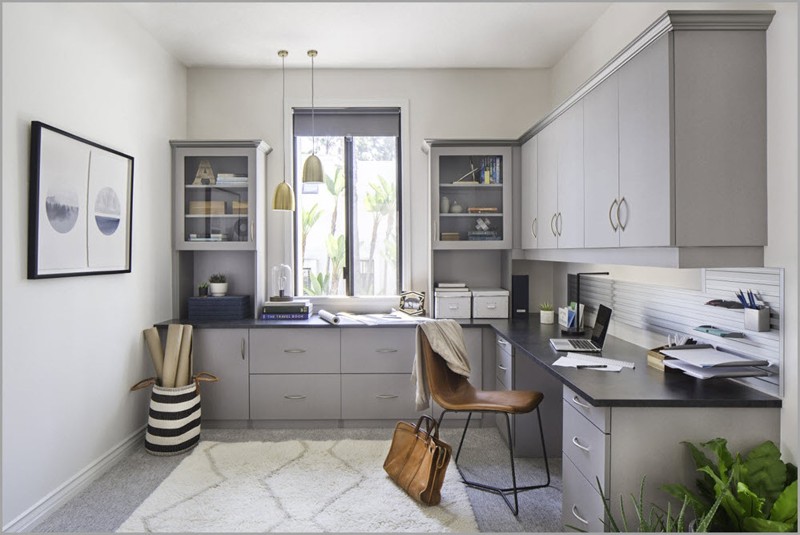 Imagine going to work every day in a beautiful office designed just for you
We can help you design a personalized home office, maximizing the space that you have with carefully thought-out amenities that will enable you to work more efficiently, integrating comfort and convenience. Here are five tips for setting up a workable home office that can transform your life.
Tip One: Have dedicated office space
To work efficiently and focus on the work at hand, you need the right amount of space. Figure out how much tabletop real estate you need to work effectively and factor that into your office design along with regular office/desktop needs like computers and printers. Even if you don't have an entire room for a home office, you can isolate a portion of shared space for your office within a bedroom, family room, or kitchen. With custom desktops, cabinets, and drawers, you can consolidate all your needs in one place, separate from the other uses of the room. Double-check for electrical and internet access needs and be sure you are sufficiently powered up!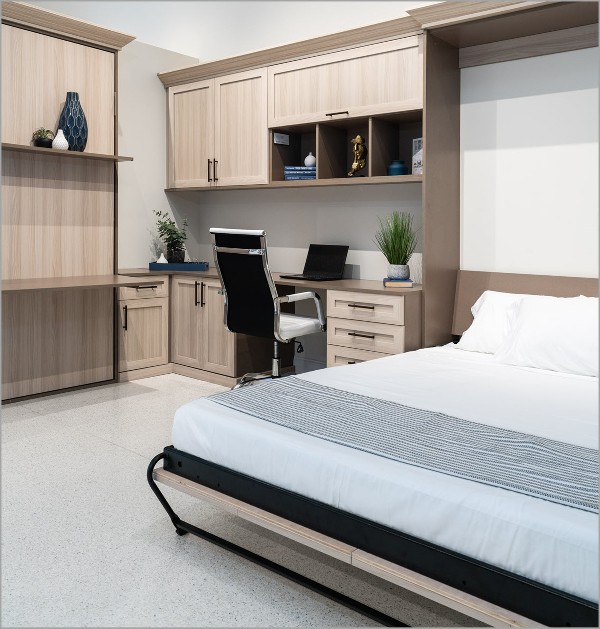 You can have your home office without sacrificing the guest room; install a Murphy Bed, hidden in a cabinet until needed
Tip Two: Customize storage to your needs
Storage needs will depend on your job. Most jobs require day-to-day availability of computers, printers, copiers, scanners, shredders, headphones, manuals, papers, office supplies, etc. Proper storage will have readily available everything that you need to get your job done. Custom cabinets and shelves capture vertical space for storage, keeping big items hidden and countertops clear of clutter. Drawers can hold hanging files and supplies, with custom dividers to organize small items and keep everything neat and tidy. Slatwall panels turn wall space into customizable storage with accessories like pen holders, file racks, and charging stations for keeping necessary tools close at hand yet off the desktop. Additionally, you may require some permanent, archival storage, so if space is at a premium, any long-term storage can expand to the garage or the top of a closet with clearly labeled file boxes.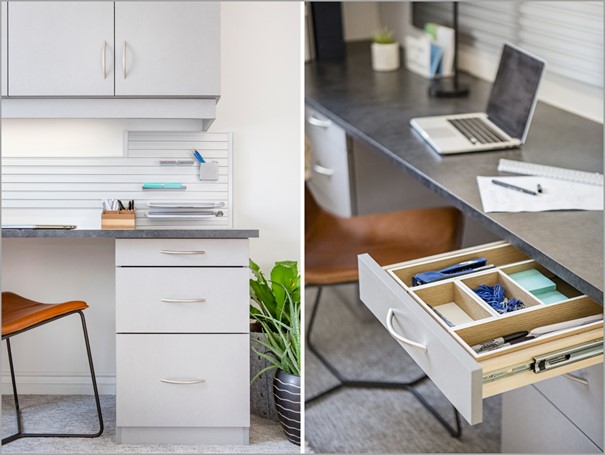 Office accessories create efficient storage to streamline your work processes and keep your space clutter-free
Tip Three: Comfort lets you focus
Have you ever been in a chair where you keep shifting and squirming, trying to get comfortable? In home office design, ergonomic considerations are part of the equation because long hours at a computer in a punishing chair can have a definite impact on getting the work done. Comfort and functional design come into play at many levels. Make sure that your desk is the right height for you and that your chair gives proper support. Including a standup desk option allows you to change your position and stance during the workday. Monitor temperature so it's not too hot or too cold. When needed, a space heater or fan can normalize an uncomfortable room.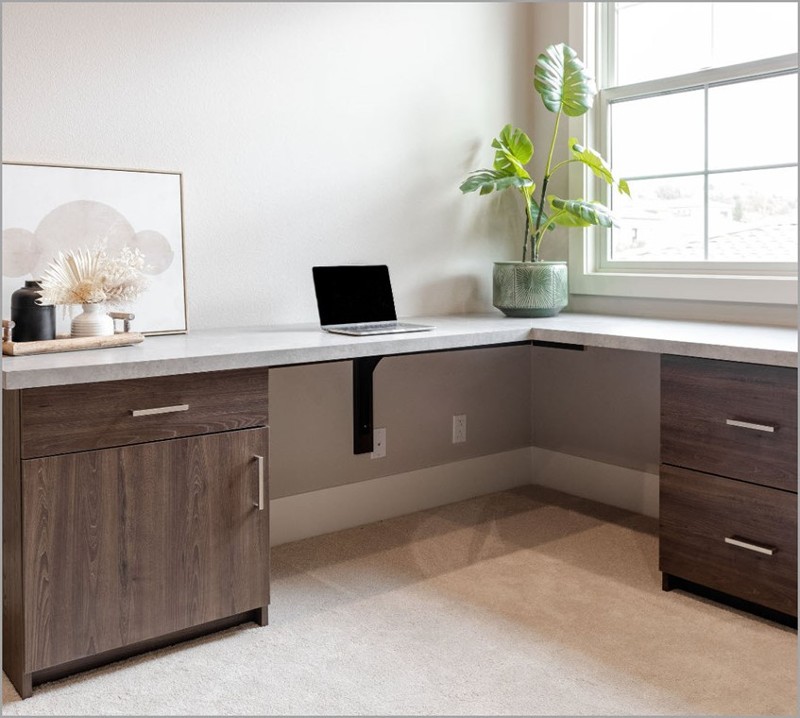 Leg room, workspace, lighting, and more contribute to an efficient home office space that lets you work comfortably
Tip Four: Lighting can make or break your workday
Having proper lighting can make your day go better by eliminating eye strain and headaches that can result from insufficient or wrong lighting. The key to home office lighting is layering. Natural light is a mood booster, so having your desk near a window is step one. That may not meet all your lighting needs, especially if you work at night, so layer in additional lighting options such as indirect, task, and accent lights. You want to light your tasks but without glare. Control the amount of natural light with solar shades that block the glare, or blinds and shutters with adjustable louvers. Make sure your space has a balance of indirect lighting to illuminate the entire room, task lighting to brighten up your workspace, and filler lights to reduce the impact of bright computer screens.
Tip Five: Create a space where you like to spend time
Undoubtedly, a home office will also be where you manage household business as well, so consider design elements that personalize your office with things you enjoy. Family pictures are cheerful office accessories as well as awards, trophies, and favorite art or collectibles. A comfy side chair, lush green plants, and a bright rug can add a touch of elegance. Use fun versions of not-so-elegant items, such as wastebaskets of unique design, crystal dishes to hold paper clips or pens, character bookends, and your favorite mug for coffee or tea. Use aromatherapy with scented candles or potpourri to help to relieve stress and create a soothing atmosphere.
Take control of your work life
If working from home isn't as pleasurable as you'd like, maybe you just need to alter your circumstances a bit. Especially if you've been making do with sketchy working conditions and have decided that home office space is something you've been wanting for a long time! We can help you create a custom home office you'll love, one that will enable you to work more efficiently, integrating comfort and convenience by maximizing the space that you have. Call 866-712-3404 today to find a designer near you and schedule a free in-home, or virtual* consultation. There's just no comparison for what custom, tailored-made solutions can do for designing optimal office space with styles and finishes to perfectly match your home's décor.
*Virtual consultations may not be available at all locations.
Like us on Facebook and follow us on Instagram.
*Updated 10/12/2022