Five Ways To Expand Your Living Space With A Murphy Bed
It's not unusual for busy, changing households to sometimes feel pressed for space:
As kids get bigger, the bedrooms can feel smaller.
New hobbies or interests can necessitate discovering new activity space.
Becoming a multi-generational house (from kids to grandparents) can demand some space shifting.
If you're in a season of change and need more from your space, The Tailored Closet can help evaluate your space in light of current needs to arrive at innovative solutions to the problem. One such solution could be the addition of a Murphy Bed (or two) that can maximize the efficiency of a room by creating dual-purpose functionality in one space. Check out these five ways that a Murphy Bed can increase your peace of mind by adding comfortable sleeping space wherever needed without infringing upon a room's main purpose. Get the best of both worlds, daytime productivity and nighttime serenity.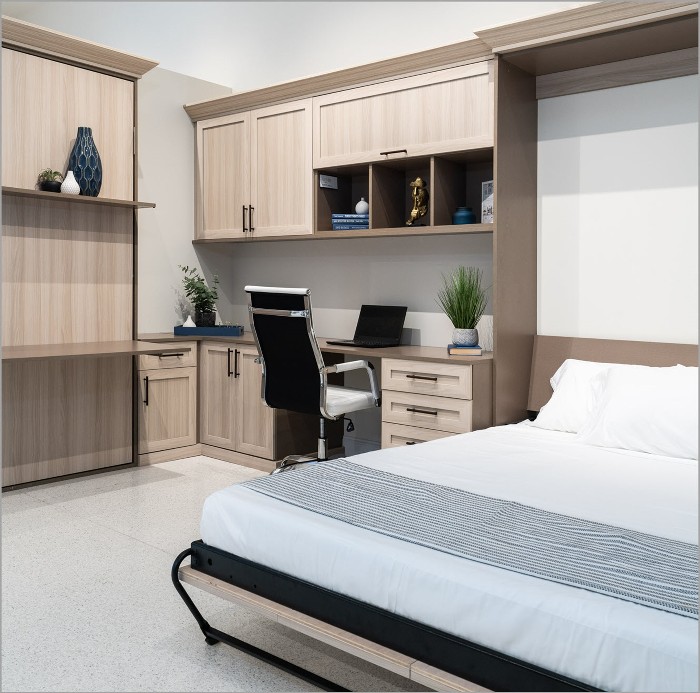 Your secret weapon for maximizing usefulness in any room is the very versatile Murphy Bed
Expand your home office to include a bed
The past couple of years has seen many rooms converted to home offices as more and more people began working remotely. Since the working from home trend is here to stay, it may be time to repurpose that room to include additional sleeping space by incorporating a Murphy Bed into a custom home office design. A system of cabinets, desktops, and shelves will retain the professional setting for work, and a Murphy Bed can be tucked inside the beautiful cabinetry, completely out of sight until needed. Your home office remains fully dedicated to work, and when company comes, just clear away the office clutter into drawers and cabinets and pull down the bed for comfortable sleeping quarters. This could also serve as an alternative sleeping space for an ill family member in quarantine or an unlucky family member who is in the doghouse!
Convert a vacated bedroom
Kids returning from college to visit, do laundry, and reconnect may be expecting their old bedroom to be waiting, but sometimes life moves on. Repurposing that valuable space as a necessary home office, workout room, or always-wanted intimate library gives new function to idle space. A Murphy Bed as part of the room design will ensure your child is welcomed home in comfort so they don't have to crash on the couch. They'll have privacy and a real bed to sleep in during their stay, so they won't feel demoted, and you'll have gained new functionality for the space.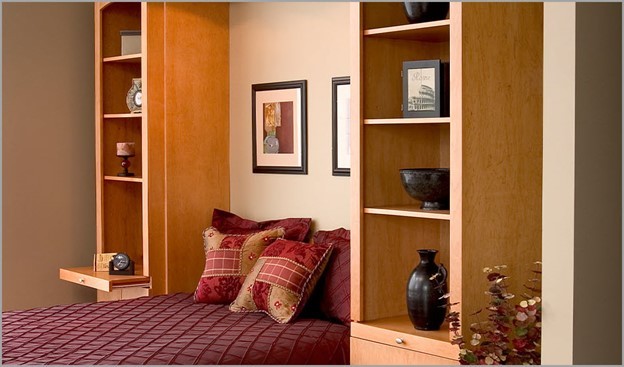 No need to sacrifice comfort, a Murphy Bed allows you to have beautiful, functional furniture and a great bed in any room
Make the guest room dual purpose
If you've always had the convenience of a guest room but life circumstances are demanding change, you can still have availability for guests with a Murphy Bed in the newly defined room. By itself or surrounded with cabinets, shelves and drawers, an integrated Murphy Bed mean you don't have to lose that guest room capability to get the dual-purpose space you need. You can have both a full-service craft or sewing room or any other purpose, as well as that comfortable guest room when the need arises by having organized storage for all uses of the room.
Reimagine the family room or playroom
Family rooms and playrooms tend to be geared to family comfort and, as such, may not be considered "guest appropriate." Designed for lounging, TV viewing, and play of all kinds, you'll have cushy furniture, ottomans, side tables, baskets, and cabinets for books, movies, toys, and games. While it may be good-times clutter, it's still cluttered which can relegate the space to off-limits for some uses. Instituting storage and organization with a custom entertainment center will provide lots of storage so clutter can be contained. And integrating a Murphy Bed into the design will create extra sleeping space that won't be an embarrassment. With space to neatly store everything, your family room or playroom can easily become a temporary guest room.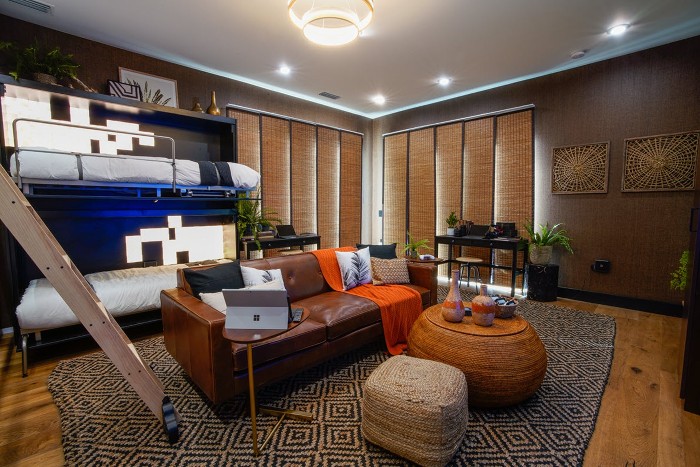 A family room with Murphy Beds may be the ultimate destination for all-night movie marathons
Increase sleeping space in small bedrooms
When kids share a bedroom, things can get pretty crowded. Bunk beds are one solution to conserve floor space, but not everyone is agreeable to sleeping on the top bunk and, with young children, it can be dangerous. A safe and sure way to maximize the space in the room is with one conventional bed and one Murphy Bed that folds up and out of the way during the day. The kids will still have a daytime bed for piling on with stuffed animals, to read, play games, or just laze around, while allowing space in the room for a train set, building blocks, puzzle table, and Legos®. They can fit in all the things that make up a kid's day and, at night, when open play space isn't needed, pull down the Murphy Bed and there's sleeping for two.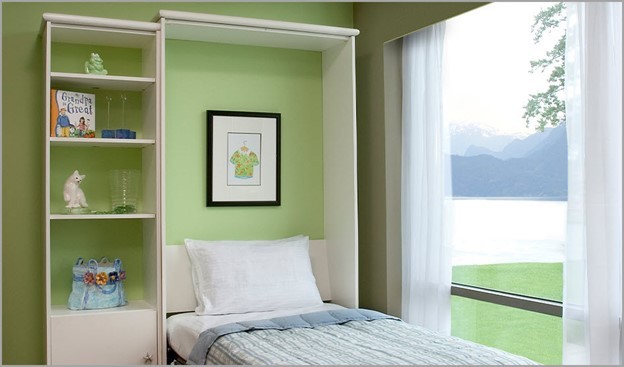 The second and third bedrooms can be small, but with a Murphy Bed that folds up out of the way during the day they can be perfectly comfortable for two
Why a Murphy Bed is the perfect solution
There's a lot to love about Murphy Beds and the ability to customize them to your space makes them ideal:
Any room is a potential guest room with a twin, full, queen, or king-size Murphy Bed, with or without surrounding cabinets, so you can use as much or as little space as you choose.
Cabinets are only about 16" deep, so they take up minimal floor space.
Available in a variety of cabinet colors and finishes, your Murphy Bed can match your home's style and décor.
No need for skimpy, under-sized mattresses, Murphy Beds come in traditional bed sizes to fit any coil spring mattress up to 12" thick.
There's no need to remake the bed each day, just fold up the Murphy Bed with blankets and pillows inside.
Patented technology and advanced steel hardware with spring-loaded mechanisms ensure smooth and easy opening and closing.
If you're feeling space-challenged for whatever reasons, The Tailored Closet can help you discover solutions for any area of your home. Call 866-712-3404 today or go online to www.tailoredcloset.com to find a designer near you and schedule a free in-home or virtual* consultation.
*Updated 10/12/2022