Six Ways A Murphy Bed Can Make Your Home Feel Bigger
If you're in a season of change at your house or living in smaller surroundings than you'd like, the idea of finding more space in your home is very appealing. A very real solution to space constraints is a Murphy Bed that can revolutionize tight spaces with creative designs that make the most of your space without sacrificing your style. Here are six ways a Murphy Bed from The Tailored Closet can make your home feel bigger without having to move!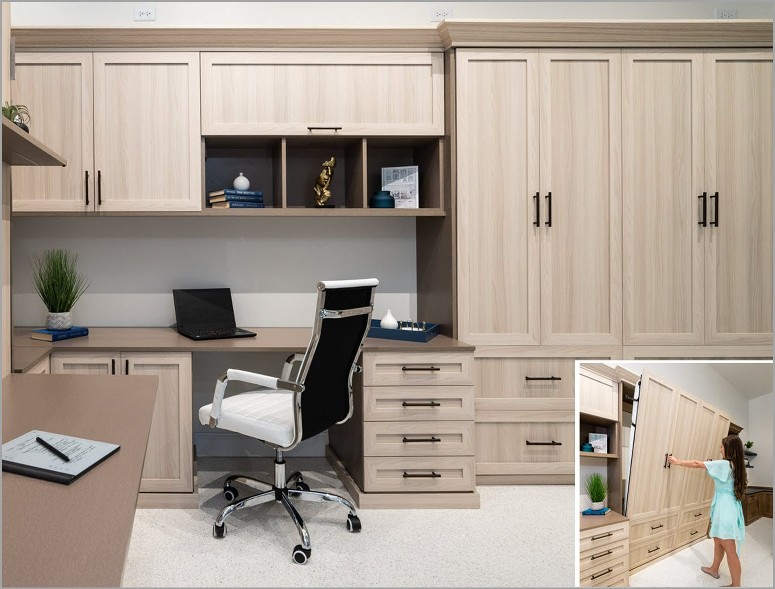 Enjoy having a full-time home office every day that easily converts to a comfortable guest bedroom at night
One: Dual home office and guest room
Needing a home office doesn't preclude the ability to have a guest room when they can happily live in the same space. By incorporating a Murphy Bed into a custom home office design as an integral part of the coordinated system of cabinets, desktops, and shelves throughout the room, you have extra sleeping space. Tucked inside the beautiful, matching cabinetry the bed is completely out of sight until needed for guests or isolating a sick family member. Your home office remains fully dedicated to work during the day as well as a comfortable bedroom at night.
Two: Family room with sleeping capability
Family rooms, living rooms, or TV rooms may be spacious, but they are also filled with all the things that make for family entertainment, leaving no space unused. A custom entertainment center that consolidates DVDs, game consoles, media equipment, books, games, and more, can include a Murphy Bed. The pulldown bed will provide sleeping space for overnight guests, so family members aren't bounced out of their bedrooms, and no one is forced to sleep on an uncomfortable couch. Design storage for the main purpose of the room so its functionality doesn't suffer, just add a hidden wall bed that magically appears when the need arises for additional sleeping space. With space to neatly store everything, your family room or living room can easily become a temporary guest room.
Three: Double sleep space in a small bedroom
As kids get bigger, their bedrooms can start to feel smaller. Where sharing a room is a necessity, freeing up living space during the day can help to relieve the cramped feeling. Replacing a conventional bed with a fold-away Murphy Bed ensures adequate sleeping for two at night while enjoying more living space for play, a desk for homework, or some bookshelves. The custom wall bed cabinet can include shelves, drawers, and cubbies for convenient storage. Sheets, blankets, and pillows fold up in the bed, eliminating the hassle of making up the bed every day. What kid wouldn't like that? You may find that both kids want a Murphy Bed.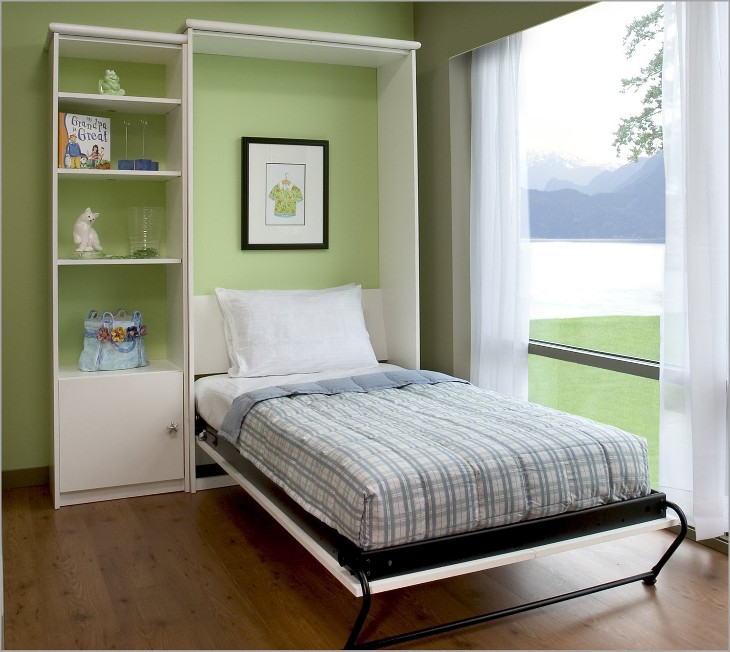 A safe and sure way to maximize space in a shared bedroom is with one conventional bed and one Murphy Bed that folds up and out of the way during the day
Four: Crafts or sewing room and part-time guest room
Sometimes small rooms become a coveted craft or hobby room, playroom, or even a home gym. Who wants to give that up for occasional extra sleeping space? With a Murphy Bed, you can indulge new hobbies or interests that demand space and at the same time have beautiful furniture and a great bed. You can have both a full-service craft or sewing room or any other purpose, as well as that comfortable guest room when the need arises by having organized storage for all uses of the room. Murphy Beds can have any number of surrounding cabinets and storage configurations, depending on the main function of the room. Cabinets are only about 16" deep so when closed, they have a very small footprint. There will still be plenty of room for exercise mats, crafting tables, sewing machines and storage to keep the room uncluttered.
Five: Temporary, fulltime bedroom
As family life and circumstances ebb and flow, space needs can change and a non-bedroom may suddenly need to become a bedroom, either temporarily or long term. Kids returning to the nest, grandparents moving in, or new babies can demand some space shifting in a home. A Murphy Bed can make any room into a fully functional bedroom for as long as it's needed with surrounding closet storage system cabinets that create hanging space and storage with drawers and adjustable shelves. Additionally, with a Murphy Bed, there is no sacrificing comfort, the beds take real coil spring mattresses up to 12" thick, including traditional twin/single, full/double, queen, or king sizes. Designed to fold away, a great Murphy Bed doesn't have to until the day the room returns to its original use as a home office or TV room where a permanent bed isn't required.
A custom Murphy Bed with beautiful cabinetry and a comfy mattress can be the permanent bed for any bedroom, open all the time
Six: Library or den with hidden bed
As an empty nester, you may have had the excitement of transforming a vacated bedroom into a long-awaited library, den, or contemplative getaway. You love it, but kids back from college to visit, do laundry, or reconnect may be expecting their old bedroom to be waiting for their inevitable return. By including a Murphy Bed in the new room's design, you retain full use of its new purpose while ensuring that your child is welcomed home in comfort, so they don't have to crash on the couch. They'll have privacy and a real bed to sleep in during their stay, so they won't feel demoted or replaced by a wall of books or furnishings that are uniquely you.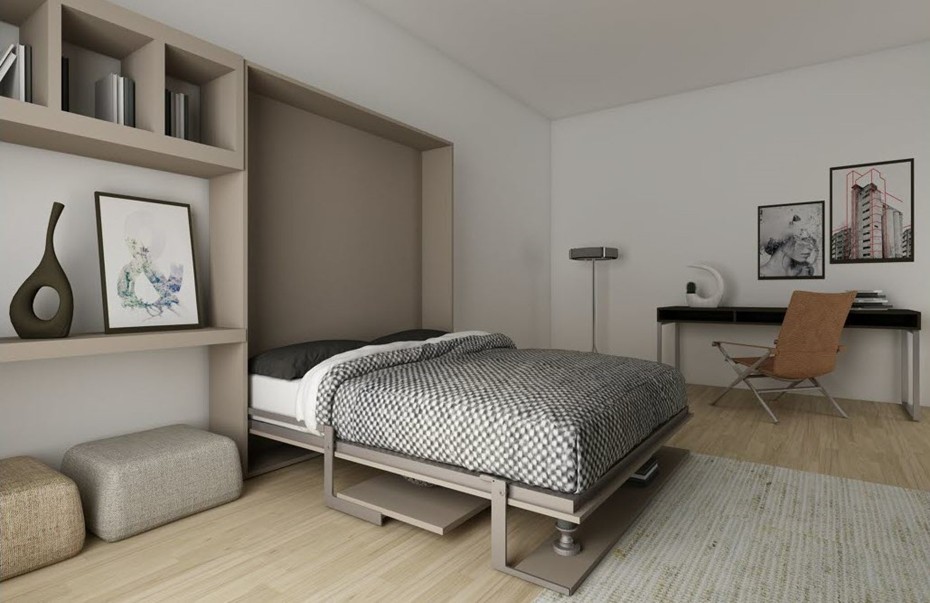 Unobtrusive until required, a Murphy Bed doesn't impact a room's use or carefully curated atmosphere when tucked away in its beautiful cabinet
Create unique designs to match your décor
Murphy Beds are beautiful furniture, encompassing everything from cabinets to desks and bookshelves with design features like decorative molding, glass-inset doors, integrated lighting, drawers, and adjustable shelves. Choose from eight standard cabinet styles in 16 standard finishes with a range of wood tones from light to dark and laminate solids from white to black for exactly the look you want to coordinate with your home's décor. Adorned with custom hardware in modern and traditional styles in Matte Gold, Black, Matte Aluminum, Matte Nickel, Polished Chrome, and Graphite, you'll love how they enhance your home. Call 866-712-3404 today or go online to www.tailoredcloset.com to find a designer near you and schedule a free in-home, or virtual* consultation to learn more about Murphy Beds and how they can help you find space and live more comfortably in your home.
*Virtual consultations may not be available at all locations.
Like us on Facebook and follow us on Instagram.
*Updated 10/12/2022