Got Shoes? Tips and Tricks for Storing Shoes and Hats in Your Closet
Most closets can master hanging clothes so they look neat and organized. Throw in a few (hundred) accessories like shoes, hats and purses and that can be the start of a messy closet. Accessories for both men and women can take up lots of space, although a woman's love of shoes has become a celebrated cultural phenomenon:
Life is too short to wear boring shoes.
If the shoe fits, buy it in every color.
Roses are red, violets are blue; keep the flowers, I'd rather have shoes!
Give a girl the right shoes and she can conquer the world. --Marilyn Monroe
But there's no reason you can't have a functional, organized closet and lots of beloved shoes, hats and accessories. The Tailored Closet's custom closet organization systems maximize storage space with vertical solutions like floor-to-ceiling closet cabinets and personalized touches like shoe racks, velvet-lined jewelry drawers, adjustable shelves, decorative hooks and more to transform your walk-in or reach-in closet to exactly what you need. No more piles on the floor, lost shoes or squashed hats. A custom closet will keep your entire wardrobe, including accessories, safely stored and accessible, making getting dressed a pleasure.
Shared space with separate accessory storage: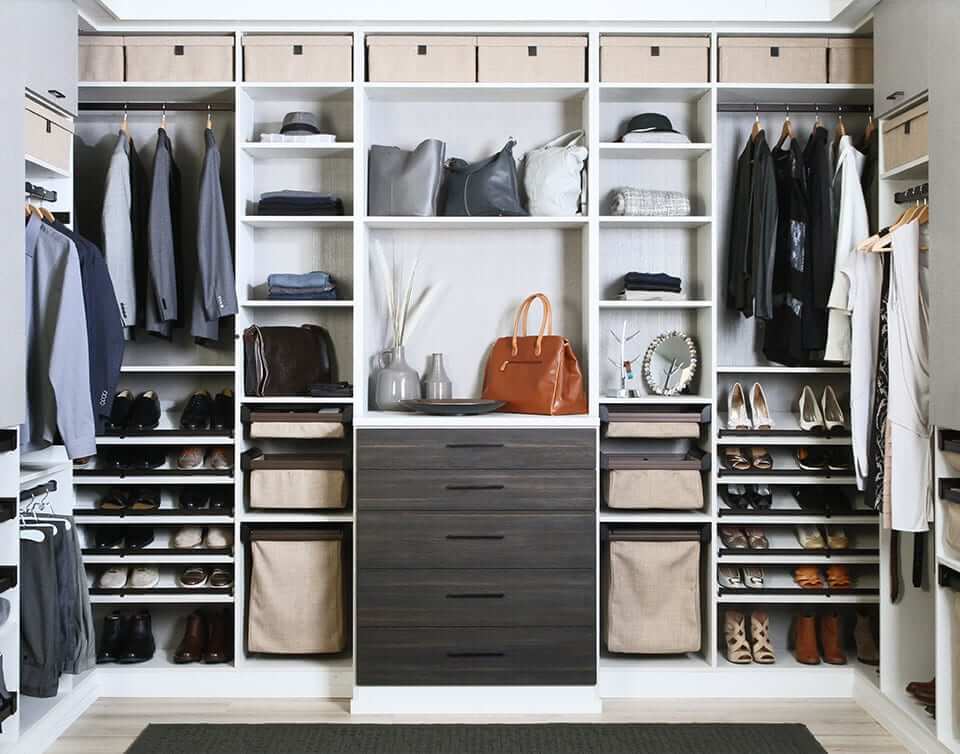 In a shared closet, individual shoe racks for each person will keep shoe wardrobes organized and accessible. It's perfectly natural not to want your Prada pumps next to his Air Jordans! Custom closet solutions including shelves, drawers and pullout bins create beautiful, functional space for each user's accessories.
Guard your precious shoes: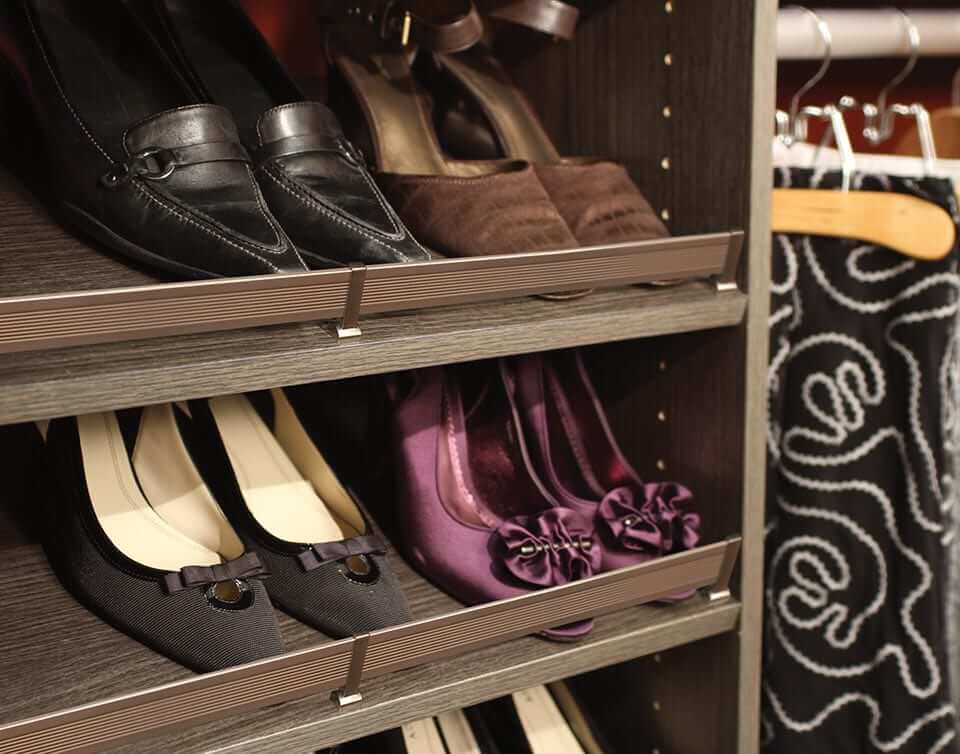 Slanted shoe racks let you see your shoes for easy selection, and rail guards ensure that they will stay safely on the shelves. Even your tallest heels will resist the urge to topple to the floor. No more searching for "the other shoe" when it's time to go out. Whether you want to put your Vessi shoes or Jimmy Choo's on display, this slanted shoe rack will keep your shoes safely stored.
Custom racks for unique storage solutions:
A unique revolving shoe rack from The Tailored Closet will hold up to 25 pairs of shoes in a corner of your closet. Alternatives to stacking hats on shelves or in baskets are an industrial chic hat tower or an over-the-door hat racks for baseball caps.
Pullout shoe racks save valuable space: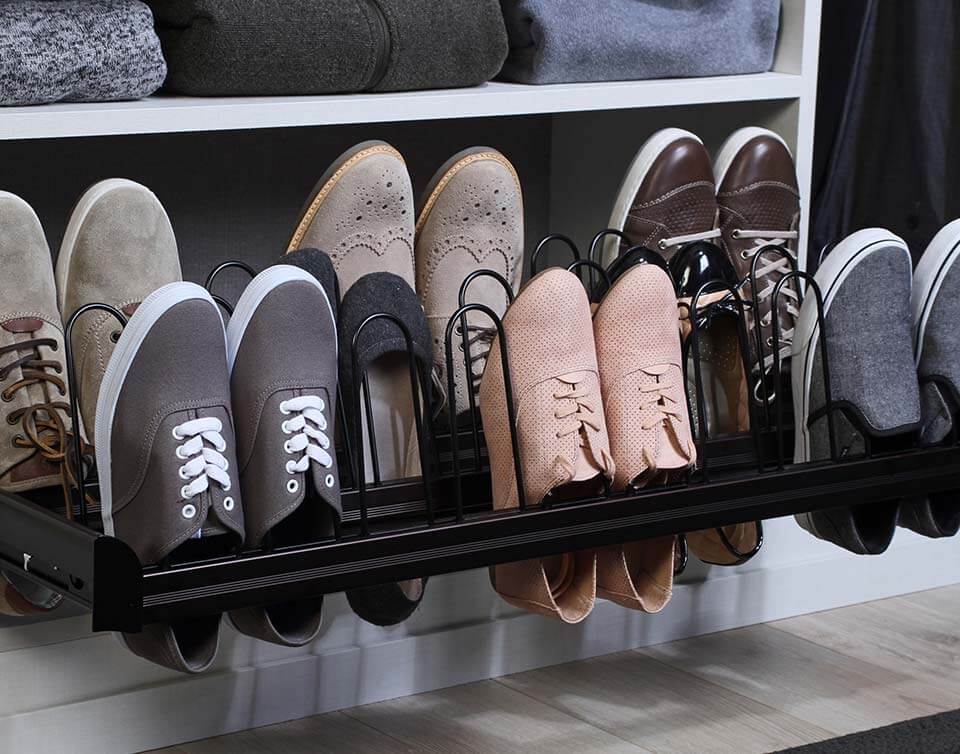 Retractable metal shoe racks with wire forms keep shoes organized and free from the crush of stacking. This pullout shoe rack will hold 10 pairs of shoes in the same space as a shelf that would only accommodate half as many. Shoes are easy to find and quick to put away.
Customize hat storage with decorative hooks: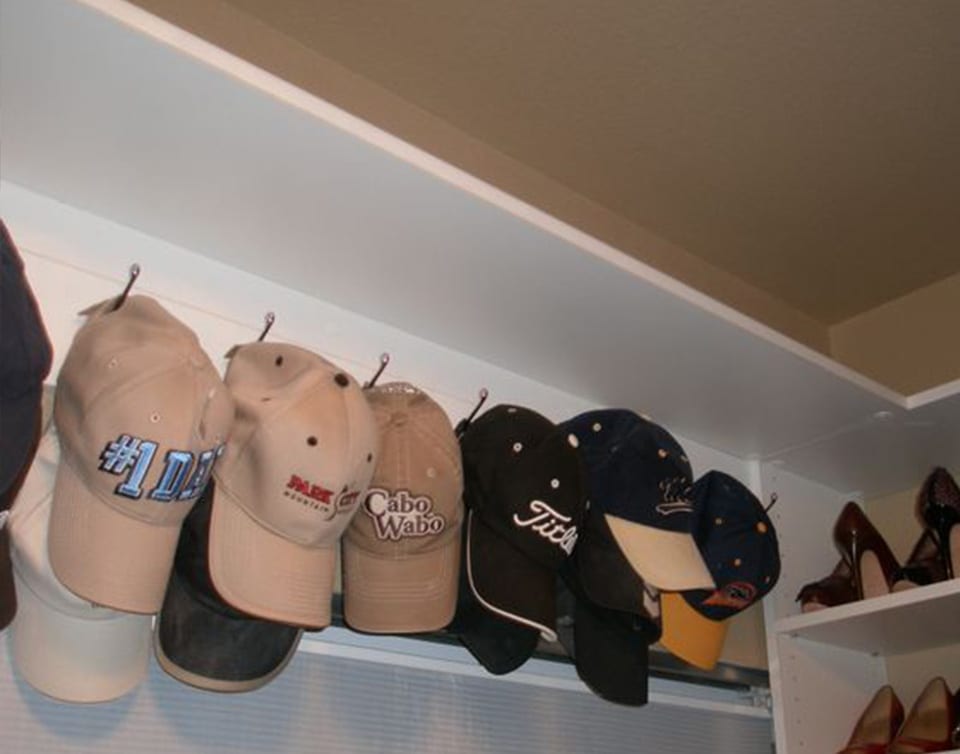 It seems to be a fact of life that nobody has just one baseball hat. Like shoes, baseball hats seem to exist in multiples. Decorative hooks near the top of the closet will provide out-of-the-way storage for lots of caps so you can see each one for easy selection.
Capture vertical space to store accessories: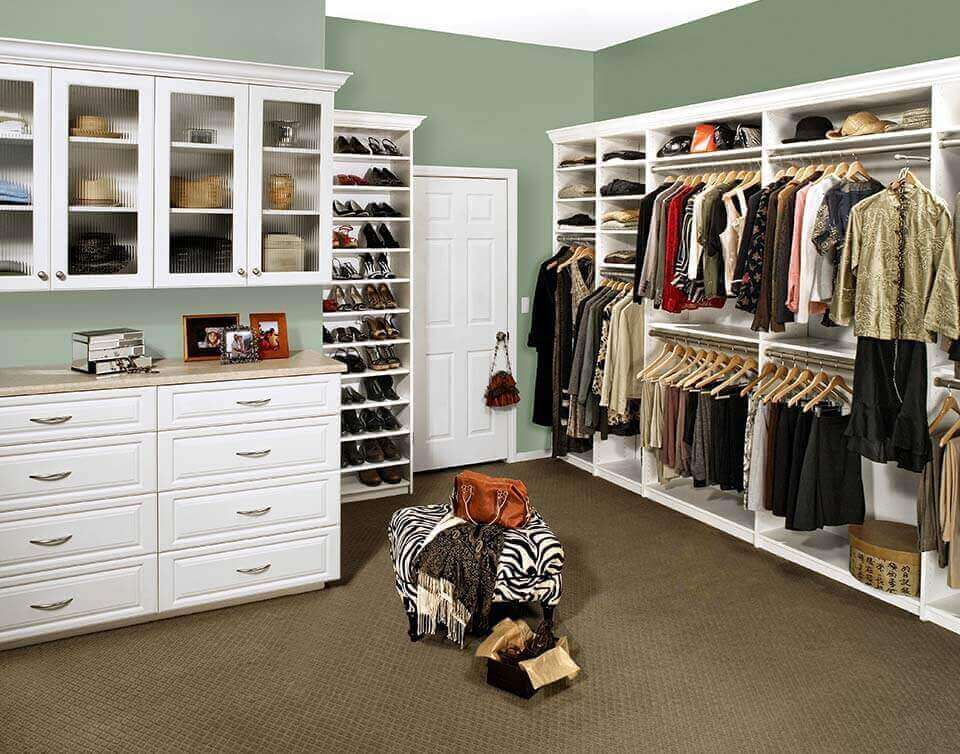 This walk-in closet features floor-to-ceiling shoe shelves that keep all the shoes in one place. Individual shelves installed over hanging clothes accommodate a whole hat wardrobe, making accessorizing an outfit as easy as walking into the closet!
Men also love their shoes: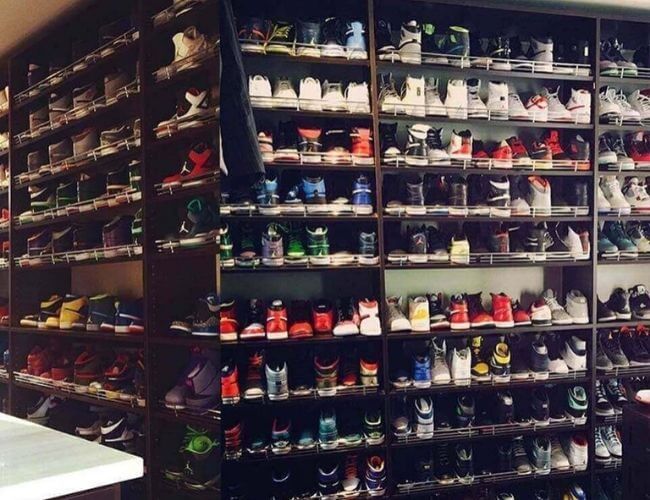 It's no surprise that Ray Allen, professional basketball star, would have lots of tennis shoes and sneakers, but walls of them? It's now confirmed…not only women are shoe-aholics! His floor-to-ceiling system of custom shoe shelves keeps his footwear organized and easy to find.
Cubbies are not just for kids' closets: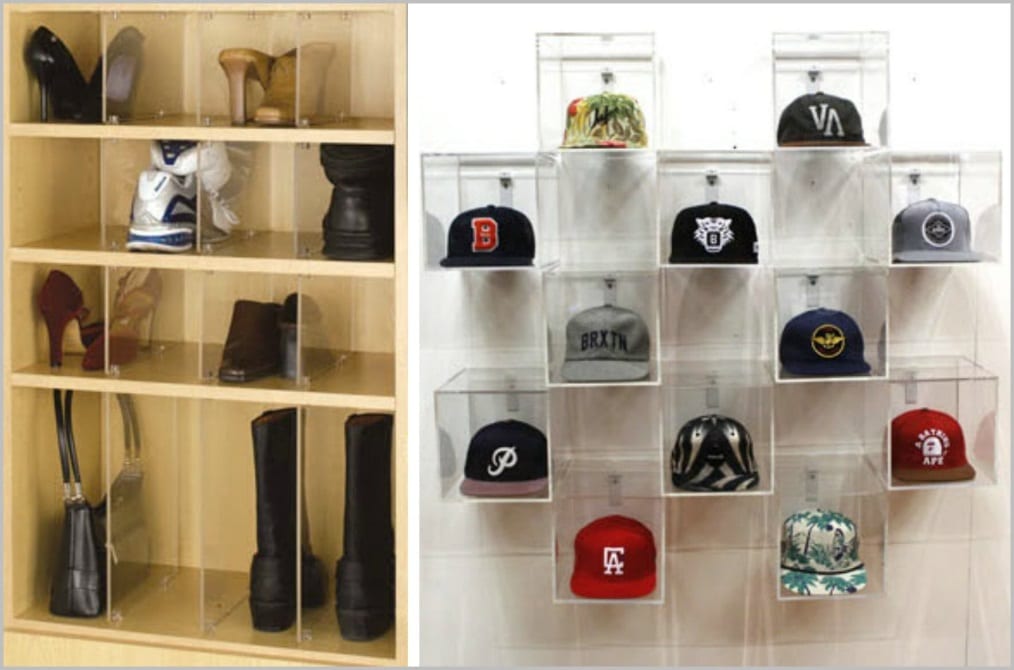 Adjustable shelves allow you to customize height for boots, stilettos, tennis shoes and more. Lucite shelf dividers create individual cubbies to protect and organize all your accessories, including purses and hats. A system of individual wall cubbies can organize lots of hats, shoes and accessories.
Showcase your hats: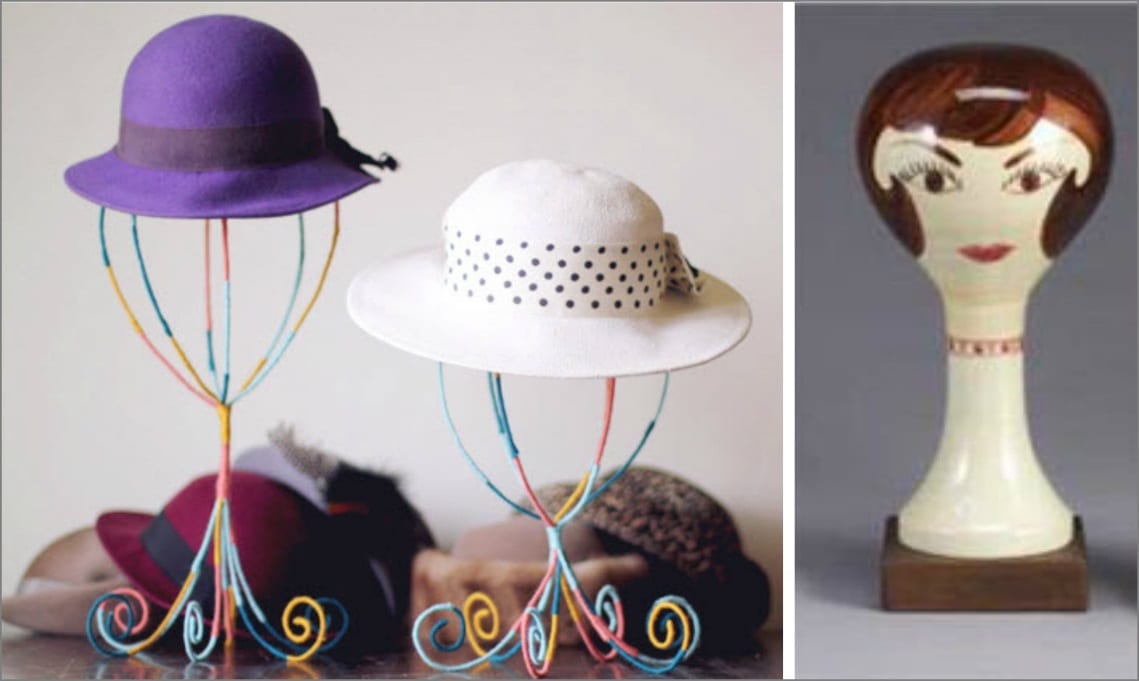 Hat racks and customized wig stands are the perfect solution to display and protect your favorite hats. Hats keep their shape and add a touch of glamour and chic wherever displayed--in your closet, dressing room or bedroom.
Whether your love is for jewelry, or you've just gone to buy suede boots online and realized you have nowhere to store them, you need to consider how you're going to manage this. So, whatever form your love of accessories takes, The Tailored Closet can help with innovative, custom closet design to corral all your shoes, hats, jewelry and sunglasses. Call 866-712-3404 today to schedule a FREE in-home consultation. We are also the experts for custom storage and organization solutions for every area of your home, including laundry rooms, pantries, home offices, media rooms, entryways, garages and more. Make clutter a thing of the past by calling today!
*Updated 10/12/2022