How Much Space Do I Really Need to Create a Walk-in Closet?
Designing a walk-in closet is not as easy as many people tend to think it is. Make it too small, and you will have to forever deal with not having enough room to store your clothes or see what you have in your closet. On the other hand, make it too large, and you will end up with a lot of wasted space that dramatically changes the entire design of your bedroom.
Fortunately, with the right tools and professionals, you will not have to stress about this challenging undertaking. Instead, these experts can ensure your closet is created to the ideal dimensions for your needs and incorporates ideas you never thought were possible.
The basic dimensions of walk-in closets
Typically, standard full-size walk-in closets meant for two people measure around seven by ten feet or have an area of 100 square feet. These dimensions will allow you to have storage units on all the walls and even space in the middle, which you could potentially use as a sitting area. However, if you are looking for a smaller walk-in closet, you can have these closets built in as little as 25 square feet of space. Here are some of the most common walk-in closet types.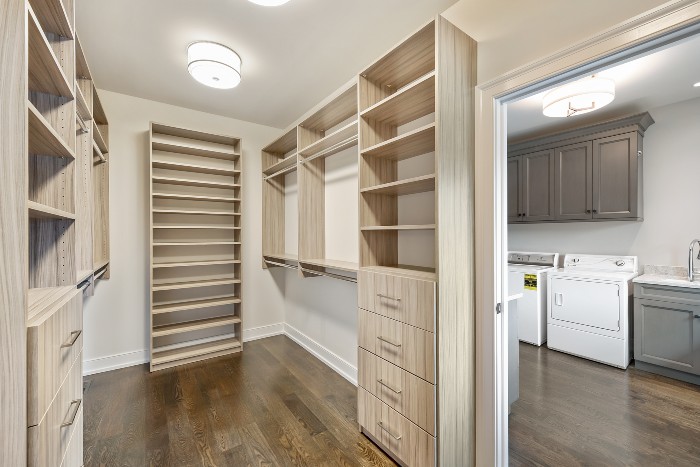 Single-sided walk-in
This type of walk-in closet is considered the smallest of the walk-in closets and is a mix between a reach-in closet and a walk-in closet. They are about four to five feet deep and occupy about 24 inches of the total shelf or hanging depth. This often leaves almost 36 inches of clearance.
Double-sided walk-in
One great aspect of a double-sided walk-in is its depth, as it can be flexible, often ranging from four to six feet. These double-sided walk-ins are usually wider than a single-sided closet and can incorporate two 24 inches of storage space on the walls. Plus, since the middle has a clearance of 36-inches, the total width comes out to be between six and seven feet.
Island walk-in
Generally, those homeowners who install an island walk-in will have enough space to fit everything they want in there. For those wondering if they can make this work for their closet, they need to make sure they have at least three feet of clearance on all sides of the island.
Walk-in closet ideas for storage capabilities
You can really optimize the storage features of your walk-in closet beyond drawers and shelving. Installing hanging rods in your walk-in closet is a great way to free up even more room and ensure that clothes and other gear are organized according to your specific needs. Typically, a normal-sized walk-in closet can have two levels of hanging rods. However, as a general rule, the top rod needs to be placed 80 to 82 inches from the floor, while the bottom rod should be placed 40 inches from the floor. If you are working with one rod, this placement needs to be 60 inches from the floor.
These dimensions can ensure that your pants and longer garments, such as dresses and coats, can be hung without them dragging on the floor and getting trampled on. In addition, if you want to add shelves above the rods to increase storage capacity, then these shelves need to be placed 14 to 16 inches deep to ensure that oversized items can be accommodated.
Walk-in closet designs
One of the best things about a walk-in closet is they are not only there to hold your clothes. With the proper design, you can change this space into the room you have always wanted.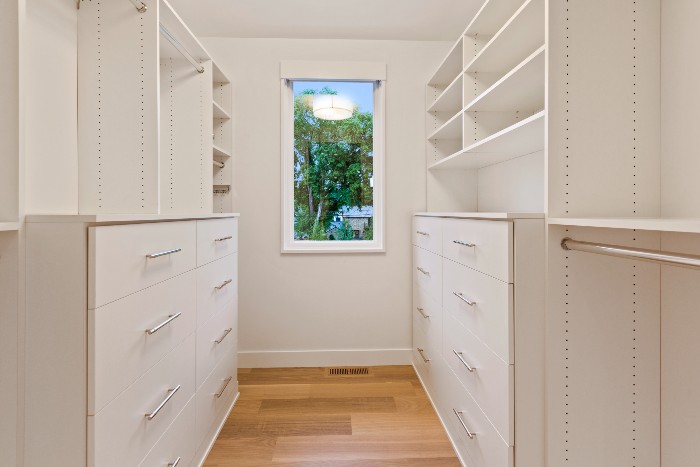 Personal haven
These walk-in closets can have their own distinct style that showcases not only a person's wardrobe but can provide homeowners an area to get away, sit down, and enjoy some downtime.
Multi-purpose room
For some, these walk-in closets have been transformed into meditation rooms or areas with unique features such as laundry stations or counters with an espresso machine. They can include a small desk for working and even a wine bar that contains a favorite wind-down treat.
One-of-a-kind space
Today, there are no limits to these walk-in closets. Meaning that your decor and amenities can be whatever you want, including wood floors, large islands, built-in dressers, three-way mirrors, and even textured wall treatments.
Working with the experts to ensure you get your ideal closet
If you are one of the fortunate individuals with space for a walk-in closet, you will be pleased to know that there are many types of walk-in closets for you to choose from. Not only can you turn this space into the ideal clutter-free organization zone, but you can also turn it into the room of your dreams.
However, before you decide to turn this walk-in closet project into a DIY, you need to consider the complications. Building a walk-in closet is not easy, especially with all the details and sizing specifications you need to know about. However, when you hire an expert to take on this complex addition, you can rest assured that the job will get done right.
These professionals can ensure you have the space for all of your items, including seldom-used seasonal decor or apparel. They are also trained to ensure the finished product will have a focal point anchoring the space while meeting your needs. Because of their background, they know how to efficiently optimize the amount of storage you have in your closet through strategic placement of shelving, rods, drawers, and more.
At The Tailored Closet, we are home storage solution experts, ready to provide you the help you need to create the walk-in closet you have always wanted. Our trick is that we keep functionality at the forefront of our design process, ensuring we create walk-in closets that are not only beautiful but incredibly organized. That is why if you are considering a walk-in closet for your home, do not wait any longer. Contact us today for a free consultation.
*Updated 10/12/2022