Laundry Room Organization Hacks For The Special Needs Of Summer
The fun times of summer can result in laundry challenges:
How do you wash bathing suits without ruining them?
Should damp/wet towels go in the hamper?
Can fine summer fabrics go in the washing machine and dryer?
Summer laundry can be greatly expanded by days at the beach (sand), picnics in the park (grass stains), pool parties (wet towels), and sprinkler chasing wet dogs (stinky, muddy towels). Making laundry less of a chore will make summertime more fun for everyone. The Tailored Closet has some laundry room tips that will help to manage the excess while keeping your laundry room neat and tidy.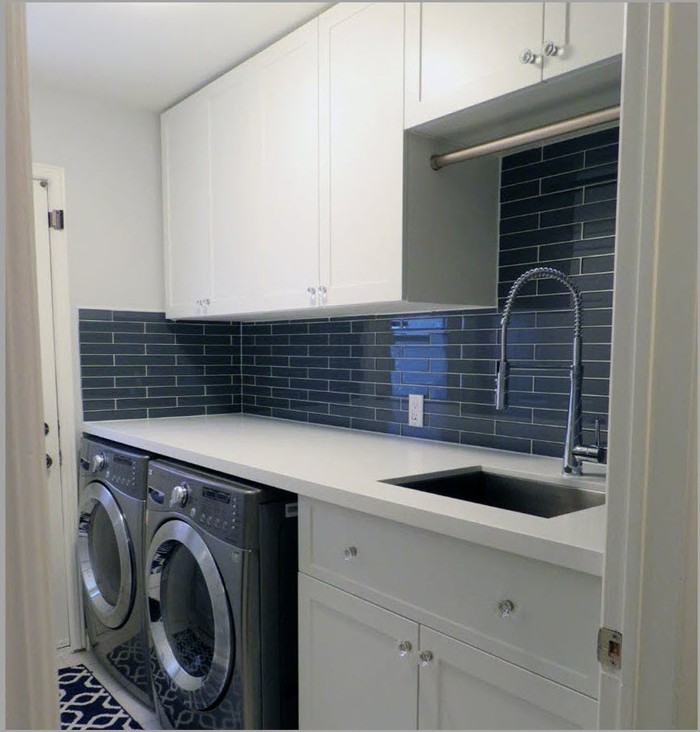 Summer doesn't have to mean losing control of your laundry room
First and foremost, having storage cabinets is the best way to optimize storage and organize everything in the laundry room. But even with customized storage that fits your space, you can still use a little extra help with summertime madness. Following are some laundry hacks that can serve as temporary solutions or become a permanent part of your everyday laundry room routine.
One: Incorporate extra hanging options to dry everything
So much of summer fun revolves around water: Swimming pools, beaches, Slip 'N Slides, sprinkler games, and water balloon fights. This makes for lots of wet garments that cannot go directly into hampers, and if they don't go directly into the washing machine, where do they go? Additionally, many summer fabrics cannot be put into the dryer at all, so they have to air dry. Creating extra hanging space will allow items to dry out completely to eliminate the stinky, moldy smell of piling wet things in hampers, and you'll have plenty of space to air dry delicate summer fabrics. Ways to supplement your existing hanging space include:
Pulldown hangers/valet rods
Retractable clothes lines, including portable ones for travel
Multiple skirt hangers are great for bathing suits and smaller items
Rolling racks to serve as drying space and a hamper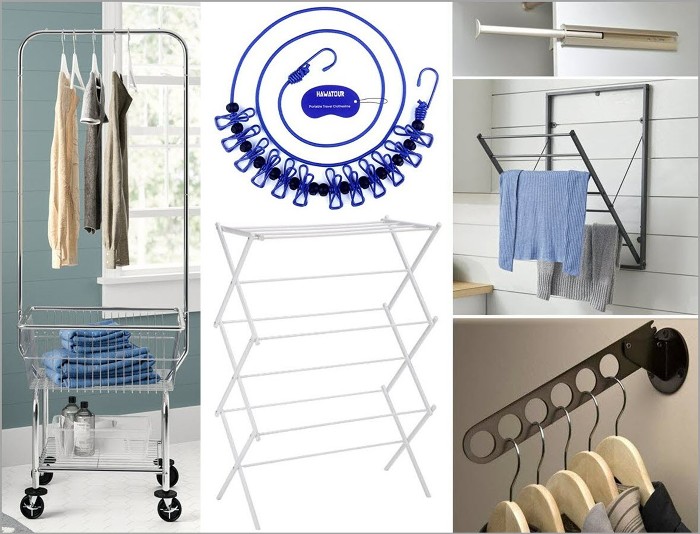 When not needed, these hanging options fold or roll out of the way
Two: Use ventilated laundry baskets as additional hampers for extra towels and beach blankets.
Get double duty from plastic laundry baskets rather than buying expensive hampers you don't need year-round.
The ventilated sides guard against dampness buildup if wet clothes get tossed in.
Three: Add a shoe rack to air dry washable tennis shoes, fabric flats, and sandals.
A portable rack can be set outside to dry.
Sunlight naturally brightens, whitens, and disinfects fabrics, so it's a great way to dry washable footwear.
Four: Keep all laundry products together
Keep laundry products like soap, fabric softener, stain removers, and bleach right where you need them but out of sight in cabinets or drawers.
Safely store your iron, garment steamer, fabric shaver or other laundry helps in baskets or drawers.
Five: "How-to" guides help anyone do the laundry
Post instructions for washer and dryer, showing settings and temperatures for different fabrics and colors as well as how to properly use the machines.
A stain removal guide posted where laundry products are stored is a good, quick reference.
For in-depth information about washing all your summer finery, see How to Properly Care for Your Summer Wardrobe.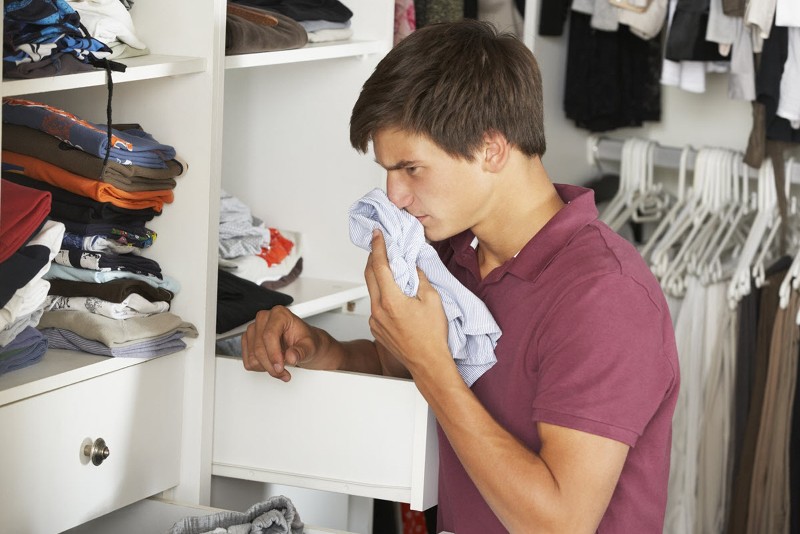 No more questionable clothes when laundry is done to perfection
Six: Keep a handheld vacuum close by to clean up small messes
Sand and dirt can be a real bugaboo in the laundry! A handheld, powerful little vacuum will clean up floors and inside the washer after a day at the beach.
Check out Best Handheld Vacuum Cleaners 2022. (Consumer Tested Reviews)
Seven: Have a sewing kit handy to make quick repairs, like a loose hem or dropped button.
Don't send clothes that need repair back to the bedroom closets.
If it's not a quick fix, have a basket set aside for needed repairs so you don't forget about them.
Eight: Designate a basket or bin for rescued pocket contents
Make it simple for everyone to retrieve pens, hair clips, keys, or anything else they forgot in a pocket.
If you find money, consider it a tip!
Nine: Laundry sinks make quick work of any hand-washing needs
Soak or pre-treat stains and handwash delicates and hang them up to dry.
Ideal for bathing sandy dogs, toddler feet, or rinsing off dirty shoes.
A laundry room for all seasons
If your laundry room needs more than a few hacks to be efficient during the summer and all year long, The Tailored Closet can help you design the perfect laundry room for your needs. Whether a full room, a closet, or a space in the garage is your laundry area, maximizing the space for storage and organization is what we do, and we do it beautifully! Making your laundry space work for you can change your life with innovative storage solutions that organize, declutter, and enable you to focus on the task at hand.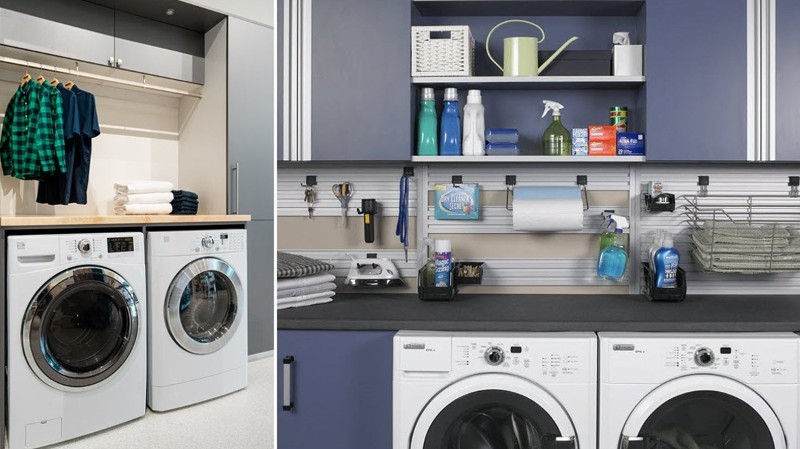 In-home or in-garage, your custom laundry room can help you sail, stress-free, through laundry day
Our custom cabinetry comes in a range of styles, colors, and finishes so you can easily match your home's décor.
Personalize to your taste with accessories like built-in hanging rods, integrated hampers, LED lighting, countertops, and floating shelves.
3D design software lets you see how your design will look, including color and hardware choices, so you can be confident it's right for you.
There are definitely better things to do with your time during the lazy days of summer than doing laundry round-the-clock. By making your laundry room user-friendly for everyone, it will be quicker and easier to keep things clean, dry, and organized, with the family properly dressed for any activity. Call 866-712-3404 today to find a designer near you and schedule a free in-home, or virtual* consultation.
*Virtual consultations may not be available at all locations.
Like us on Facebook and follow us on Instagram.
*Updated 10/12/2022