Tips From The Experts So Your Entryway Wins The War On Winter
Entryways are notorious for being cluttered. Anything that passes through the front door has the potential to add to the clutter, including shoes, boots, bags, hats, purses, keys, books, groceries, and more. Without a plan, chaos ensues. Add in the challenges that winter weather brings—mud, rain, snow, ice, drippy garments, and wet dogs—and it can get messy indeed! The Tailored Closet® has pooled savvy advice and organization hacks from online experts, along with our own years of entryway design expertise, to offer ideas to help you keep your entryway user-friendly and functional all winter long.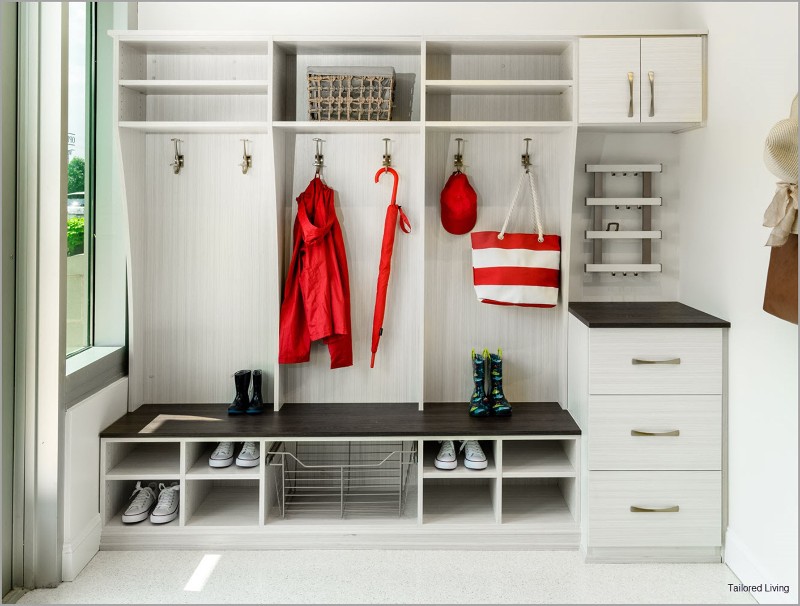 Custom entryway design can maximize all your space for efficient storage and organization for your unique family
Ask anyone about entryway organization and you'll hear references to hooks, shelves, baskets and bins, cubbies, hangers, and rugs as solutions to entryway clutter. Not every entryway or mudroom needs every solution and only you know what will best serve your space and needs. Here are several tips for creating a worry-free entryway with exactly the storage to fit your lifestyle.
Hooks for every eventuality
Not every hook is appropriate for every need. For example, hooks for keys don't require the same sturdiness as hooks for coats or backpacks. Using the right hooks will help utilize your space wisely and ensure that everything is safely stored. So, whether it's a DIY solution of independent hooks or an integrated entryway organization system, hooks can come to the rescue!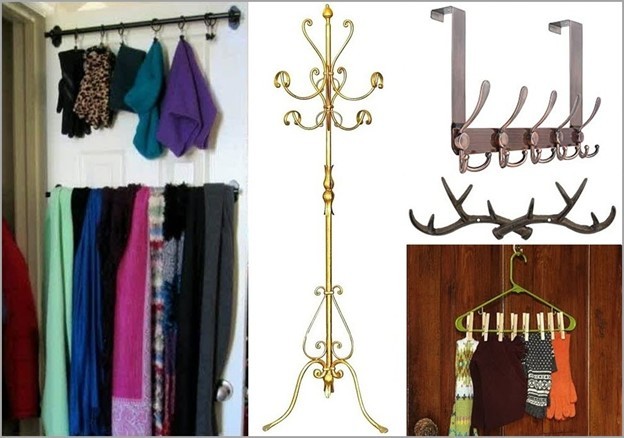 Specialty hooks or clever DIY solutions can keep all your winter wear organized and dry so it's ready for the next wearing
Use the different heights of your family members to your advantage. (Mamaslatinas.com) High and low-level hooks will make it easy for the tall and the small to hang up their things.
Designated hooks for each family member will eliminate fighting for space.
Young kids will be more likely to use reachable, fun hooks in animal shapes or favorite Superheroes.
Have enough hooks so that coats and other wet garments are only one-on-a-hook so they can dry completely.
For additional or temporary hanging space during the wettest months, add a standing coat rack or an over-the door rack with multiple hooks so wet items are not layered.
Use heavy-duty racks or hooks for coats and backpacks and small racks or hooks for keys, umbrellas, and hats. (simplifyexperts.com)
Control the clutter with baskets and bins
While hooks may alleviate the bulk of the clutter, there are many things that find their way into the entryway that hooks can't help. Small items abound, like shopping bags, sports equipment, books, purses, laptops, umbrellas, sunglasses, coffee mugs, toys, and phones that can quickly get out of control. Implementing storage for small items using decorative baskets and bins keeps everything handy and organized so the entryway stays clean and neat.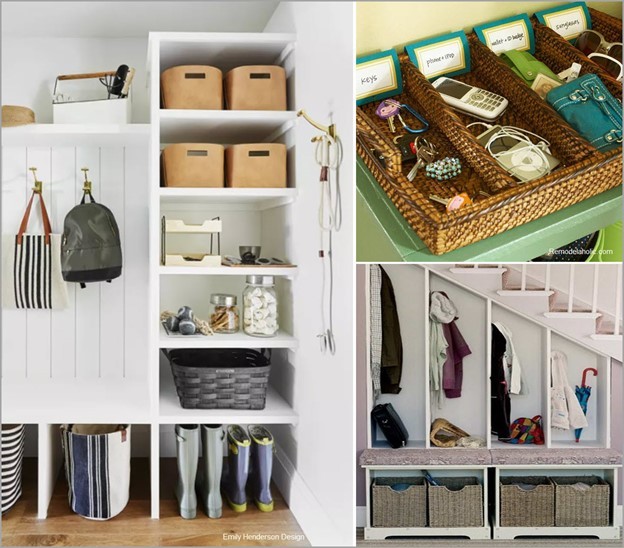 Bins and baskets provide organization on shelves, in cubbies, or free-standing to collect loose items
Assign a sturdy metal storage bin to each member of the household. Slide the bins underneath a bench in the front hall, or line them up in a mudroom.
An umbrella stand right next to the door provides a handy place to stash your gear to prevent bringing the rainy day further into the house.
A "health and safety" basket can store necessary items at the front door, so no one leaves the house without gloves, hand sanitizer, face masks, tissues, and cough drops.
A divided tray on a side table or shelf keeps often-misplaced items like keys, sunglasses, and charger cords easy to find.
Individual cubbies or drawers help family members keep track of their personal items and child-level hooks, cubbies, and drawers let the kids easily manage their own possessions.
Give the dog a special basket or bin to hold everything you need for dog walking.
Muddy boots and shoes, oh my!
The biggest offender of all is the footwear of winter. Muddy boots, shoes, and galoshes can bring an alarming amount of dirt and grime through the front door and into the rest of the house. The entryway is the perfect first line of defense to win the war on winter messes.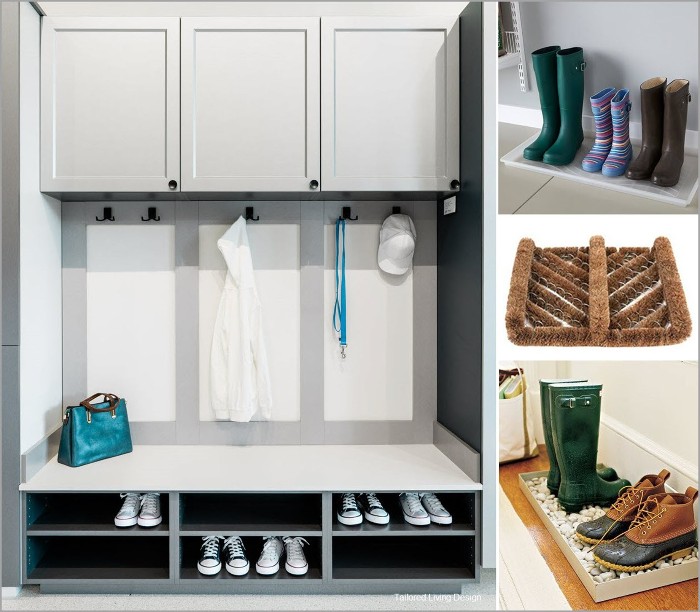 Containment is key when dealing with muddy footwear so plan on enough space to accommodate everyone's shoes and boots
Shoe cubbies stacked or integrated into a storage system provide space to store shoes and boots individually so they can dry out and not just pile up on the floor.
Whether you use a simple tray, or a rustic reclaimed wooden bin, have somewhere to set dirty boots and shoes as soon as you walk thru the door. Not only does it help protect floors from scratches, but it also saves you major clean-up time.
Make a boot tray by the door even better: Fill it with stones (found at garden centers). Ice and snow will melt and drain through the rocks to the bottom of the tray, so your boots won't stand in a puddle.
We keep towels near the door so that we can wipe our dogs' paws after walks. We also keep slippers nearby—once the wet boots come off, it's wonderful to be able to make your feet nice and toasty right away.
A must-have for any entryway or mudroom, the boot scraper. Its functionality is what will really impress you. Coir fiber construction easily removes dirt and mud, keeping the mess from getting tracked into the house.
Have a seat, please
No matter how old you are, having a place to sit to take off your wet boots or shoes is very welcomed. A bench can also serve as storage, including built-in drawers, underneath cubbies, or just provide space below to nestle storage baskets or line up shoes and boots. It can define your entryway, surrounded by other storage options like hooks, shelves, and cabinets, providing full service to all who enter.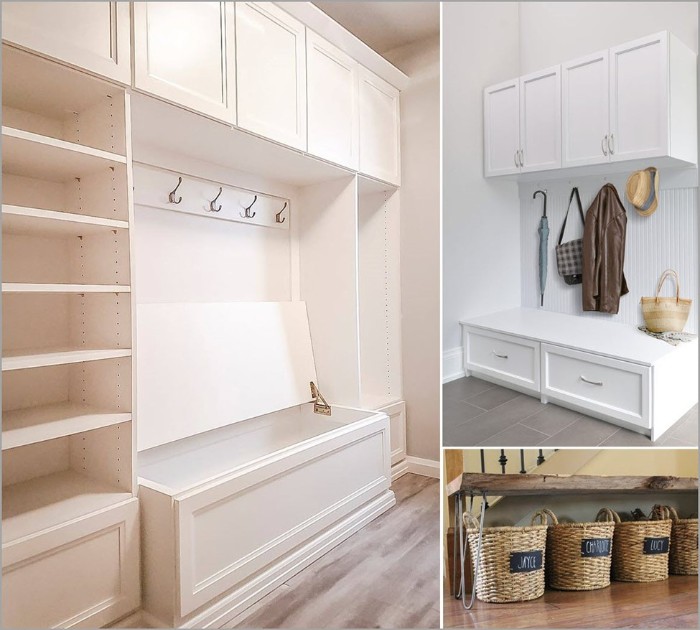 Entryway seating can facilitate downloading carried items as well as make it easier to remove wet gear
An integrated storage bench provides seating, space to put things down, and additional storage.
A bench seat with drawers is ideal to slip off your shoes and immediately put them away.
A narrow table, bookcase, or side table provides a place to download keys, mail, and packages.
Under-bench storage space can keep shoes out of the way, lined up on the floor or in baskets.
Where a bench won't fit, putting a chair in your entryway or mudroom will ensure that shoes are being put on and taken off in that designated space.
Multi-purpose rugs for beauty and utility
Rugs in the entryway are always a good idea for keeping the house cleaner, but especially when bad weather kicks in. In winter, it's a good idea to have heavy-duty rugs or mats on both sides of the door as extra protection against dirt and grime getting inside. Sturdy outdoor mats used indoors or outdoors can combat the mud, ice, and snow better than light-weight rugs that suffice the rest of the year. All-weather rugs come in beautiful carpet designs as well as rubber textures to be functional and beautiful.
An outdoor weather mat will be able to stand up to water, snow, sludge, mud, dirt, or anything else your family's feet might bring home with them.
When picking out mats for your entryway, make a point of picking dark colors. Dark colors don't stain as quickly and won't show grime as easily.
Even if your flooring can stand up to wet-weather muck, an inexpensive rug will protect the floor from water damage, and more importantly, you from slipping.
Be sure to place rugs or mats at benches and underneath any drying racks to absorb drips.
Every entryway floor needs to have a decently large mat area where you can remove your shoes. The sooner you remove your shoes, the less likely it is that you'll accumulate dirt.
Take the bite out of winter with custom entryway design
Before you absolutely forbid the family to use the front door this winter, talk to The Tailored Closet about enhancing your entryway with custom storage solutions that will save your floor, your home, and your sanity. You'll get through the winter months with much less stress and start the New Year with relaxed, new style that makes everyone's comings and goings more enjoyable. Call 866-712-3404 to schedule a free, in-home consultation or virtual* consultation or go online to www.tailoredcloset.com to find a designer near you to talk entryways or any other home space issues you may have.
*Virtual consultations may not be available at every location
For tips on home organization all year long, follow us on Instagram and like us on Facebook.
*Updated 10/12/2022