Tips To Make Changing Cabinet Hardware Easier
Whether you are doing a remodel or a new build, you know that the devil is in the details. Choosing cabinet hardware is the finishing touch that will elevate your design and combine beauty with functionality. Changing cabinet hardware is an inexpensive way to update and refresh any room of your home.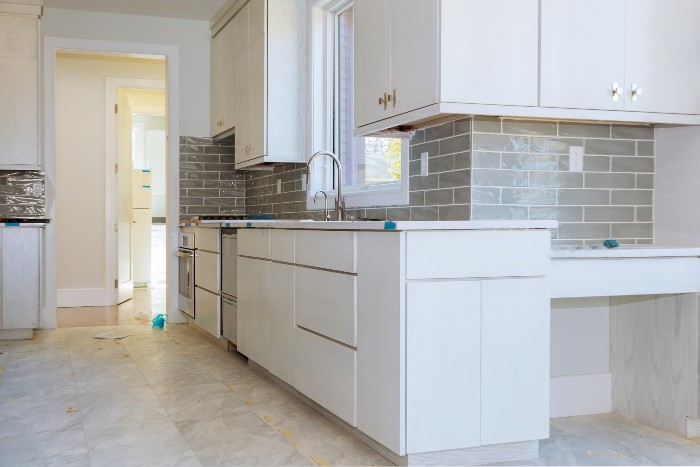 What to consider when changing cabinet hardware
If you are feeling overwhelmed because of all the choices available in hardware for your cabinets, you are not alone. There is a plethora of finishes, shapes, and styles to choose from, ranging from ornate to simple. You can choose curved or straight, knobs or pulls, complementary or contrasting. Consider how much use the cabinet hardware will get, where it will be used, and how long you need it to last.
Four tips to help when changing your cabinet hardware.
Stay within your style comfort zone
Whatever your style, from sleek and modern to traditional or rustic, you can easily achieve the look you want and can remain within your comfort zone. Finishes are important for your overall look. Make sure whatever finish you choose for your cabinets and drawers will complement your storage area.
Knob or pull? The normal rule of thumb is knobs for doors, pulls for drawers. However, pulls can be used on doors as well. Vertically placed on doors, it gives the same easy access to your cabinet doors, while horizontal pulls allow drawers to open with ease.
Choosing the hardware should be one of the final phases of your build or remodel, so you have a feel of the total color, finish, and scale of your finished product. In regards to scale, keep in mind just because you like the style of hardware, does not mean it is the right size. A knob that is too small for the door, will diminish the overall look of your project.
Make sure the hardware is comfortable and easy to use
The whole reason for installing cabinet hardware is to protect your cabinets from the oil from your fingertips. You will want to be sure your hand or fingers can grasp the pull or knob comfortably. Think about the placement of the hardware and the location of the cabinets. If your hardware protrudes too far, will it possibly catch on clothing as you pass? Are there any sharp edges that might scratch you?
Hardware, will need regular cleaning. Be sure to choose cabinet hardware that is easy to clean and maintain. Hardware with clean, straight lines, is often easier to clean than something a bit more ornate.
Consider cost without sacrificing quality.
When thinking about your budget, consider where the cabinet hardware will be used. Don't forfeit durability to remain on a budget. Storage areas in the garage, for example, would need to be more durable, than perhaps those in your pantry. Consider how long you will need the hardware to last.
You could opt to use inexpensive hardware for your cabinet doors and drawers, but keep in mind, you most often get what you pay for. Not only will you give up quality and durability, you may also not achieve the high-end renovation that you were looking for.
Try it on for size
Take a cabinet door with you to determine how the finished product will look. Or ask your designer to show you a mock-up of your cabinets and drawers, so you can get an idea of how the finished product will look. Try out knobs and pulls in different finishes and styles, even if you think you have already made a decision.
Keep in mind that you do not have to make all finishes match in color or finish. Just like a kitchen island, or lowers and uppers can have different looks, changing out hardware styles or colors, could highlight an area to make it stand out.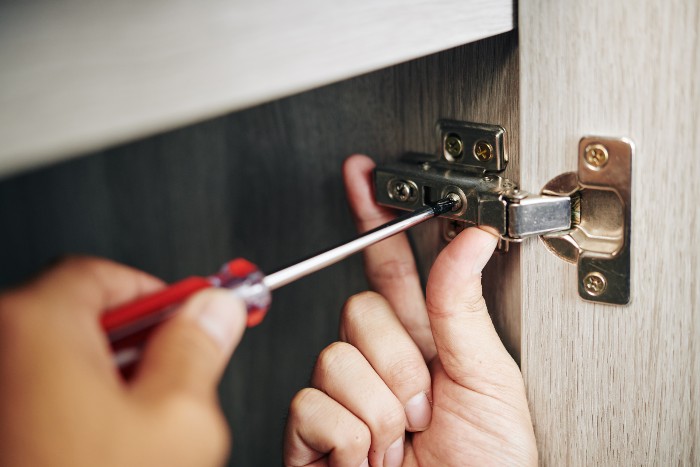 A designer can help
Working with a designer can help you with access to styles and finishes you may not have been aware of. A designer who is an expert in storage solutions and cabinet hardware can guide you through the entire process from choosing the right hardware to getting it installed. They can help you get the best quality, value, and style choices to make your cabinet hardware the perfect choice.
A designer can also help by offering additional suggestions on things that you can do to optimize and organize storage space. Try to choose a designer who specializes in storage solutions. They may also be able to help with recommending installers and getting installation scheduled.
Since you know that the hardware is going to change and improve the look of the room you are remodeling, don't trust the installation to just anyone. If you decide to replace knobs with pulls, it may require drilling and filling of holes to attach the hardware and refinishing the areas that have been changed. Not all pulls are standard and could require refitting or adjusting. An expert installer will be able to take both the work and the stress off your shoulders.
At The Tailored Closet, we are your home storage solution experts. Not only can we help you decide on cabinet hardware for your remodel, but we can also assist you in making any other areas of your home more functional and organized. Contact us today for a free design consultation.
*Updated 10/17/2022