Closet Organization Systems For Every Type of Closet You Have
Are you plagued with closet congestion? In other words, when you open a closet … any closet … are you faced with messy and disorganized contents? Clothes closets are not the only offenders. Hall closets, utility closets, linen closets, and craft or sewing closets can also get out of control because of everything that gets stuffed inside. The Tailored Closet has closet organization and storage solutions for every type of closet you have so you can get on with living life beautifully organized.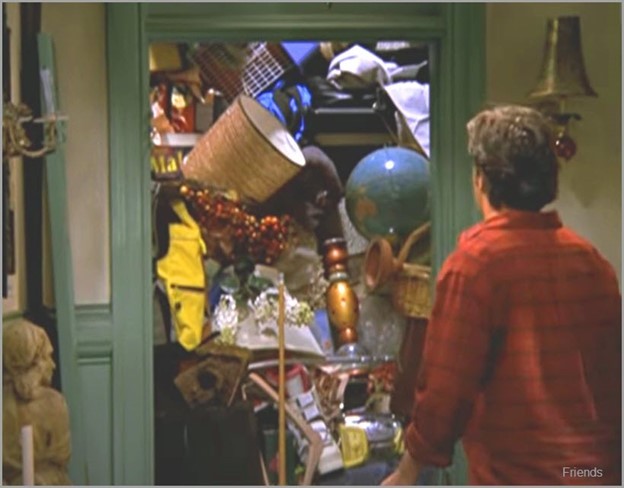 Monica's closet of shame from Friends would never happen with a custom closet storage system to maximize space and facilitate organization (Friends, Season 8, Episode 14)
Closet maintenance doesn't have to be an ongoing battle
Organizing all your closets may seem like a monumental task, but just three simple questions will get you to cleaner closets quickly and painlessly. Then, you merely have to work the system you choose to keep your closets organized and all the contents under control. So, pick your most troublesome closet and get started!
Question One: Does this belong HERE? – Items can travel room to room and end up in the wrong closet. Remove everything from the closet that doesn't belong, and you'll free up closet space for what needs to be in this particular closet.
Question Two: Do I ever use or need this? – Make an honest judgement of everything in the closet and get rid of what you no longer use or need. This applies to clothes, shoes, appliances, sports equipment, games, comforters, table linens, and things you keep just because you paid good money for them (but never use).
Question Three: Is it broken, ill-fitting, or worn out? – Most often clothes come to mind with this assessment, but other items can qualify for removal to cut down on closet clutter:
Bedroom closets: Belts, shoes, purses, and backpacks with broken straps, heels, or buckles.
Linen closets: Fabrics stained and worn beyond practical use, like sheets, pillowcases, towels, napkins, and tablecloths.
Utility closets: Cleaners and home care products can be ineffective, have unpleasant scents, or the spray bottles refuse to spray, yet they move to the back of the closet and stay there.
Now you're ready to maximize every closet's storage and organization possibilities, customized to the actual contents of each closet.
Bedroom closet custom storage systems
Custom closet storage systems maximize usefulness for reach-in and walk-in closets, designed for the specific needs of the unique user. Options of floor-to-ceiling cabinets and shelves, hanging rods, drawers, and specialty closet accessories customize each closet to everything that will be stored and organized for easy access and complete wardrobe management.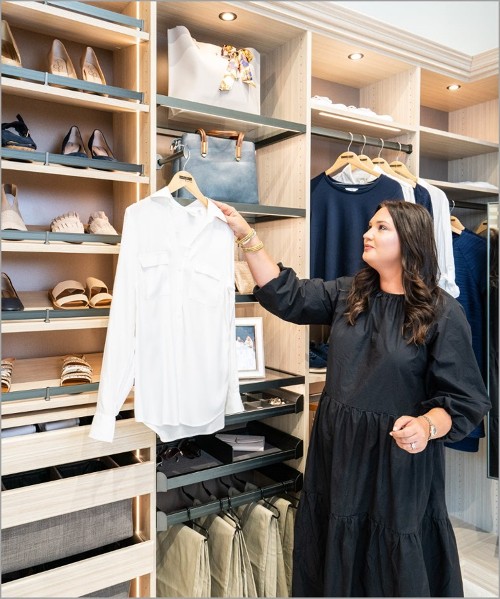 Getting dressed is stress-free when your closet organizes and displays your wardrobe and accessories so you can find what you need
Tiered rods can double the hanging space for shirts, jackets, blouses, and skirts.
Shoe racks protect shoes while keeping mates together and up off the floor.
Shelves, open or inside cabinets, accommodate folded items, hats, bags, and purses.
Drawers with dividers organize small essentials and velvet-lined jewelry drawers protect all your bling.
For kids' closets, low-level pullout baskets, drawers, and hanging rods let them manage on their own when they can reach what they need.
Linen closet efficiency saves time and energy
Linen closets are notorious for messy shelves. That's because much of the contents are stacks of folded items that unfold as people root around looking for the right towel or pillowcase. Add in small washcloths, bath products, bulky pillows and comforters, and things can get out of control rather quickly. Linen closets benefit greatly from floor-to-ceiling storage and organizational helps to divide and conquer the many stored items.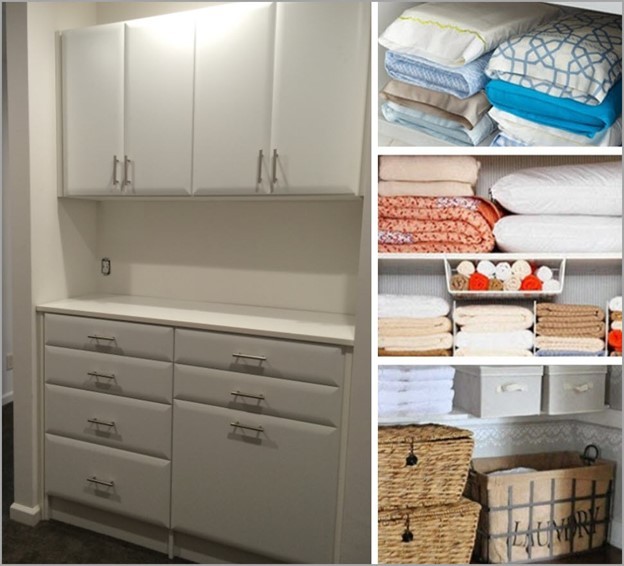 A linen closet with floor-to-ceiling shelving or custom cabinetry can accommodate an entire household's storage for linens
Adjustable shelves and shelf dividers keep folded stacks neat and tidy, so you don't have to play Timber! every time you remake the beds.
Designate shelves for like items, one for bedding, one for bath, and one for kitchen linens.
Use labeled baskets and bins for smaller items like wash cloths, napkins, or products.
Bulky pieces can store on the floor in bins or in vacuum-sealed bags to minimize space required.
Don't have more towels and sheets than your family can use, they'll overload your linen closet and get musty from non-use.
Entryway hall closets and utility closets
Hall closets and utility closets are expected to house many and varied things which can lead to constant chaos. To organize each space for maximum usefulness, use custom storage solutions that manage the specific contents, such as hanging space in the hall closet and room for tall brooms and vacuums in the utility closet. Have dedicated space for everything that will be in the closet, enhanced with organization helps like shelves, hooks, and baskets so everything is easy to find.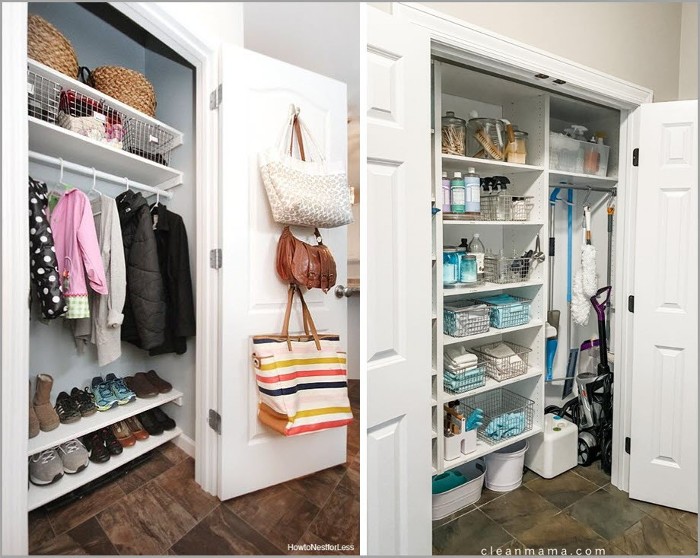 Creative storage and organization solutions accommodate large and small items, so everything in the closet lives in clutter-free harmony
Entryway or hallway closets are most efficient with hanging rods as well as shelves or cubbies for shoe storage.
Utility closets can be configured with space for brooms, mops, and vacuums, with shelves for cleaning supplies, first-aid kit, pet food, and more.
Sturdy hooks can handle jackets and bags or mops and brooms.
Open shelves, overhead or floor-to-ceiling, provide tons of space to organize contents.
Labeled baskets and bins organize and contain loose items from cleaning products and tools to gloves, hats, and umbrellas.
Creative crafting without the clutter
If you're a crafter, you know how much easier it is to get right to your project when all your supplies are in one place. Transforming a closet into functional crafts storage can be accomplished with shelves, drawers, cabinets, and containers. Set up zones for stacked fabric or paper, files for stencils and patterns, hanging space for tools, and individual containers for small items. Drawers with dividers, labeled baskets, and see-through containers like mason jars or bins keep shelves neat and all your supplies visible and organized.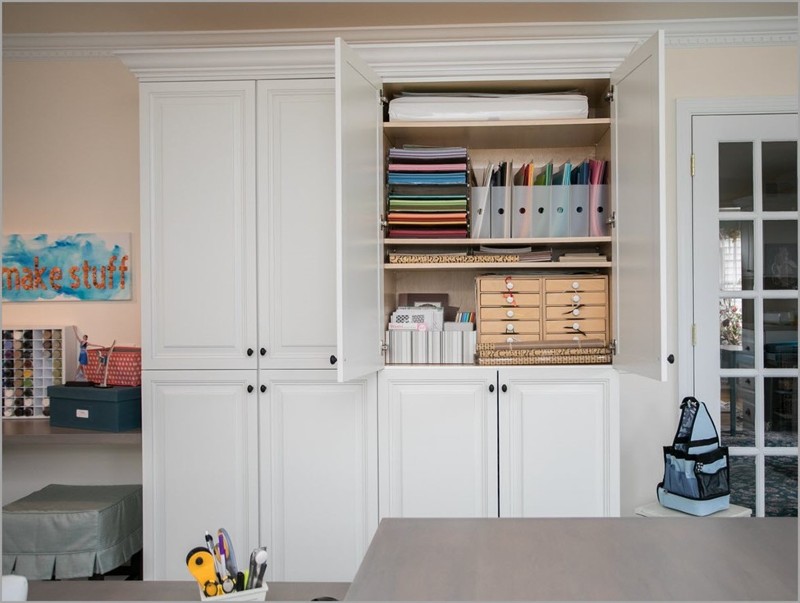 Keep the clutter of crafting out of sight with a closet system or custom cabinetry designed for all your storage needs
Keep all supplies together for in-process projects so it's easy to pick up where you left off.
Adjustable shelves and drawers let you reconfigure storage needs as your projects and requirements change.
With open shelves, invest in matching and color-coordinated storage options for a cohesive look.
Traveling storage like wheeled cases and carts let you easily transport supplies to any crafting area and then return everything to its permanent storage place.
Closet storage systems from The Tailored Closet can help you reorganize all your closet types for streamlined storage and ultimate functionality. Your household will run more smoothly, and you'll save valuable time knowing where everything is from batteries to your favorite earrings. Call 866-712-3404 today or go online to www.tailoredcloset.com to find a designer near you who can help you whip all your closets into shape, as well as any other organizationally challenged areas of your home!
*Virtual consultations may not be available at all locations.
For more home storage ideas, like us on Facebook and follow us on Instagram.
*Updated 10/12/2022