Fall In Love With Closet Accessories To Personalize Your Closet Storage
How is your relationship with your closet? Would you love it more if you could quickly and easily find things that tend to get lost, like a favorite belt, earring pairs, matching shoes, or the new scarf you need to complete an outfit? It's not uncommon for multiples and smaller items to become a storage problem in a closet. Storage options of hanging space, shelves, and drawers work for many things, but to really get control of your closet, custom closet accessories from The Tailored Closet let you take organization and storage to the next level of personalization.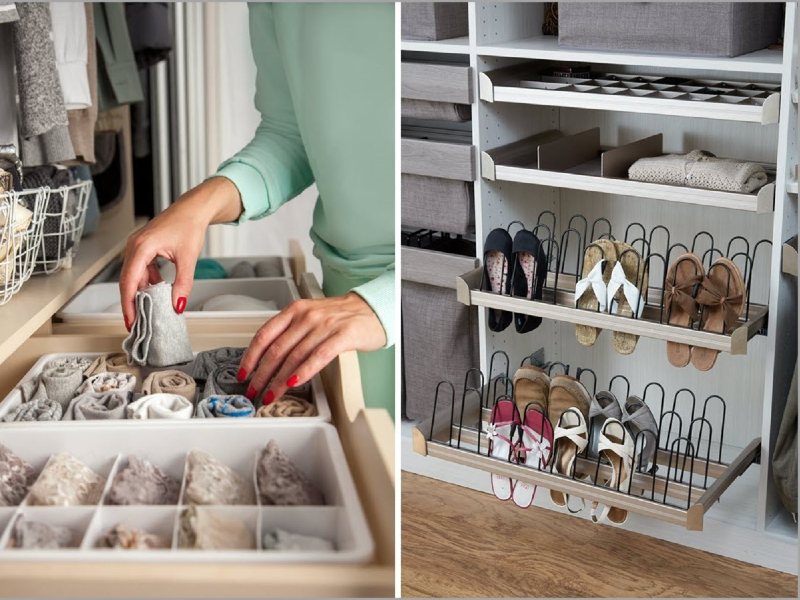 Fine-tune wardrobe storage and organization with custom closet accessories that work the way you want
How closet accessories eliminate pain points
The beauty of a custom closet storage system is that your closet space is maximized with storage options like tiered hanging rods, shelves, enclosed cabinets, and drawers. For full functionality and convenience, you can fine-tune how you manage every part of your wardrobe with custom closet accessories that address specific storage challenges. How many closet accessories can you identify in this closet?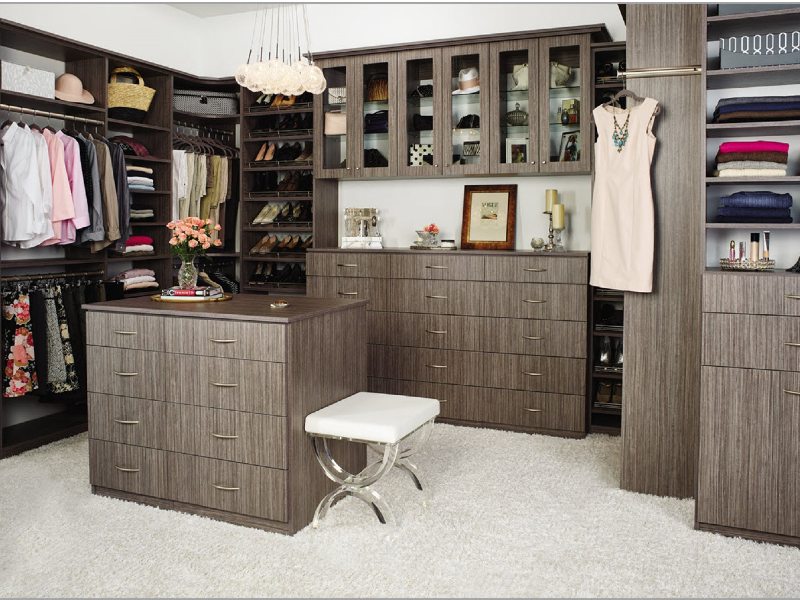 On display or hidden, closet accessories eliminate clutter and increase closet functionality
Obvious accessories include the storage island, bench, pullout valet rod, slanted shoe racks, matching hangers, and jewelry holder. Hidden closet accessories include drawer divider organizers, velvet-lined jewelry drawers, and pullout clothes hampers. Each accessory serves a specific purpose to add personalized storage preferences to the overall closet design. If you have a particular closet organization problem, the right closet accessory can restore perfect order.
Eliminate shoe confusion
Stacking shoes in piles is never a good solution. Shoe racks and shelves can safely store and display shoes, so pairs stay together without squashing or scraping each other. Fixed shelves, pullout shelves, and wire shoe racks are all options to protect your shoe collection and ensure you can always find a matching pair!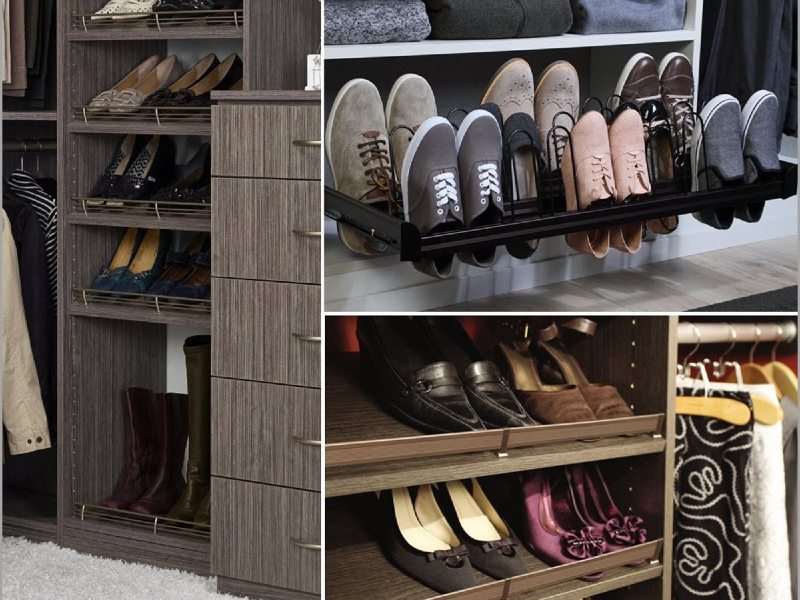 Organize all your shoes so you never again lose precious time searching for exactly what you need
Adjustable shelves allow you to customize height for boots versus shoes, so no space is wasted and your boots won't crease from "fold-over."
Pullout metal shoe racks with wire forms keep shoes organized and free from the crush of stacking.
Slanted shoe racks with front rails keep heels and flats visible and secure so they don't end up on the closet floor.
Any size shoe collection can be accommodated with customized storage, from floor-to-ceiling shelves or smaller sections around other closet elements.
Protect all your bling
Jewelry is probably the most populous accessory with dozens of individual pieces that require care in handling to prevent loss and damage. Piling jewelry in bowls or trays can result in a tangled mess, knotting-up necklaces and chipping gemstones. Custom, velvet-lined jewelry drawers will protect and organize all your valuables, including gold, silver, and pearl jewelry as well as sunglasses and watches. Specialty jewelry drawers eliminate the need for multiple jewelry boxes for your bling and keep everything in one place rather than scattered about.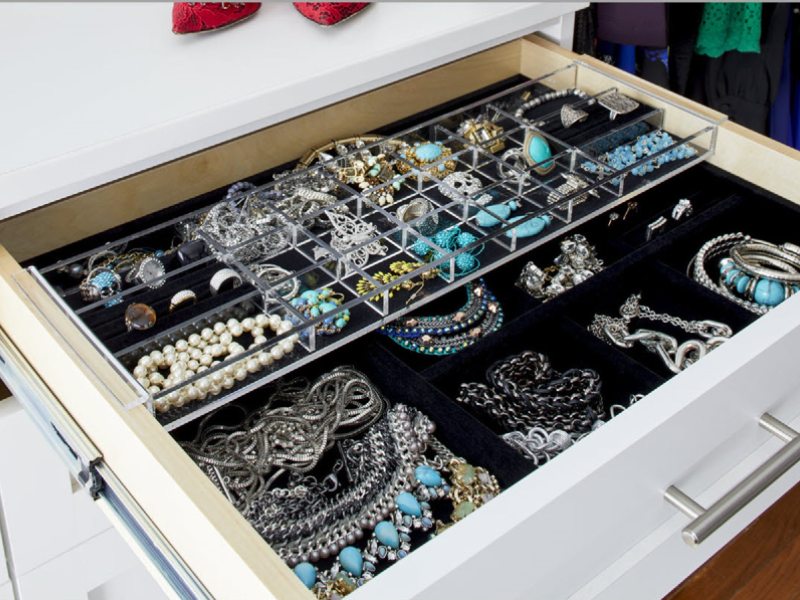 Jewelry drawers organize all your pretties in compartments designed to fit exactly what you need to store
Individual compartments hold rings, earrings, bracelets, pins, and necklaces so they don't get damaged or tangled.
Keep sets of matching pieces together so accessorizing is quick and easy.
Velvet-lined drawers keep contents safe from dust and moisture that can tarnish metals.
Custom drawers can also protect your tech like phones, keychains, portable charges, SD cards, and RFID wallets so they aren't left at risk all over the house.
Never lose another belt, tie, or scarf
Small items can easily get misplaced in a busy closet. Belts can disappear without a trace and a tie or scarf crumpled in the back of the closet is quickly forgotten. Specialty racks and hooks for ties, belts, and scarves will keep these necessities exactly where you need them, when you need them. Available in stationary or pullout styles, you'll be able to have what best works for you.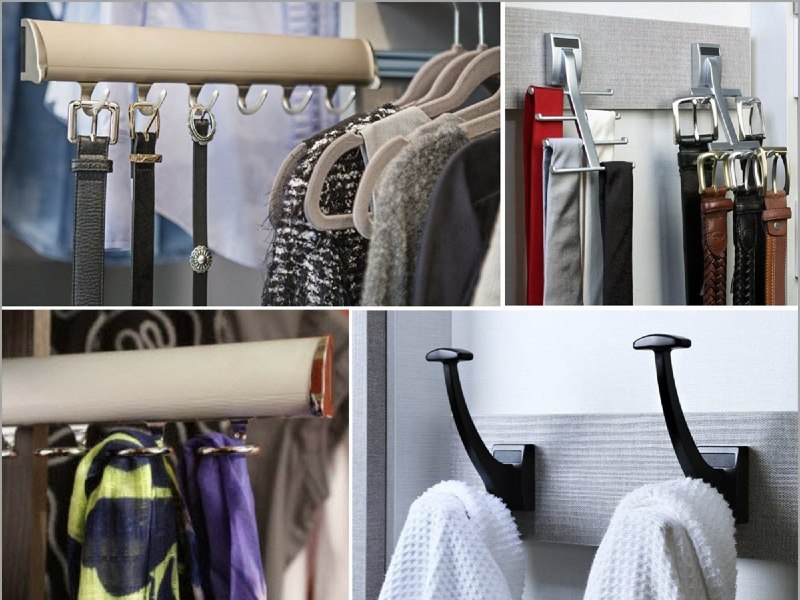 Store like items together with specialty racks that create convenient storage in small places
Sturdy, decorative hooks provide secure storage for things you use every day.
With either stationery hooks or retractable belt racks, belts hang straight to prevent creases or damage to the buckles.
A retractable scarf rack with smooth metal loops eliminates snags on delicate scarves and keeps them wrinkle-free.
Love the convenience of closet accessories
Convenience is a big part of what makes a user-friendly closet. Custom closet accessories like valet rods, pullout laundry hampers, fold-away ironing boards, storage islands, mirrors, and integrated lighting can add increased functionality and transform your relationship with your closet. Who wouldn't love these added conveniences?
Retractable valet rods, the tiny closet accessory you never knew you needed until you got one, is an extra hand for staging an outfit, sorting your wardrobe, and holding dry cleaning while you remove those plastic bags. (Check out Can Plastic Dry Cleaning Bags Cause Problems?)

Built-in laundry hampers that pullout for easy access eliminate closet clutter by corralling dirty clothes and keeping them easy to retrieve on laundry day.

A closet storage island with drawers or shelves provides extra space for lingerie, accessories or shoes and can replace a dresser in a crowded bedroom to free up living space.
Create a boutique feeling with integrated LED lights that brighten up shelves and illuminate cabinet contents.
Add a full-length mirror to check your image from head toe before you start your day.
An in-closet ironing board makes touchups quick when you need to smooth a collar, cuff, or hem before you face the world.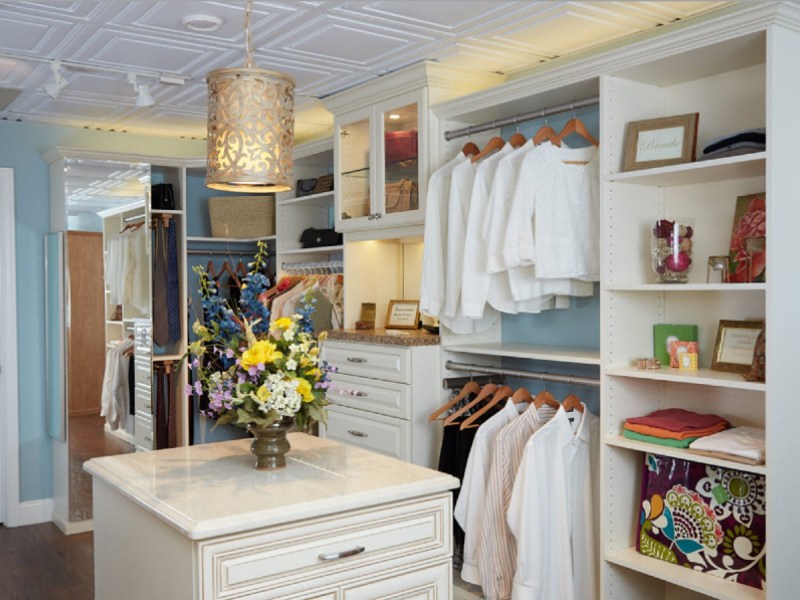 Your closet, your way with a custom closet storage system and specialty accessories for everything in the closet
If your closet isn't all that you want it to be, a custom closet organization system with personally chosen closet accessories can transform your closet into your own cozy sanctuary. Start and end each day in a calm, beautiful setting that makes getting dressed and maintaining your wardrobe a true pleasure. Call 866-712-3404 today or go online to www.tailoredcloset.com to find a designer near you and schedule a free, in-home or virtual* consultation to see how amazing your closet can become!
*Updated 10/12/2022