Transform Your Walk-In Closet With a Closet Island
Everyone is familiar with the kitchen island, but did you know you can put that organizational wonder to work for you in your closet? Closet islands and custom closet storage solutions are a brilliant idea to expand your storage and make daily life a little bit more enjoyable.
What is a closet Island?
The organization is key all over the house, and your closet could be the most important. You deal with your closet several times a day, and having to wrestle with a disorganized mess can really put a damper on your mood. Also, you invest a lot of money on clothes, shoes, and accessories, so it should be a priority to keep them neatly stored. A closet island can be a life-changer.
A closet island is a floating storage structure in the middle of your closet. It can feature shelves and drawers below and a solid surface on top for folding and getting ready. Closet islands can be any shape, but you do have to have enough space in your walk-in closet to pull off a closet island. If you don't, there are still some great ideas that give you the feel of an island if your closet isn't big enough.
How big does a closet have to be to have an island?
If you want a floating island in the center of your closet, here are some guidelines. First, you need to ensure you have enough space to walk around the island, which means 36 inches of empty space around all sides. Keep in mind that you also need to leave 24 inches on at least 2 sides for hanging clothes. Obviously, the more square footage your closet has, the more hanging storage you'll be able to have.
Taking all this into account for a double-sided island with hanging storage on all four walls, you will need a 12 x13 room. If your walk-in isn't that big, there are ways around this rule.
Choose a one-sided island

Opt for hanging storage on only two walls

Put shelves on one wall instead of a rod, which can be narrower than 24 inches

Choose a modified "island" that goes against one wall
Can you turn a regular closet into a walk-in closet? Unfortunately, you can't create square footage that isn't there. However, you can organize the closet space you have with clever solutions. Shoe racks, boxes, door organizers, and dressers can all turn a small closet into an organizational wonder.
Closet island dimensions
When it comes to the size of the closet island itself, there are a few things to consider. One of the biggest bonuses of a closet island is it allows you to eliminate the dresser in your room. This means you will want at least a few drawers on your island. Standard drawer size widths are 18, 24, and 30 inches, and standard drawer depths are 14, 16, and 22 inches. Drawer fronts are 5, 7 1/2, 10, or 12 inches.
A closet island should be 40 to 45 inches in height. This includes one inch on top for the countertop and three inches on the bottom for a toe kick.
How do you build a closet island?
Luckily there is no need to break out a hammer and tool belt to get your dream closet island. Use a walk-in closet builder to see your dreams become a reality. Choose your colors, finishes, and door styles and leave it up to the pros to build it. You can also buy pre-made closet units that look fantastic, featuring drawers, shelves, custom jewelry drawers, hampers, and other fun features.
Accessories for your closet island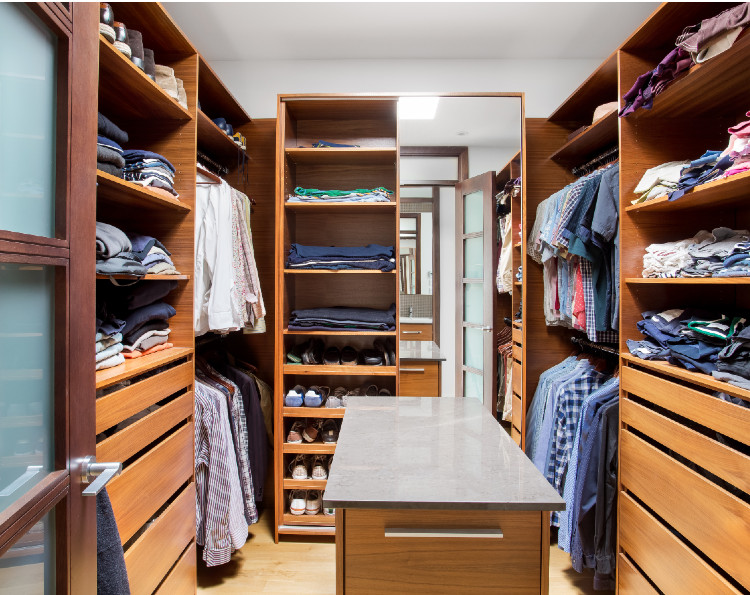 Built-in, functional features can add a lot of quality to your life. These include closet island accessories such as velvet-lined jewelry drawers for your collections, lingerie organizers, and drawer dividers of all kinds. You can also add built-in ironing boards, custom-sized boot shelving, and pretty much anything that suits your daily needs.
Don't forget about lighting and seating. You will want overall lighting for your closet, as well as specific task lighting. Increase the wow factor with LED lighting installed inside the drawers and cabinets that turn on when opened. Another unique idea is to backlight your countertop for added ambiance.
For seating, if you have the room, you can install a bench with a flip-up top for added storage, perfect for bulky or off-season items. This is the perfect spot to sit and put on your shoes. If there's no room for a bench, add a free-standing stool.
Where to store clothes when you don't have a closet?
If you don't have a closet in your room, it is time to rely on organizational pieces that will keep everything in its place. If you have a large enough room, consider curtaining off a portion of the space, or use a pretty room divider. Inside your new "closet" space, install custom closet pieces like cupboards and rods directly onto the wall. A closet island works well here too. Since you aren't bound by the confines of closet walls, your imagination is the only limit.
Another idea is to dedicate an entire room to your closet space. Think of how much easier your daily routine would be if you could see all of your things neatly organized. Instead of having a spare room sit empty while it waits for guests, why not turn it into the custom closet of your dreams? With the space of a whole room, there is nothing to stop you from giving your well-chosen wardrobe the storage it deserves.
The closet isn't the only place you can find storage space you didn't know you had. The Tailored Closet has solutions which give you great storage solutions for every room in the house. Arrange a free, online consultation with our design experts today.