Create Your Ideal Small Space Home Office
Small home offices are not a new concept, but they have gained celebrity as working from home has grown. Creating office workstations in small spaces takes focused creativity and design incorporating functionality, style, and ergonomic comfort. The right workspace can make all the difference, and The Tailored Closet can work with you to design the perfect small space office whether it's for fulltime work, emailing and web surfing, or a shared family space for correspondence, homework, and virtual get-togethers.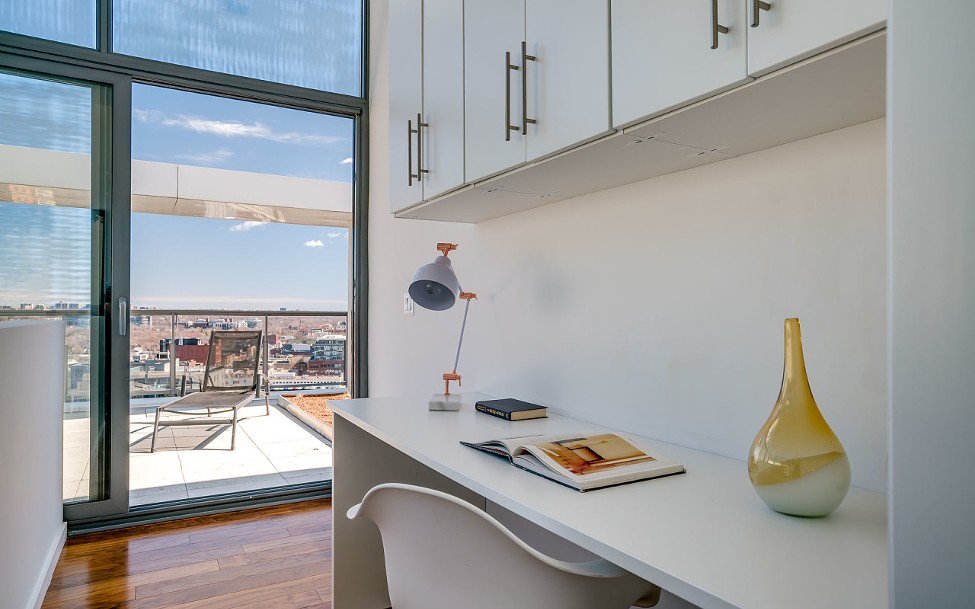 Thinking outside the box and eliminating the need for four walls opens up creative options for great small space home office ideas like in this hallway
Finding space when there doesn't seem to be any
If you don't have an obvious place to build an office, here are some ideas garnered from designers across the country who see possibilities everywhere:
Unused space like under stairs, landings, and hallways.
Attic, basement, or loft space.
Cozy nook, corner, or awkward alcove.
Converted kitchen pantry, reach-in or walk-in bedroom closet.
Carve out space in a living room, guest bedroom or dining room.
In the garage or transform an outdoor shed into office space.
If you can't quite envision an office in any of those spaces, The Tailored Closet can help you evaluate your spaces in light of your needs and create a custom home office design that ensures the space is maximized and works for exactly what you need.
A snug under-the-stairs office
Space under staircases is usually relegated to awkward closets with limited accessibility and strange little doors. Converting that underused space into an efficient home office will expand your living space, increase the value of your home, and give you the office space you need. Custom design of every element ensures that style, finish, and colors will match your homes décor and architecture, so it looks like it truly belongs, not a mishmash of desk, shelves, or drawers. The same for attic or loft spaces where sloped ceilings can be a challenge, custom furniture maximizes the space with workspace and storage options that fit perfectly.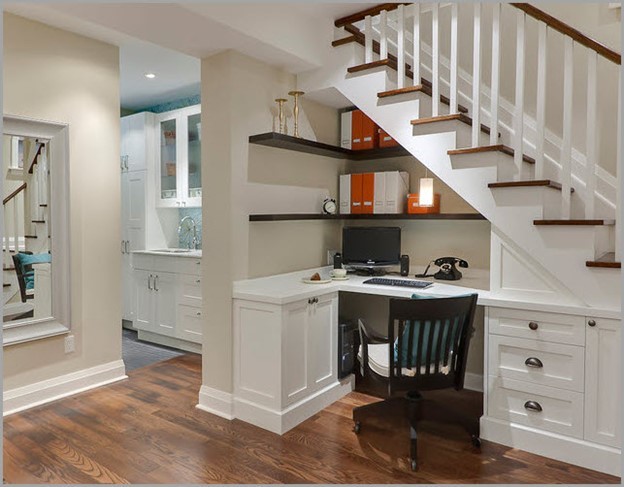 There's no comparison for what custom, tailored-made solutions can do for designing small office space
Drawers and cabinets hide the mess of a workstation so when the work is done, it's out of sight and out of mind.
Floating shelves provide storage and display for decorative items to personalize your space.
Choose from a full color palette of colors and finishes, eight different door and drawer front styles, decorative molding, hardware, glass-inset doors, integrated LED lighting, and adjustable shelves.
One wall, one great small office
Incorporating an office workstation into a bedroom, living room, or man cave by using one wall lets you keep the two purposes of the room separate. The office becomes an element of the room, but self-contained and not spilling over into the rest of the room. Create a unique little space with style and color all its own or coordinate with the rest of the room's style. Incorporate filing cabinets and desk drawers with overhead cabinets or open shelves for a lighter touch. Thoughtful organization and storage will let you work to full capacity and tuck it all away later.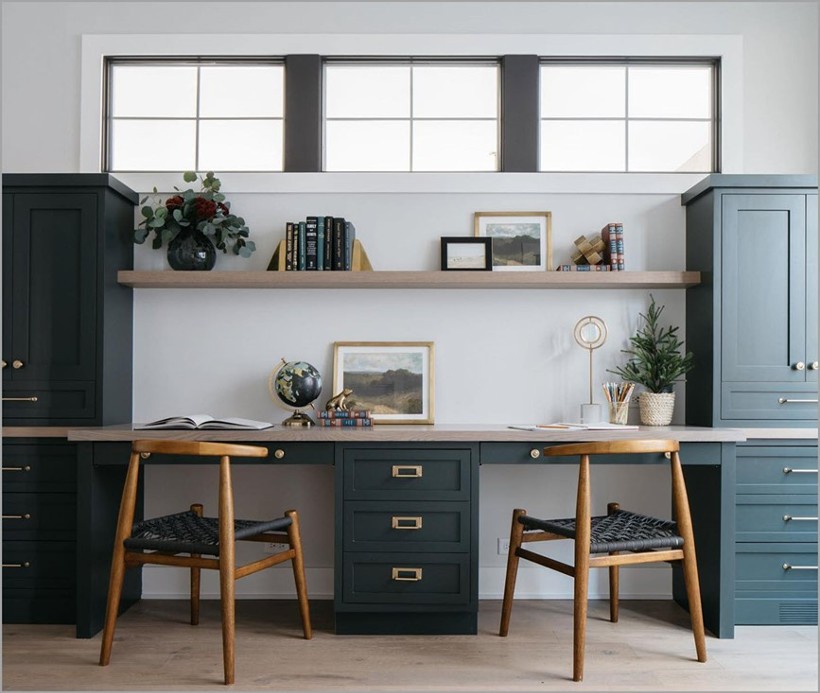 Utilizing one wall for office space affords extensive worktop space with a small footprint into the room
A balance of natural light and artificial light ensures proper lighting for comfort and efficiency in your integrated workspace.
Have sufficient technology at your desk, including a fast, wireless router and charging accessories like the PowerCore Fusion 2-in-1 portable battery and dual-port wall charger so all your devices are fully powered.
Incorporate a standing desk as part of the design or opt for a portable one to change up your work stance during the day.
Corners, nooks, and created office spaces
Where space is really at a premium, there are all kinds of tiny desk options that can create a workstation space. Many kitchens have nooks incorporated into countertops or at the ends of islands for computer use. Wall desks, either pull-down or floating, can turn any space into a desktop in a corner or a hallway alcove. Depending on the level of work you do, additional overhead shelves or drawer setups can be added. Tailored Living can create custom corner desk units in bedrooms or desk setups in kitchens, closets, pantries, or laundry rooms. We also have Murphy Bed desk designs that give the ultimate two-for-one space saving, perfect for studio apartments, lofts, and tiny home living. Both bed and desk fold away until needed.
Turn a bright corner into an office or enjoy a Murphy Bed full-size desktop that folds away when not in use
Add floating shelves above a wall desk for storage as well as a decorative touch to soften the look or create a small library feel with favorite books on display.
Invest in the most comfortable chair you can find to make your tiny desk space big on comfort.
An antique secretary with a drop-down writing surface or an armoire can be converted to a desk setup for an office anywhere in your home.
If you do need storage but there's no space, rolling files can provide filing and storage as you work and then roll out of sight when not in use.
The ultimate purpose of an office is to get work done in the most efficient way possible. A comfortable, productivity-boosting home office will enable you to accomplish the most work in the least amount of time whether you're checking emails, leading virtual meetings, keeping your personal calendar organized, or collecting online recipes. So, if you've not yet found the ideal home office situation at your home, call 866-712-3404 today to find a designer near you. Schedule a free in-home, or virtual* consultation and discover how easy it really is to get an effective home office set up in your home. And who knows, with back to school only a few weeks away, homework stations in the kids' bedrooms may take some of the sting out of doing homework!
*Virtual consultations may not be available at all locations.
For more small space organization inspiration, like us on Facebook and follow us on Instagram.
*Updated 10/12/2022