Custom Closet Designs That Grow With Your Child
Starting with the right closet organization system for a child's closet can carry them through every stage of life as closet needs evolve from toddler to preschooler and grade-schooler to teen and young adult. A custom-designed system of tiered rods, adjustable shelves, cabinets, and drawers will allow you to keep pace as needs change without having to completely remodel the closet every few years. The Tailored Closet high-quality, built-in systems are timeless design, never going out of style. As your child grows, make a few adjustments, add some new accessories, and the closet will be ready for the next stage!
The Baby and Toddler Closet
Baby's first closet is all about storage for the convenience of the parent with hanging space and drawers
It's never too early to install a closet organization system. It makes managing all that baby stuff so much easier and it's the perfect foundation for an evolving closet as your child grows. The baby stage is short and transitioning the closet to the needs of an active toddler or preschooler involves giving them some of that closet space to manage. Toddlers and preschoolers are just beginning to exert their independence by doing things for themselves so creating some low-level storage options allows a young child to actively participate:
Have open shelves or floor-level bins for toys and books so they can choose what they want and learn to put things away.
Floor-level bins and drawers for shoes, socks, underwear, and pajamas allow little ones to help dress themselves and get ready for bed like a big kid.
Label bins or drawers with pictures of what's inside so a non-reading child can see what goes where.
Smaller bins without lids, shallow drawers, and short stacks of folded clothes let them easily find what they need as they learn to successfully navigate a closet.
The upper portion stays parent territory with hanging rods to organize clothes, high shelves for off-season or they'll-grow-into-it clothes, extra blankets, and special toys.
A popular trend with kids' reach-in closets is to remove the doors and have completely open access. Closet doors take up space and with small children, doors can be challenging as well as finger biters. Doors, clothes hangers, and tilt-out bins are closet options for later years.
The Grade-schooler's Working Closet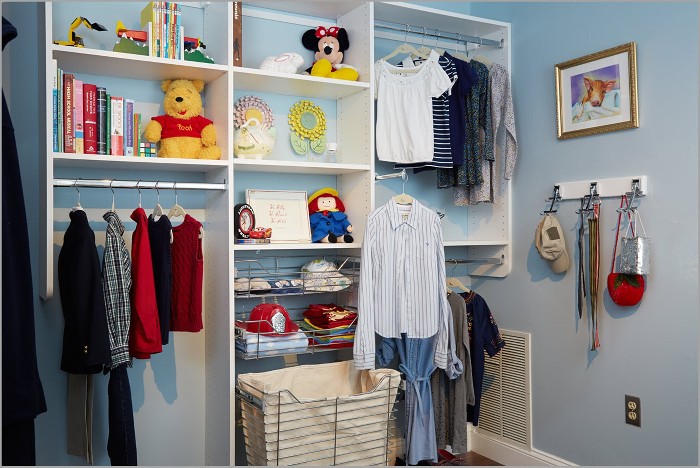 Bigger clothes, more stuff, and school paraphernalia like backpacks, uniforms, and books means they'll be using the entire closet
School-aged kids live in two worlds: school and home. Both worlds collide in their rooms, and they especially need their closets to be functional to effectively manage it all. Changes like less hanging rods, more stacking space, shoe racks, and a pull-out laundry hamper are helpful additions:
Floor-level bins give way to shoe racks, and open shelves neatly display folded items like jeans and tee shirts.
Tiered hanging rods and color-coded hangers help separate school uniforms from regular wear.
High shelves can hold such things as sports equipment, toys, games, and puzzles, with a sturdy stepstool on hand to make access easier.
Pull-out bins and baskets are great for small items like hats, scarves, and other accessories.
A laundry hamper will keep dirty clothes under control.
Wall hooks can hold the grab-and-go necessities like backpacks, jackets, hats, pajamas, and robes.
Maximizing all the bedroom space will help to keep the closet from getting overloaded. Add a bookshelf and desk to corral schoolbooks and laptop as well as provide extra space for hobbies, books, and toys. Kids this age will enjoy decorating their room and closet with a favorite color or subject, like astronomy, animals, or Marvel heroes. They'll be much more inclined to keep everything neat and orderly if they've had a hand in designing their space.
The Teen and Young Adult Fashionista Closet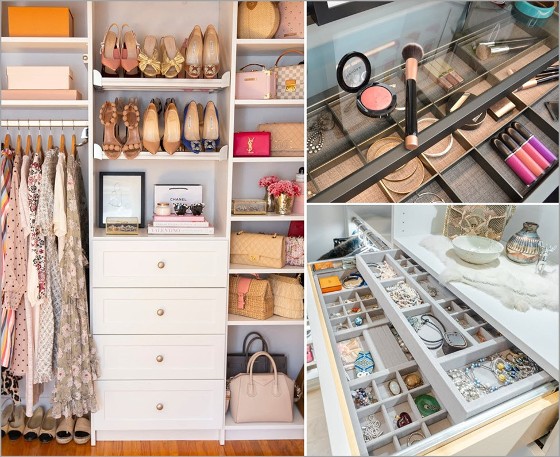 Teen and young adult closets are all about clothes and shoes (yes, even the guys)
Image is everything for teens and young adults and looking really good at all times is important. With wardrobes from workout gear to school wear and dating clothes, they are apt to try to cram in more than a closet can hold. Making all their space work makes life simpler, from organizing an impressive array of T-shirts and jeans to keeping track of the latest styles:
Adjust hanging rods to accommodate long and short items to keep clothes organized and ready to wear.
Open shelves with dividers can keep stacks of folded clothes neat and tidy or protect a purse or hat collection.
Drawers with custom dividers transition to storing accessories like jewelry, makeup, sunglasses, wallets, and other personal items.
Closet accessories like valet rods, tie and belt racks, and decorative hooks give a grownup aspect to the closet and nicely hold ties, belts, and scarves.
Adjustable shoe shelves will accommodate a complete footwear wardrobe, including shoes, boots, athletic shoes, and dressy heels.
Add an integrated or a free-standing mirror to make it easy to coordinate outfits and get a 360-degree look before walking out the door.
Eliminate piles of dirty clothes with a pullout laundry hamper or large basket.
Move off-seasonal clothes to a top shelf or out to garage storage to leave plenty of room for current fashions and accessories to be front and center.
Custom closets for any age
A well-designed closet will help keep every member of the family organized at every age. Our custom closet organization systems transform reach-in and walk-in closets into functional storage that uses every inch of space to beautifully maintain everything in the closet. Designed for the specific needs of each user, as those needs change, adjustable shelves, hanging rods, and drawers can be reconfigured, and closet accessories added so everything stays efficiently stored and easily accessible.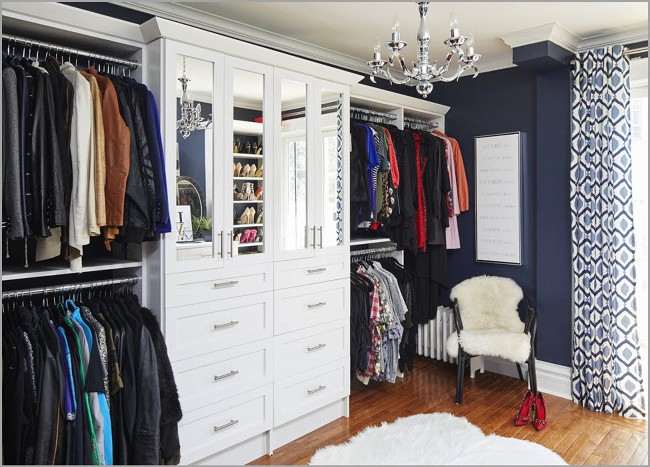 Enjoy a luxurious, custom closet for who you are today—you deserve it
If your family has outgrown its closets, The Tailored Closet can help. Call 866-712-3404 today or go online to www.tailoredcloset.com to find a designer near you who can help you reconsider space usage and get each and every closet under control with design features that control clutter and make closet maintenance a joy for everyone from the tinys to the talls.
*Virtual consultations may not be available at all locations.
For more closet organization ideas, like us on Facebook and follow us on Instagram.
*Updated 10/12/2022