Give The Gift Of Calm This Mother's Day With Custom Storage Solutions
Finding the perfect Mother's Day gift can sometimes feel like unicorn hunting. I mean, is it really out there? Yes, of course it is, and the ideal gift will probably be different for every mom. But one thing all moms seem to crave is peace and calm in their busy lives. As gifts, these intangibles can take the form of:
Spa treatments
A day to herself
Uninterrupted time to read
Sleeping in and breakfast in bed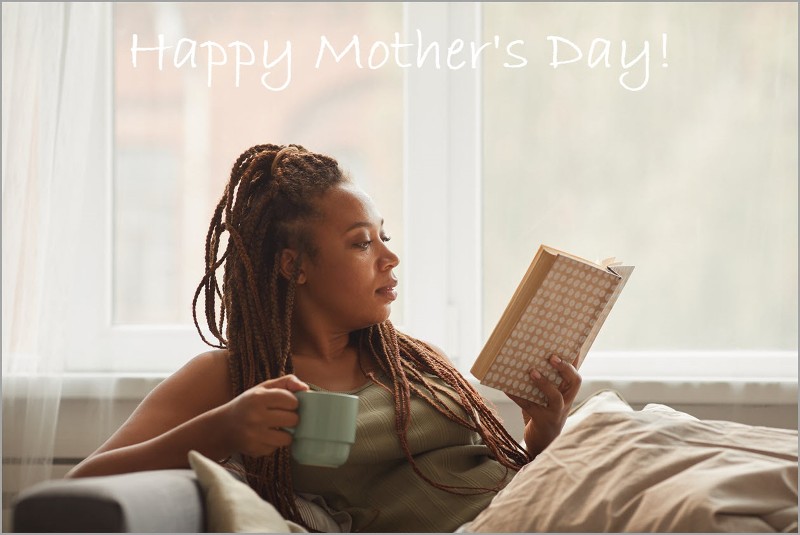 A relaxed mom is a happy mom, so make every day special with the gift of time
But you can give the gift of enduring peace and calm for every day, not just Mother's Day, with custom storage and organization solutions from The Tailored Closet that make home life easier. She'll enjoy quicker cleaning, less clutter, reduced stress, and opportunities for "me time" whenever she needs it!
Here are three major hot spots that could be completely transformed with organization: her closet, the pantry, and the laundry room. Pinpoint the area of your home that gives her the most stress and introduce peace, harmony, and relaxation with custom, innovative storage and organization solutions that will bring order to her world, put a smile on her face, and elevate you to favorite child status.
The new Serenity Zone, a perfectly organized closet
The Tailored Closet's custom closet designs can turn any closet into a dream closet, realizing your mom's vision for her perfect closet. With cabinets, shelves, drawers and more, she can manage her clothes, shoes, and accessories so that every day starts and ends in a beautiful, calm setting. Not only will she be delighted that she's finally gotten her dream closet, but she'll feel special every time she goes into her closet.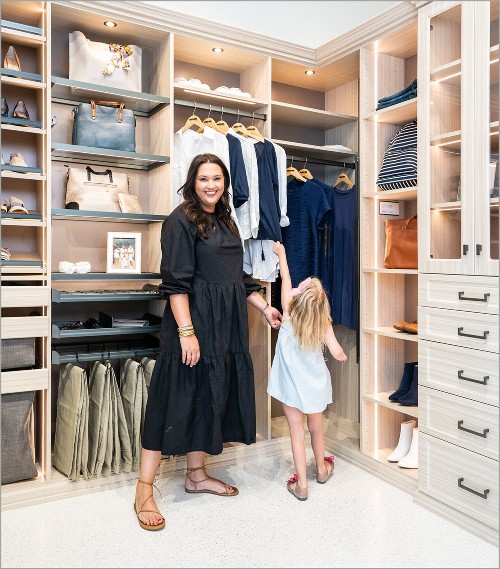 Floor-to-ceiling cabinets can incorporate hanging space, open shelves, and drawers to maximize every inch of the closet for efficient storage
Custom shoe racks adjust for boots, heels, and sandals and make it easy to grab just the right pair to complete every outfit. Remember that it's been said, "Give a girl the right shoes, and she can conquer the world." (Marilyn Monroe)
Velvet-lined jewelry drawers will protect all her bling, organized by casual or dressy, silver or gold, costume or fine jewelry, so nothing gets lost by careless handling.
Clutter is eliminated by hidden, tilt-out laundry hampers to keep dirty clothes off the floor and out of sight.
A retractable valet rod is an extra hand when needed, such as putting an outfit together or handling the dry cleaning, and specialty racks organize scarves and belts.
Pantry magic for everyday ease
A helpful and organized pantry can go a long way to helping to reduce stress. Pantries are accessed multiple times a day for meal preparation, making grocery lists, and random family snacking. If your pantry is just a closet or room stuffed with food, it can be chaotic. Customized pantry storage will make every task of the pantry more efficient, and your mom will love it! Moms who love to cook will be delighted with the organization of all their gadgets and exotic ingredients, and moms who hate to cook will appreciate how much easier it is to accomplish the dreaded task in the least amount of time. An organized pantry is a win/win!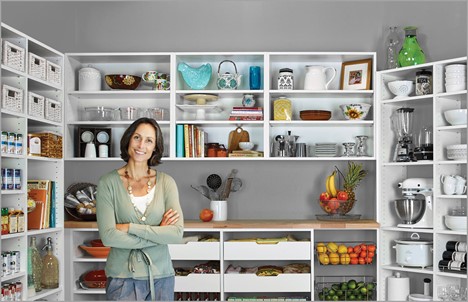 Whether you need to find new pantry space or just maximize your existing pantry, custom pantry design will perfectly fit your style, space, and budget
Pantry zones keep like items together, such as baking supplies or canned goods, so you can quickly see what you have or need, making it easy to stay stocked up on the family's favorite foods, snacks, and drinks.
Use air-tight and see-through storage containers to organize the contents and keep stored foods fresh and your pantry neat and tidy.
A combination of shelves, cabinets, drawers, pullout bins, and specialty racks will ensure everything in your pantry has an appointed place to keep things organized.
Extra bonus—family members can find and put away pantry items where they belong.
Laundry is no longer a dirty word
Making laundry less of a chore is a gift any mother would love. An efficiently designed laundry room will help with getting laundry done in record time, with minimum effort. Imagine the time savings by having everything close at hand, with laundry essentials in handy cabinets, counter space for sorting and folding, and plenty of hanging space. Organized space will make it easier for other family members to learn how to do the laundry and share the load so mom can occasionally get a day off.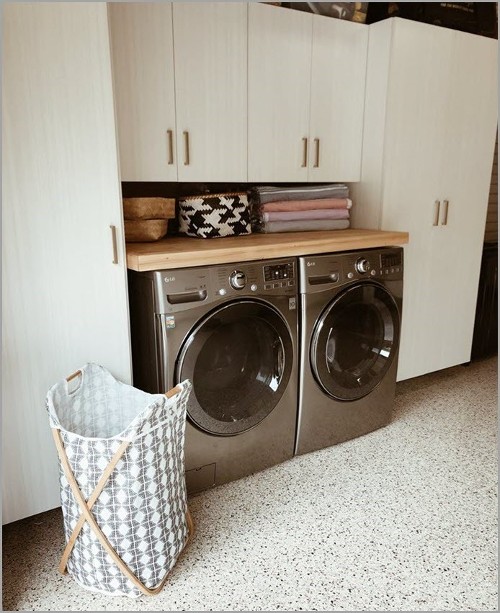 Rather than hide the laundry area because it's messy, make the laundry space very presentable with laundry storage cabinets to hide clutter
The range of styles, colors, and finishes available with Tailored Living lets you create a luxurious space for the seemingly endless task of laundry.
Customizations include valet rods and racks for hanging, integrated hampers, and a pull-down ironing board to touch-up hems, cuffs and collars before clothes are put away.
A garage laundry room can be transformed with the same design ideas to make the prospect of laundry day in the garage a pleasant experience.
Make this a Mother's Day to remember
If none of these ideas seem to suit your mom, The Tailored Closet can also help with designing a custom home office, crafts or reading room, or gardening garage space with a potting bench and dedicated tools storage for a green-thumbed gardener. Innovative storage and organization solutions can maximize space anywhere in your home to calm the chaos, eliminate clutter, and create beautiful living spaces. Call 866-712-3404 today to find a designer near you and schedule a free in-home, or virtual* consultation. We also offer gift certificates so your mom can create the perfect haven for herself. Talk with your local The Tailored Closet designer to purchase a gift certificate or do a ZIP code search if your mom is not local and you want to purchase a gift certificate for her area. We're ready to help.
Have a Happy Mother's Day!
*Virtual consultations may not be available at all locations.
Like us on Facebook and follow us on Instagram.
*Updated 10/12/2022