How To Maximize Storage In A Reach-In Closet
Reach-in closets often get a bad reputation for how ineffective they can be for, well, storing your wardrobe. From one-rod-and-shelf closets to sliding doors that block accessibility, many really are not very efficient. But happily, that is not the final word on reach-in closets! They can be transformed with intentional design solutions such as a custom closet organization system from The Tailored Closet to maximize every inch of space in the closet for smart storage that really works.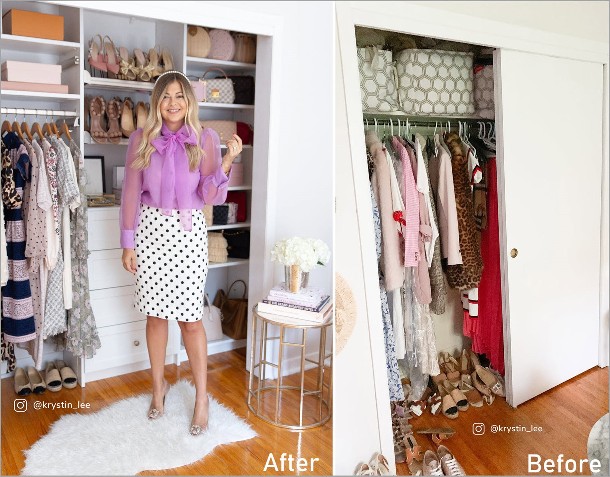 Happiness is a fabulous, functional reach-in closet that makes your wardrobe accessible (Tailored Living design for Suburban Faux-Pas lifestyle blogger, Krystin Lee)
The beauty of a custom closet storage system is that your closet space is maximized with storage options designed specifically for how you want to use your closet. Are hanging clothes a preference? Do you like everything neatly folded? Elements like hanging rods, adjustable shelves, custom drawer sizes, and shoe racks, and closet accessories combine to create the perfect system for you to manage every part of your wardrobe.
Double your hanging space
With designated hanging space for long and short items, you can fit more in your closet in less space. Multiple hanging rods can create one section for long items like dresses, with other tiered rods that stack two up for hanging shorter items like blouses, jackets, skirts, and pants on fold over pants hangers.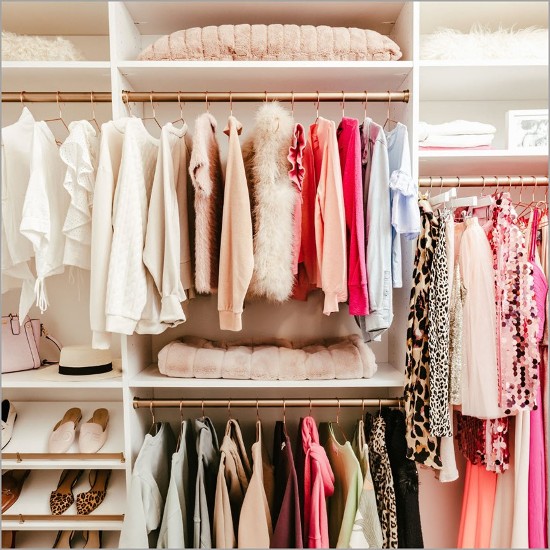 Create measured hanging space for exactly what you need and multiply the space
Hanging space for shorter items can fit two stacked in the same space or fit a short section over drawers or shelves so no space is wasted.
Special pull-down closet rods let you store items at ceiling height to allow for two or even three tiers of hanging space in a tall closet.
Maximize all hanging space with the right hangers, such as skinny velvet hangers and specialty pant and skirt hangers that let you get more clothes on each rod. See How To Properly Hang Everything In Your Closet for more tips on saving space.
Drawers eliminate clutter and restore order
Drawers in a small closet are your secret weapon to organize and store items that otherwise would turn into clutter. Drawers can store whatever you don't want on display, things that are small and easily misplaced, or that you prefer to keep under lock and key like valuable jewelry, tech items, or money. Closet design options include drawers of varying depths, including wood, wire, or soft-sided options, depending on what you want to store and your style preference. Deeper drawers can hold stacks of folded items like sweaters, pajamas, T-shirts, and workout gear. Shallow drawers are ideal for lingerie, ties, belts, scarves, and other accessories so they are quick and easy to find.
Specialty drawers like velvet-lined jewelry drawers protect and organize all your bling with individual compartments to perfectly fit rings, earrings, bracelets, watches, and necklaces, eliminating tangles, damage, or tarnish.
Drawer dividers keep everything in the drawers neat and organized so the contents don't get mixed.
Optional locks can turn any wood drawer into secure storage right in the closet.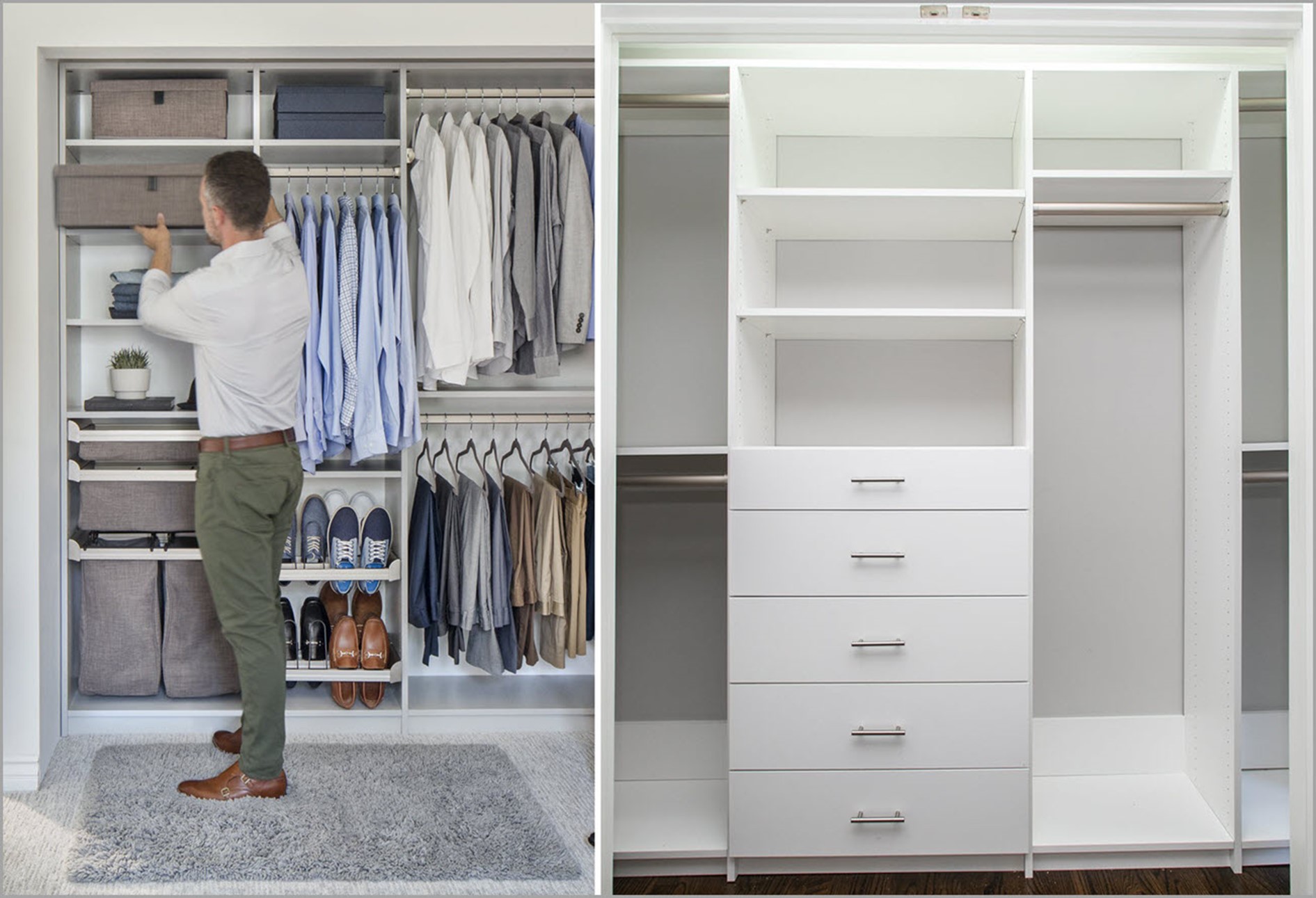 Customize drawer size with deeper drawers at the bottom and shallower drawers on top to accommodate small items like jewelry, sunglasses, and wallets
Versatile, adjustable shelves
Adjustable shelves are a storage wonder, they can hold stacks of folded clothes, shoes, purses, hats, and bins for small items. They are efficient for keeping favorites front and center in your closet and they are also the best way to turn that shallow space at the ends of a reach-in closet into valuable storage with floor-to-ceiling shelves.
Individual shelves can add a row of storage above hanging rods or create organized space beneath hanging clothes.
Multiple shelves can accommodate all the folded elements of a wardrobe and keep everything on display and easily accessible.
Since the shelves are adjustable, you can move them to fit what you are storing in either tall or short stacks, with shelf dividers to keep those stacks neat and orderly.
Protect and display your shoes
Unfortunately, in any size closet shoes tend to gravitate to the floor in disorderly piles. This not only makes it hard to find the shoes you need, but they can also be damaged, especially if you have a dog who loves leather chew toys! Storing your shoes on shelves in those small spaces at the ends of a reach-in closet is an efficient way to keep them organized and easily accessible, and adjustable shelves allow customizing height for boots versus shoes, so your boots won't be creased from folding over.
Pullout metal shoe racks with wire forms fit under shelves or drawers and store many pairs in a small space and keep shoes free from the crush of stacking.
Slanted shoe shelves with front rails keep heels and flats visible and secure so they don't end up on the closet floor.
If your clothes demand the entire closet, turn a bookcase, armoire, or cabinet into shoe storage in the bedroom or use under-bed storage.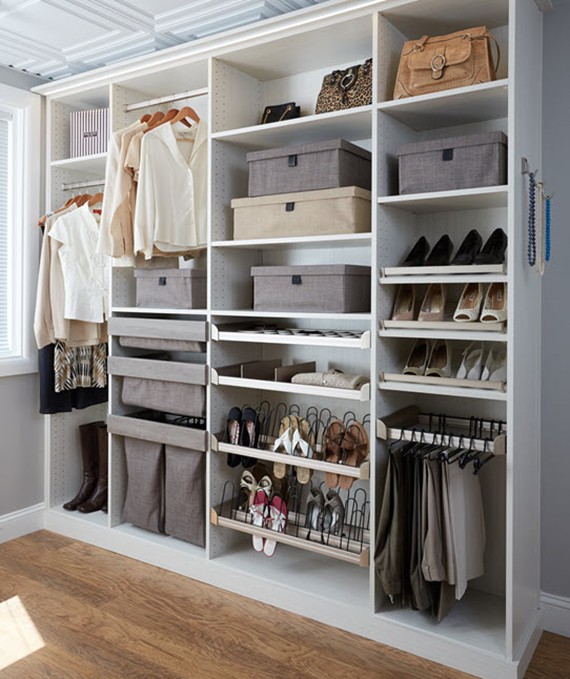 Slanted shoe racks for dress shoes and pullout racks for flats and sandals provide lots of shoe storage in this reach-in closet
Doors or no doors, that is the question
Who says a closet has to have a door? In some circumstances, removing the door for an open view may enhance accessibility as well as create a modern, minimalist vibe. Other options instead of a wood door could be a fabric curtain on a decorative rod, go boho with beads or a knotted macrame "curtain," an accordion closet door that pushes to the side, a barn door that slides to cover the opening, or pocket doors that retract into the wall. One advantage to a solid door that swings in or out, you can add storage to one or both sides of the door with decorative hooks and over-the-door shoe or jewelry hangers. A full-length mirror also fits beautifully on a single standard door so you can check that you always look as good as your new closet.
Enhance your closet experience with custom design
With The Tailored Closet you can have your picture-perfect reach-in closet with efficient storage solutions as well as custom style and color of design, so it coordinates beautifully with your home and your budget. Our wide range of styles, colors, finishes, and decorative hardware ensure you'll have exactly the look you want for your closet system while making it easier to manage and maintain your wardrobe. Call 866-712-3404 today or go online to www.tailoredcloset.com to find a designer near you and schedule a free, in-home or virtual* consultation and see how an ongoing, organized closet can change your life.
*Virtual consultations are not available at all locations.
Like us on Facebook and follow us on Instagram for more closet organization ideas.
*Updated 10/12/2022