How To Properly Hang Everything In Your Closet
In any closet, hanging clothes is a major component of wardrobe management and any closet organization system. Additionally, accessories like shoes, purses, scarves, and jewelry can claim hanging space in a closet. Ensuring that everything is properly stored with appropriate hanging options can mean the difference between a well-maintained closet and one that repeatedly serves up wardrobe malfunctions like stretched out tops, scuffed shoes, and crumpled clothes.
Using the right clothes hangers can transform your clothes by eliminating sagging, bagging, and deformed shoulders.
Scuffs and damage to shoes and purses will disappear with protective hanging storage options.
Ties, belts, scarves, and jewelry stay organized and ready to wear with specialty hangers.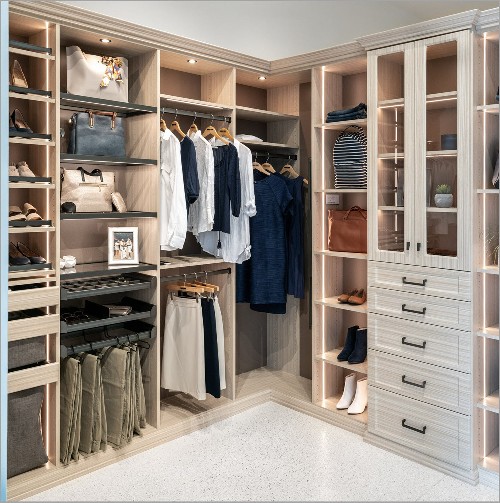 Clothes stay neater with hangers that suit the type and size of clothing, keeping collars straight, shoulders intact, and wrinkles gone
Solving the mystery of which hangers to use
The Tailored Closet closet designs maximize hanging space with tiered rods so long and short items can live in harmony. Clothes hangers are supposed to ensure that your wardrobe is always at ready-to-wear status. Populating your closet with hangers in styles to accommodate your different garments will make that happen. The right hanger for pants or skirts will be different from one for jackets and coats. Men's hangers are generally bigger than women's to allow for broader shoulders so that suits or shirts don't droop at the shoulders and permanently lose their shape. Hangers are designed to hold different weights as well; coat hangers need to be sturdier than standard hangers for blouses or shirts. These hanger tips will help you select the right hanger for everything in your closet.
Sturdy wood hangers are best for coats, suits, and heavier items. Shaped for shoulder support, garments retain their shape and stay wrinkle-free.
Smooth plastic hangers can be slippery causing things to fall to the floor. Get hangers that have notches to keep boat necks, sleeveless, scoop-neck, and strappy tops and dresses secure.
Velvet hangers with a closed triangular shape are non-slip to securely hold tops or pants draped over the bar.
Satin padded hangers are ideal for delicate fabrics and lingerie.
Use suit hangers with clips to hang matching jacket and pants or skirt together.
Tiered hangers with clips multiply hanging space for skirts or pants.
Flimsy wire hangers are not recommended for extended use in a closet. They easily bend out of shape, causing clothes to crease and wrinkle right on the hanger.
Hanger sizes range from oversized at 19", standard at 17", petite at 15.5", and junior at 14.5" so be sure to use the proper size for your shoulder width. Too wide a hanger can stretch out the shoulders and neck, too small and the shoulders will droop.
Instead of pulling the neck of your sweater or T-shirt to insert a hanger, bring the hanger up from the hem, inside the garment, and center it on the hanger.
Beware of budget/cheap hangers, they may have rough spots that can snag fabrics, break easily, or be finished with paints or stains that can discolor your clothes.
Convert any hanger to non-slip by applying purchased grip strips or try a DIY solution such as a hot glue gun (or puffy paint) to add dots or a zig-zag strip along the top, or crochet a layer of yarn on the hanger. Google "how to make a crocheted hanger" and you'll have many instructional videos to choose from for the style you prefer.
Protect shoes and purses from damage
No outfit is complete without the shoes and purse that add texture, color, and style to your look. Even so, these critical accessories don't always get the respect they deserve, especially if closet space is at a premium. Designer shoes and handbags get carelessly shoved into the closet and boots get dropped to the floor. That's a recipe for damaging your favorites and ultimately having to spend extra money to buy replacements. If there's no room for custom storage solutions like built-in shelves and shoe racks, you can implement clever hanging storage that can easily fit into your closet or a nearby hall closet.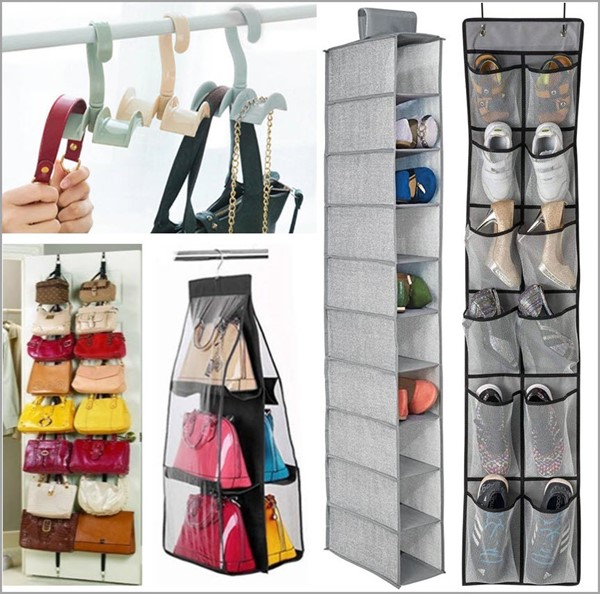 All your shoes, boots, and purses will last longer, look better, and be easy to find when you need them
One hanging option for inside the closet is specialty hooks that let the purses hang straight without creasing the purse straps.
A purse hanging organizer fits over the clothes rod to safely store six handbags so they're quick to grab when switching to a new outfit.
Over-the-door hangers with clips or hooks can manage a whole wardrobe of purses in one space.
Hanging organizers for shoes include in-closet stacked hangers that fit over the closet rods. Available in single or multiple segments to accommodate up to 30 pairs of shoes.
Over-the-door shoes hangers come in many sizes and materials, including canvas, linen, and plastic with breathable pockets to keep shoes fresh.
Closet rod boot hangers store boots up off the floor, just be careful of clip hanger styles as some clips can cause permanent indentations in leather and other materials.
Specialty hooks, racks, and hangers
Hanging accessories is a great way to keep them neat and organized. Especially small items like belts, ties, and scarves that can quickly become clutter. Rather than stuffing them in a drawer, they can be front and center with specialty closet accessories like racks and hooks that make them easily accessible and safe from crushing, creasing, or wrinkling. Decorative hooks can help to maximize closet space or create valuable hanging space on walls, in corners, and behind doors to hang pajamas, robes, hoodies, bags, or that shirt you'll wear one more time before laundering.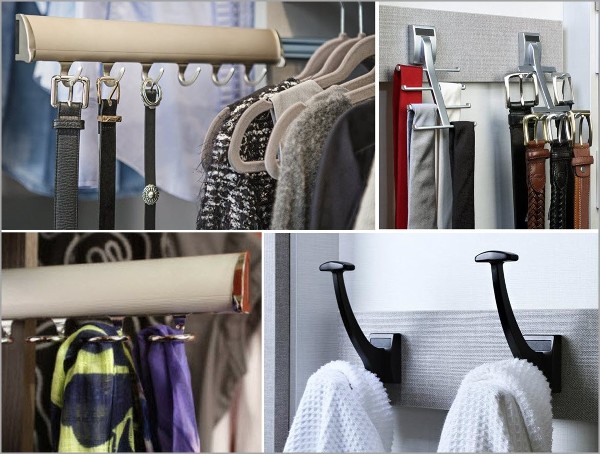 Hang your accessories with custom solutions to keep them protected
With either stationary hooks or retractable racks, belts and ties hang straight to prevent creases or damage.
A retractable scarf rack with smooth metal loops eliminates snags on delicate scarves and keeps them wrinkle-free.
Hooks are great to eliminate clutter that can result from tossing items around. Just make sure they are secure enough to safely hold whatever is placed on them.
Retractable racks for belts, ties and scarves keep them safely out of the way so they don't get knocked to the floor.
Innovative wall mount organizer to hang anything
Sometimes it's helpful to have hanging space in a closet that can handle whatever you feel like hanging. Rather than specific-item hanging solutions, our Symphony Wall Mount Organizer can facilitate hanging space to accommodate any number of things, with or without attachable hooks. With dimensions in lengths of 19", 42", or 66", the system can customize up to 47" wide for very versatile hanging space.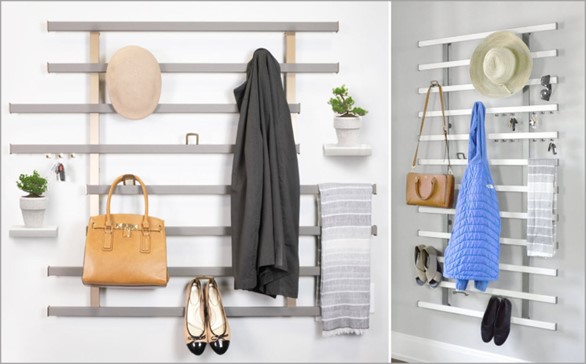 Safely store anything that needs hanging so nothing ever defaults to the floor
Custom shoe hooks provide additional shoe storage.
Attachable triple hooks accommodate belts, jewelry, scarves, and more.
Sturdy coat hooks can support the weight of any garment, purse, or bag.
Horizontal bars slide left or right to allow for personalized configuration of the hanging space.
Don't let your wardrobe suffer because of improper hanging of your clothes and accessories. By using appropriate hanging methods, everything in your closet will stay in good condition and last longer. Call 866-712-3404 today or go online to www.tailoredcloset.com to find a designer near you and schedule a free in-home, or virtual* consultation to discuss how a custom closet organization system, with versatile and innovative hanging options, will keep you on the road to best dressed all year long!
*Virtual consultations may not be available at all locations.
Like us on Facebook and follow us on Instagram.
*Updated 10/12/2022