Make Father's Day Awesome With A Gift That Keeps On Giving
Father's Day is just a few days away, June 19, and if you're still wondering what to get for your extra special dad or husband and father to your kids, The Tailored Closet can help. Since one day a year just isn't enough to let the dads in your life know how important they are, we have awesome gifts that will keep on giving day after day and year after year. You can change his world with a custom home office or closet organization system just for him.
For all he is and all he does, give him a Father's Day gift that makes every day special
Work-from-home dads need a home office
If your dad works from home, a custom office designed to his specific needs will create a pleasant, more productive work environment and be the best Father's Day gift ever. He'll get more done in less time, enjoying the comforts of home and the efficiency of an office. Whether he uses the space part-time or full-time, he'll appreciate the efficiency that allows him to have more time for family and other activities at the end of a busy workday.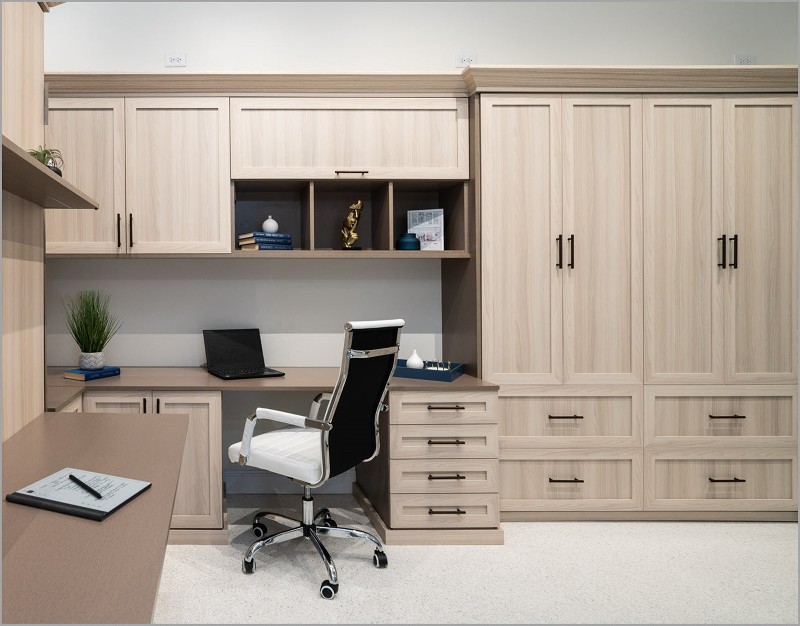 Custom home office design allows for the right amount of workspace and storage to perfectly fit available space and get the job done
Dual-purpose man cave: If dad already has a man cave and he juggles his laptop on his knees to work, you can quickly improve his work universe by converting one wall of the man cave into a home office. It won't impact the overall use of the room but, when it's time to work, he'll have everything he needs organized and at his fingertips. Then, when the work's done and office paraphernalia is behind closed doors, the comforts of his man cave will take over and make relaxing his next priority.
Full-time office: If home base is his full-time location, he may need more than one wall of dedicated workspace to accommodate desks, computers, printers, scanner, shredder, etc. A custom-designed home office combining desktops, enclosed cabinets, open shelves, and drawers can accommodate everything his business requires for day-to-day processes and storage and archiving projects.
Board room status: If his home office needs the professionalism of a corporate board room, The Tailored Closet can design an office to rival any uptown corner office. If clients or fellow employees stop by for meetings, a conference table or extra workstations can be included to handle every eventuality, including a hidden bar with a fridge, wine racks and glasses.
Pamper him with a custom, lifestyle closet system
Despite all the dad jokes to the contrary, most men do care about order and convenience when managing their wardrobes. In fact, the less time they have to spend on it, the better they like it so giving dad a custom closet from The Tailored Closet that fits his lifestyle, eliminates clutter, and checks off all the boxes for convenience could be the perfect Father's Day gift.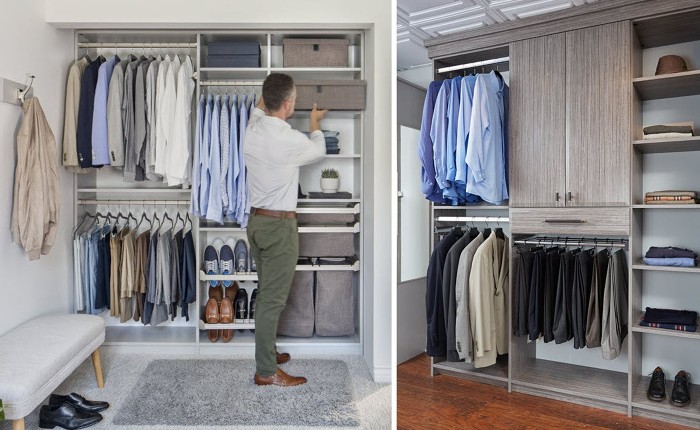 Men's wardrobes can be quite extensive for work and an active lifestyle, requiring more than just a slice of a shared closet
Designated closet space for work: Work may dictate wearing suits, ties, uniforms, or steel-toed work boots. Custom closet design creates specific storage and organization so everything is accessible. Tiered hanging rods keep shirts and suits together and uniforms ready to wear, apart from other closet contents.
If he's a folder or a hanger: If he's a folder, cabinets, shelves, drawers, and pull-out bins can hold stacks of jeans, T-shirts, shorts, underwear, and sweaters. If he's a hanger, tiered rods can double and triple the hanging space for his clothes. Lifestyle and career may dictate what needs to be the closet, but personal preference will determine how all his stuff is organized and stored
Specialty closet accessories for his accessories: Accessories are also part of a man's wardrobe, including ties, belts, pocket squares, scarves, belt buckles, hats, sunglasses, tie pins, cuff links, rings, bracelets, necklace chains and watches. He can fine-tune his closet with custom closet accessories like tie or belt racks, pants racks, shoe racks, divided drawers, and valet rods to perfectly protect all his accessories.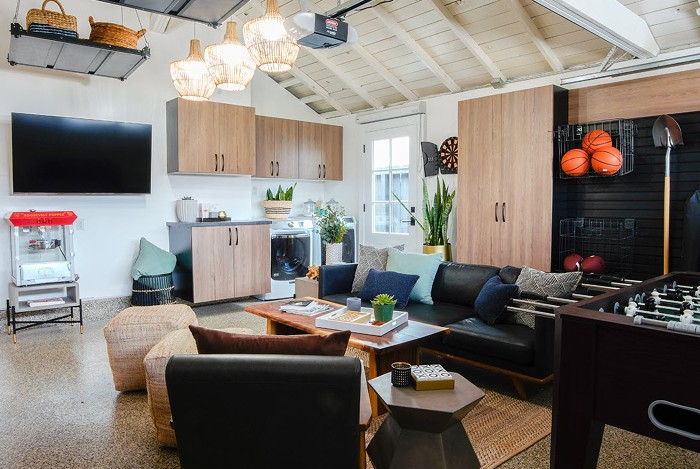 Every day will feel like Father's Day when he steps into a custom man cave designed just for him with all the amenities he could desire
The Man Cave: A Man Cave lets dad and his friends indulge in marathon sports watching, listen to favorite music, and watch action movies … loud. Include custom cabinets to neatly contain general household storage creating space so he can incorporate all the Man Cave comforts he desires, big screen TV, couch, recliners, fridge, game tables, and even a home gym.
Make this a Father's Day to remember
If you're not comfortable designing the space for your dad, a gift certificate from The Tailored Closet will set him up with your local designer who can walk him through the elements of design, so the end result is perfect for him. From cabinet style and color to custom workspace and storage solutions, your dad will get exactly the home office or custom closet he desires. Call 866-712-3404 today or go online to www.tailoredcloset.com to find a designer near you and schedule a free, in-home or virtual* consultation. If your dad is distant, do a ZIP code search and purchase a gift certificate from The Tailored Closet where he lives, and they'll work directly with him for his best Father's Day ever!
For unique dad gifts to wrap up: Here Are the Best Father's Day Gifts to Celebrate Dad.
*Virtual consultations are not available at all locations
Like us on Facebook and follow us on Instagram for more home enhancement ideas.
*Updated 10/12/2022