Must-Have closet Accessories For A Diva-Worthy Closet
If you've ever dreamed of having a closet like your favorite diva, you absolutely can! Celebrities take the ordinary, everyday tasks of wardrobe maintenance and make them extraordinary with wow-inspiring closet customizations and personal touches. That is what creates the buzz on Instagram when someone like Carrie Underwood opens her fabulous closet (complete with washer and dryer!) to her fans. The gorgeous display of designer clothes, walls of shoes and purses, and exquisite accessories can cause a severe case of closet envy. But it can also be a source of inspiration for designing your own closet with spectacular, celebrity-style enhancements:
Elegant light fixtures, vanities, and mirrors
Plush rugs, chairs, and ottomans
Custom storage for shoes and accessories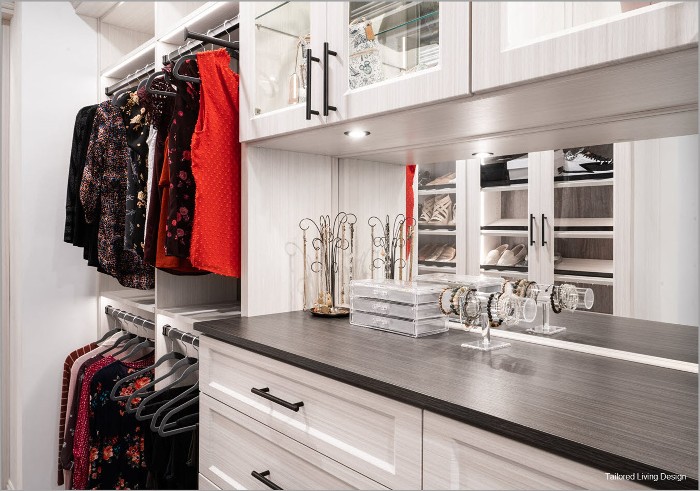 Catapult your closet to diva-worthy with specialty closet accessories and stylish design features for that something extra
The Tailored Closet can help you work some magic with a custom closet design to transform your closet into your favorite space in the house. Focusing on form and function, personalized storage and organization solutions will deliver a well-organized closet where you can see all elements of your wardrobe and find what you're looking for in an instant. Then, add some custom closet accessories, your own style of comfort and bling, and you'll have your very own spectacular, celebrity-style closet!
Shoes always get a starring role
In any closet, shoes are a major factor. The more you have the more important it is that they are organized, protected, and displayed. From a small collection to a roomful, shoes and boots get the respect they deserve with custom shelves and slanted shoe racks with rails. Floor-to-ceiling shoe storage with adjustable shelves can accommodate very large collections, matching shelf height to tall boots or flat sandals to maximize space. Integrated lighting on the shelves makes it easy to see all your shoes, so you don't accidentally leave the house in one navy and one black shoe. (Truly, it has been done!)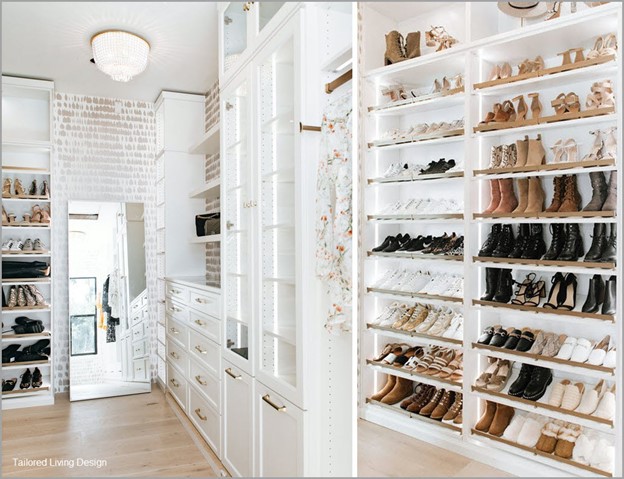 A boutique-style closet designed for social media celebrity, Jen Adams, exudes elegance in every element, and oh! those shoes
Here are some celebrity tips for how they manage their shoes in diva style:
Tamara Mellon, Jimmy Choo founder, has one closet just for shoes, arranged by color and style on slanted shelves with rails. Shoes not on open display are stored on shelves in boxes, labeled with a photo of what's inside to quickly find the right shoe.
Oprah Winfrey has a large island in her walk-in closet with shoe shelves all around.
Mariah Carey has a separate room for her 1,000+ pairs of designer shoes and boots. Boots line the bottom shelves, standing upright to eliminate creases from folding over.
Fashion icon, Kimora Lee Simmons, has a boutique-style closet, with purses and shoes side by side on custom shelves so they're easy to mix and match.
Actress Jessica Alba uses a neat trick to maximize her floor-to-ceiling shoe storage. Each pair is turned one toe out, one toe in, so more shoes will fit on a shelf.
Double up on hanging space
Hanging space is a critical component in closet organization. Tiered, adjustable hanging rods will maximize closet space by grouping like clothing together. For example, short items like blouses, jackets, and skirts can have two tiers of hanging rods to double how much you can fit in a space. One section for all your longer items lets them hang straight so they don't get wrinkled at the bottom hem. Specialty pants racks can fit more into a space while keeping them wrinkle-free and ready to wear.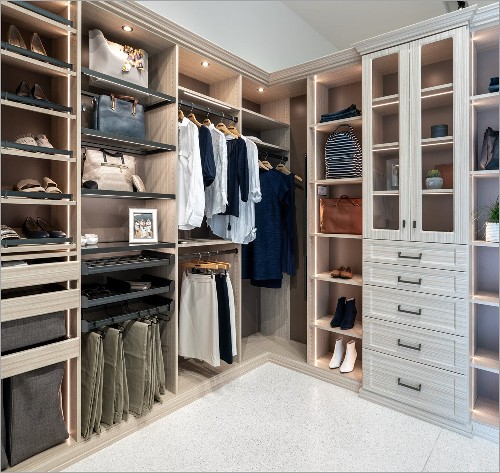 With designated hanging space for long and short items, you can fit more in your closet and your clothes won't fight
Organize clothes by color or by function, i.e., work, fancy dress, workout gear, and casual.
You can quickly see what you have, streamlining the process of getting dressed.
Matching hangers in decorative colors and styles add a touch of class to your closet.
Place seldom worn or out-of-season clothes on the higher rods, keeping everyday items easily accessible.
Actress Brooke Shields has floor-to-ceiling shelves and tiered hanging rods in her closet with a sliding library ladder to reach up high.
Cabinets, drawers, vanities, and more
Additional closet storage and organization elements include cabinets that incorporate open and enclosed shelving, drawers, and countertops to both store and display clothes and accessories. Drawers are ideal for folded items like sweaters and T-shirts while open shelves display purses, hats, and bags. Custom velvet-lined jewelry drawers safely store all your jewelry, watches, and sunglasses so they don't get lost or become clutter in the closet. Oprah Winfrey's closet space is maximized by floor-to-ceiling cabinets and drawers, with glass-inset doors to show what's inside while protecting the contents from dust.
The Tailored Closet options of style, color, and finish for the cabinetry from traditional to modern gives unlimited possibilities for a design of your choice.
Choose crown molding, fancy decorative hardware, and granite for countertops to take your closet to the next level of elegance.
Keep shelf storage neat and tidy with shelf dividers to keep folded stacks upright and purses separate.
Integrated LED lights brighten up shelves and illuminate cabinet contents for easier access.
Layer on convenience in beautiful ways
Closet efficiency can be as beautiful as you want it to be. For necessary lighting, install a gorgeous chandelier instead of a can light. For seating, get a plush, velvet-upholstered ottoman or vintage chair. Incorporate a makeup vanity in the closet or a storage island with drawers or shelves to provide extra space for lingerie and accessories and display your favorite jewelry on top. Whatever function you need, make it a beautiful solution!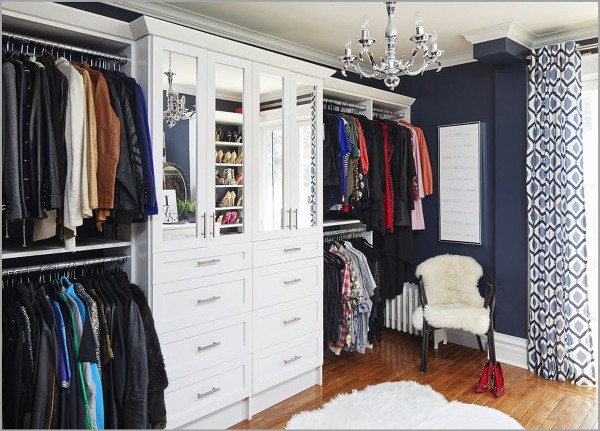 Perfectly coordinated color and style make this an elegant closet/dressing area for Canadian TV and radio celebrity, Taylor Kaye
Go with a bold color or elegant wallpaper for the walls and use custom accessories to make your closet both functional and fabulous.
Give in to that urge for a zebra stripe rug to create a special ambiance just for you.
Nanette Lepore, fashion designer, blings up her closet with a cascading glass chandelier and mirrored chest and cabinets.
Jennifer Lopez enhances her space with full-length mirrors in her closet suite.
Actress Jessica Alba has a hat wall with designer hooks for her signature chapeaus.
Paris Hilton's walk-in closet boasts a mirrored-chest island, crystal chandelier, and very pink rug.
Celebrity fashion stylist and designer, Rachel Zoe, displays her large, eclectic belt collection on custom belt hooks.
So, don't just dream of a luxurious closet or hate them because their closets are beautiful; create a beautiful closet for yourself! Whether your closet is totally missing the mark or just needs some distinctive updates to make it your happiest place on earth, The Tailored Closet designers can help. A custom closet storage system of cabinets, shelves, drawers, and hanging rods lets you design for exactly what you need and want in your closet. Custom closet accessories add distinctive style and functionality with customizations and personal touches to let you manage your wardrobe as the diva you are. Call 866-712-3404 today or go online to www.tailoredcloset.com to find a designer near you and schedule a free in-home or virtual* consultation. With samples, design guides and inspiration from your favorite celebrity closets, you're well on your way to the closet of your dreams.
*Virtual consultations may not be available at all locations.
For more closet ideas, like us on Facebook and follow us on Instagram.