Shared Closet Designs That Really Work
If closet sharing at your house isn't working, maybe it's time to get some help. Sharing a closet shouldn't feel like an invasion of personal space or be a constant tug-of-war to "win" enough space for your wardrobe and accessories. A custom-designed closet storage system from The Tailored Closet will transform your shared closet with organization and storage solutions that put the "fun" back in functional and ensure that each person has the closet accommodation they need.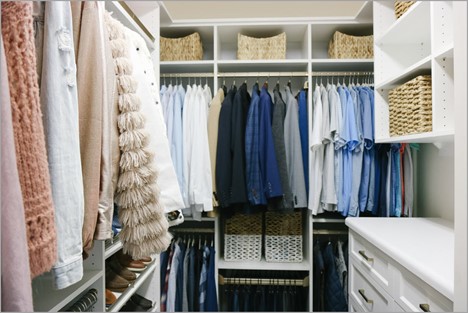 Organization is key to a peacefully shared closet where each person has ownership of their individual space
The ultimate goal of a closet is to organize and safely store wardrobe and accessories to make everything accessible so getting ready for work, school, or play is an easier task. In a shared closet, that means personalized storage for two, allowing for preferential differences that will drive the design, including:
Hanging sections and drawers
Custom shoe racks
Shelves for folded items, hats, purses, and more
Tilt-out hampers to hide dirty clothes
Specialty racks for scarves, ties, belts, and pants
A bench, storage ottoman, or storage island
How each of these will contribute to the optimum design for your closet is not as easy as listing them out. There's some preliminary work to be done, so here are a few steps that will help to get you to your perfect, stress-free shared closet.
One: Closet design should involve both users
For the best result, it's important to plan your closet as a team, taking into account the needs of each person and, especially, the capacity of the closet. This can involve deciding exactly what will or will not get space in the closet. For example, do all shoes have to be in the closet? Wouldn't sports equipment storage be better somewhere else? Fine-tuning the contents of the closet will determine personalized, ultimate closet design.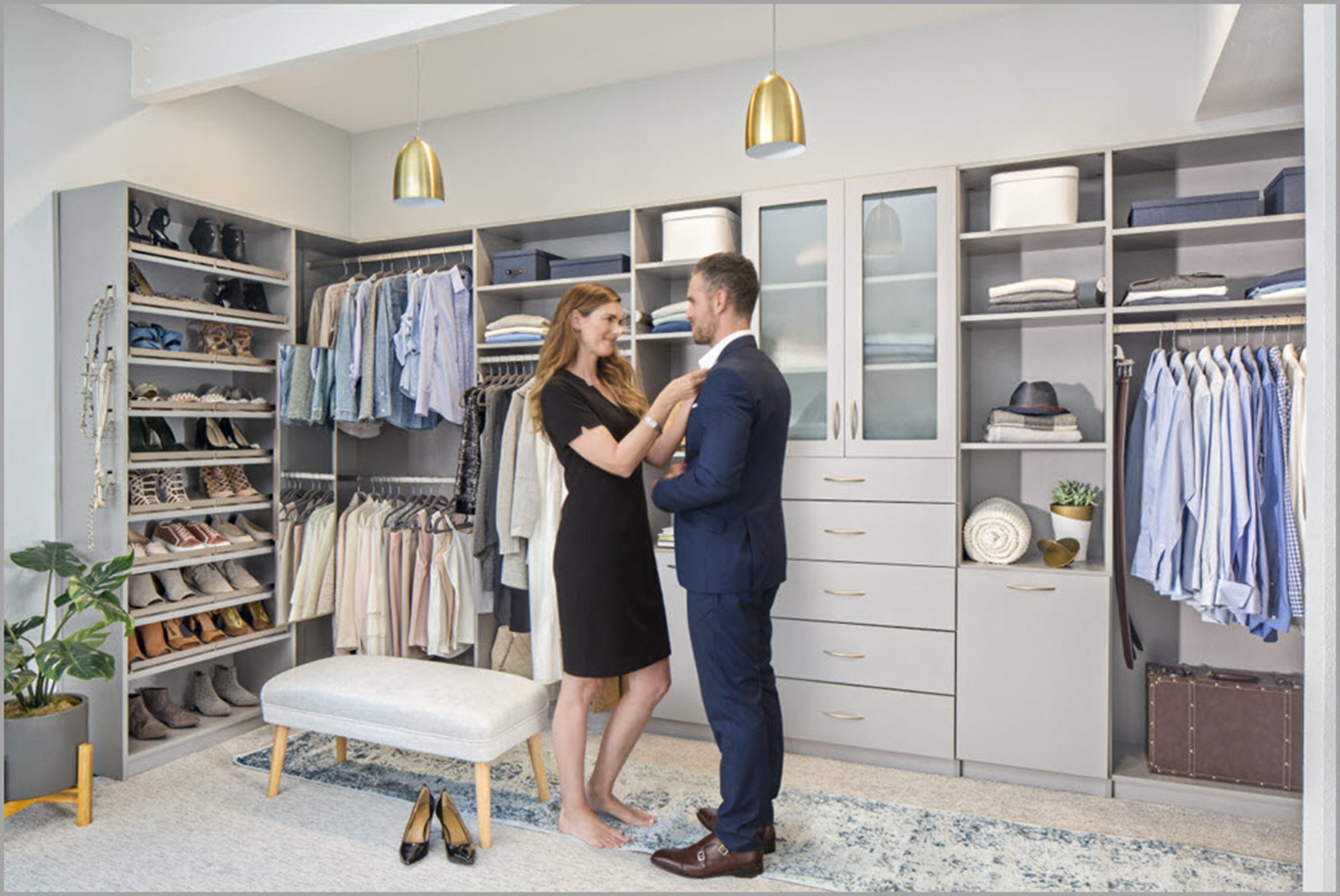 Limiting closet storage to only wardrobe and accessories will free up surprising space
Eliminate anything that doesn't belong in the closet (tennis racket, work papers, etc.) and have each user purge all excess from their own wardrobe, including clothes, shoes, and accessories.
With a smaller closet, items like shoes, boots, purses, or a hat collection may need to store elsewhere in the bedroom, such as an armoire, tall chest, bookcase, or under-bed storage.
Off-season clothes can be stored in a hall closet, under-bed storage, or the garage to free up space for everyday needs.
Two: Critical division of space
Historically, a woman's need for most of the closet has been firmly established but, realistically, most men will require more than a tiny slice of the closet. Considerations for space division include whether wardrobes are similar in size, requiring equal space, or is one wardrobe much larger than the other? If one needs three-quarters of the closet, some negotiations may be in order such as giving the other more dresser drawer space in the bedroom. Another option is co-mingled closet space with all long, full-length clothes in one section, pants on pant racks in another space, short blouses and shirts hung together, and one wall dedicated to all the shoes.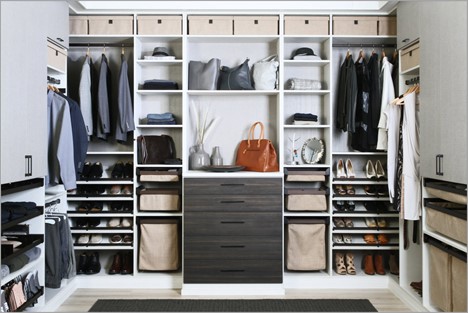 Equal but separate is a common solution to dividing closet space
Consider efficiency; the more convenient it is to put things away, the easier it will be to keep your closet and bedroom neat. (Give the shorty the lowest drawers and racks.)
Slanted shoe racks keep shoes in full view and off the floor where they become clutter.
To keep the peace, pinky swears not to trespass onto the other's territory unless you ask.
Three: Design to maximize closet effectiveness
Now that wardrobes are defined and space needs clarified, the actual design will reflect each person's preferences for hanging space, shelves or drawers for folded items, and accessories storage. The Tailored Closet's proprietary design software creates a realistic 3D image of what your closet will look like and you can change it up until you have exactly what you want, including cabinet styles and finishes. There is no right or wrong, the goal is the most convenient and efficient closet for you.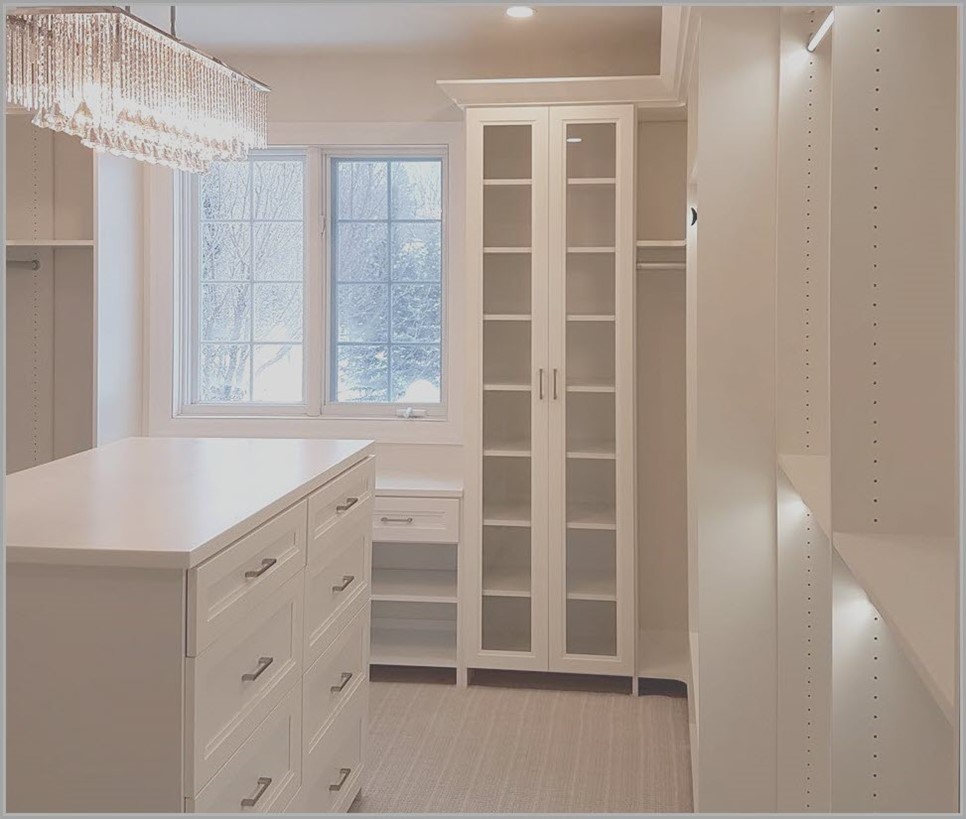 Capturing vertical space with floor-to-ceiling storage solutions exponentially increases any closet's capabilities
Incorporate any combination of hanging space, including tiered rods, cabinets, shelves, pullout bins, and drawers for unique needs.
Each person can configure their own space for what they need, more hanging room, space for folded tees, sweaters, and jeans, and custom shoe racks.
A storage island can add additional space and become your storage secret weapon with drawers and shelves.
Four: Closet accessories to fine-tune storage
Accessories like jewelry, belts, hats, ties, purses, and scarves all need space in the closet and unless they are properly stored, you can lose track of what you have, or they can get damaged. Custom closet accessories let you fine-tune the way you manage your wardrobe and come to the rescue of all your accessories to keep everything neat, organized, and ready to wear.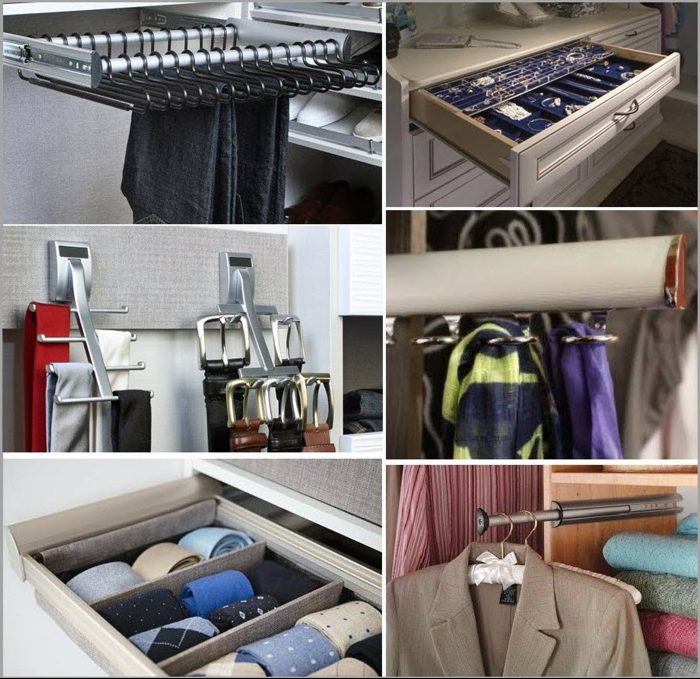 No more lost or missing accessories with custom storage solutions for even your smallest things
Drawer dividers create organized storage for ties, lingerie, folded scarves, belts, clutches or wallets, and
Velvet-lined jewelry drawers protect rings, cuff links, earrings, bracelets, pins, and necklaces so they don't get damaged or tangled.
Retractable or stationary valet rods provide extra hanging space any time you need an extra hand.
Specialty decorative hooks keep ties and belts visible and damage-free and can also display necklaces or bracelets.
Pullout racks with smooth metal loops eliminate snags on delicate scarves.
Pants racks maximize storage and keep pants wrinkle-free and ready to wear.
Shared closets are notorious for generating conflict, but a custom closet from The Tailored Closet will set the stage for peace and harmony with a closet designed specifically for two. So, don't waste any more energy and frustration on a cluttered closet where nobody's happy, and call 866-712-3404 today to schedule a free, in-home, or virtual* consultation or go online to www.tailoredcloset.com to find a designer near you. We can rescue all your family's closets with customized storage for each user, as well as design whole home innovative storage and organization solutions for any area of your home where chaos reigns.
*Updated 10/12/2022