Tips to Maintain Your Mudroom and Keep it Organized
Wintertime is here. Dirty boots, wet coats, and all. Soon it'll be spring, when, well, dirty boots, hats, and backpacks will have their moment. Truth be told, it seems like your mudroom will be muddy all year long. Yet, it does not need to be.
Nothing can beat that feeling of walking into your home and not having to deal with the chaos in the mudroom or the clutter that seems to always make its way to the front door. Fortunately, with a few simple tips, getting this organized and efficient space does not have to be as daunting of a task as you may think.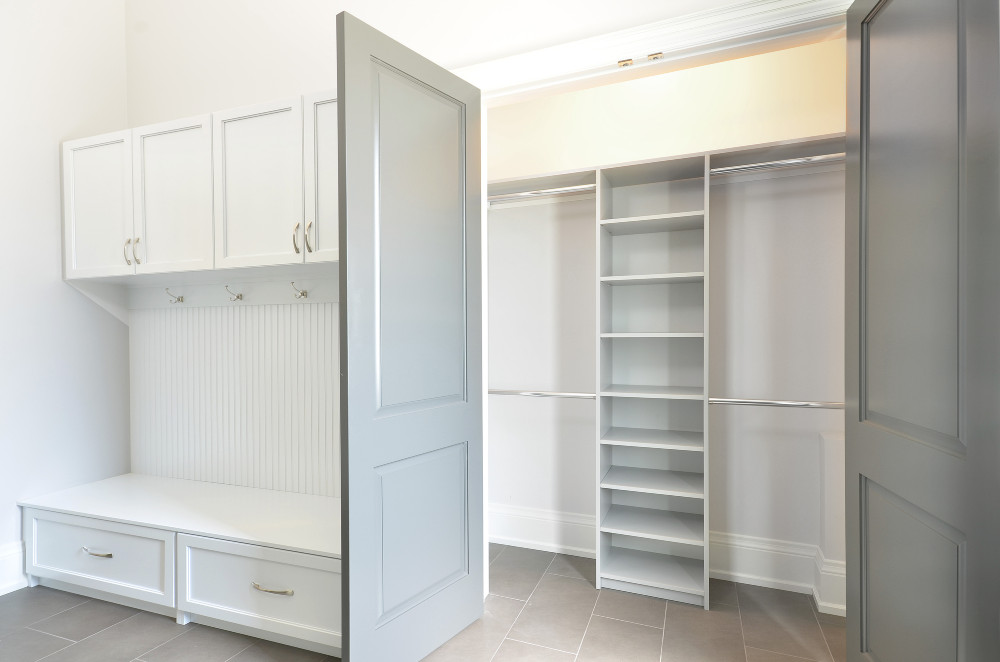 How Do You Keep a Mudroom Clean?
One of the best ways to keep your mudroom organized and clean is to have a personalized space for each family member and guest. This can ensure that designated areas can hold coats, shoes, and even equipment and keep them from scattering all over the mudroom and into the house. Plus, with a few additions, not only can this organization be a lifesaver for the whole family, but it can make your mudroom come alive with beautiful yet functional accessories. Take, for example:
Benches and Cubbies: Adding a

sturdy bench

for people to sit down and take off their shoes can be a great way to make sure they are not trekking mud through the house. Plus, with the addition of some cubbies, the shoes can be quickly stored away, opening up the area and getting rid of clutter.

Decorative Hooks: Not only do they look good, but these hooks can provide you with a quick way to hang everything from coats, wet towels, and even pet leashes so that they are out of the way.

Customized Cabinetry: Customizing cabinetry in your mudroom is the perfect way to compliment your house decor while also creating the space you need to get organized. This cabinetry is excellent for storing small objects that seem to take up room all over the house while also keeping essentials in one spot, such as flashlights or extra batteries.

Floating Shelves: These shelves are a quick way to get materials and things off the floor, update your mudroom, and even create a special place for seasonal decorations.
When everything is in its appointed place, not only does it eliminate frantic searches for missing things. But it is also a great way to stop objects from piling up in the entrance causing obstacles for anyone who enters or leaves the house.
What Should a Mudroom Include?
Mudrooms have become increasingly popular in recent years and the new must-have, especially since they are the perfect practical element that every family home needs—ensuring that dirt and messes stay at the door. However, to make sure your mudroom serves the purpose you need it to, it is crucial to understand what the ideal mudroom needs to have:
Seating: You want the mudroom to be the first stop for incoming guests. That is why including a seating area in the room can be a quick reminder for individuals and family members that they need to stop and drop off coats, shoes, and other materials in this area. If you want to make the bench do double-duty, consider getting a storage bench that can not only store your larger items but provide seating as well.
Mudroom Storage: When creating a mudroom, you want to make sure that everything in it is durable and also practical. This means you want to get

storage

that keeps you organized and does not take up too much space.

Tailor To Your Needs: The perfect mudroom organization is unique, incorporating precisely what the family needs to make this spot ideal for them and their guests. For some, this may include hardware such as hooks to keep heavy coats out of the way. For others, it can be a pullout metal shoe rack that ensures all the shoes are kept in one area.

How Do I Keep My Entryway Clean?
In general, the front entrance is not only the welcoming area, but it is also the main entrance that everyone uses to get into the house. As a result, it often becomes cluttered, dirty, and trampled. Luckily, there are a few things you can do to make sure your entryway remains clear of becoming a chaotic mess:
Create a Drop Station: When people come into your house, they need a place to put all of their items, including shoes, coats, and even purses. Setting up a specific area that includes baskets or customized shelves can ensure that objects and clothing do not start to wander off to every room.

Minimal Furniture: Regardless of how large your entryway may be, the best way to keep the

entryway

clean is to minimize the amount of furniture near this area. This way, everyone can move freely without bumping into each other or things. Consider adding a small table, cubbies, or even storage cabinets near the entrance, allowing people to drop off their everyday items without taking up too much room.
At The Tailored Closet, we are your home organization experts. Here to help you create custom storage solutions for areas throughout your home. We can not only help take your mudroom to a whole new level by creating customized closets, cabinets, and shelves to keep clutter out of your home. But better yet, our team can also help you pick and install exactly what your mudroom or entryway needs. Do not wait any longer. Contact our design experts today for a free consultation.
*Updated 10/12/2022